Principal & Prefect News - Term 3, Week 10
Posted on 25 September 2020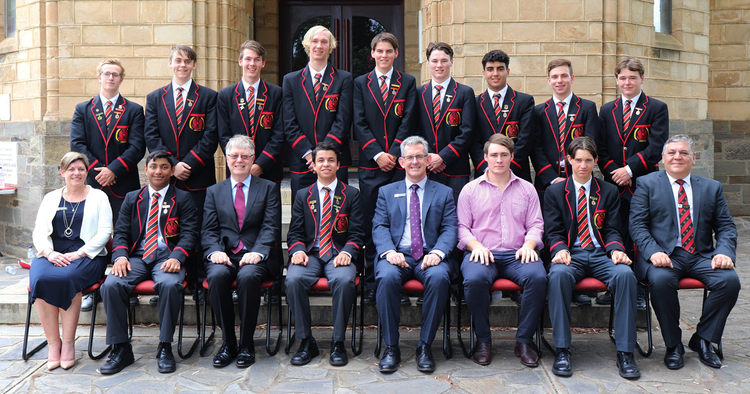 Farewell Term 3

Brian Schumacher
Principal

Dear parents and friends of Rostrevor College
As we bring Term 3 to a close, it is most appropriate that we do so with some footage of our Junior School Liturgy held in the Chapel this morning. While giving thanks for the many blessings we have received in Term 3, this morning's reflection also drew our attention to the life and work of St Vincent de Paul, whose Feast Day we celebrate this Sunday and whose work continues in our community thanks to the enthusiasm and generosity of our Young Vinnies Group.
Thank you for your support for our work this term. We are indeed fortunate to have been able to enjoy an almost normal term of school and extra-curricular events and we look forward to our families, friends and colleagues in other states being able to do the same in the weeks ahead.
We look forward to many exciting events in Term 4 including Presentation Night, Graduation Valedictory Ceremony and Dinner and the Boarders Farewell Lunch, dates of which can be found in the link below.
We extend our best wishes to Mr Purvis and Mrs Monaghan as they embark on some well-deserved long service leave for Term 4. We look forward to welcoming them back at the start of 2021.
Finally, in keeping with our tradition, we save the last word for our Prefects who have continued to lead with hope and integrity during this time of uncertainty and disruption.
Best wishes for the two weeks ahead.
Brian Schumacher
Principal
---
Liturgy of Thanks - Junior Years
It was all smiles in the Rostrevor Chapel today as our Junior Years joined a Liturgy of Thanks to celebrate the end of Term 3, surprising their teachers with posters and small gifts. They deserve plenty of applause and a good "pat on the back". Enjoy this video as we wish all of our Rostrevor families safe and enjoyable holidays.
---
Term 4 Event Dates
Visit our Year 12 End of Year Information page here.
2021 Term Dates
Term 1 Commences Thursday 28 January 2021 Concludes Friday 09 April 2021
Term 2 Commences Wednesday 28 April 2021 Concludes Friday 25 June 2021
Term 3 (*) Commences Monday 19 July 2021 Concludes Friday 24 September 2021
Term 4 Commences Monday 11 October 2021 Concludes Friday 03 December 2021
(*) Pupil Free Day on Friday 03 September 2021
---
From the Prefects

First XI 2020 Highlights
The Red and Black love silverware. Over the past term, the talent filled First XI Soccer team has endeavoured to add a few more pieces to the already extensive trophy cabinet at the College. Starting the season with 5 wins from 5 and heading into the Messenger Cup Semi-Final, the Rostrevor First XI looked to add a finals berth to their already successful run. This fell short, however, with an unfortunate loss to CBC who advanced and were crowned Division Champions beating St Michael's in the final.
Hosting the 32nd First XI home Intercol, the Rostrevor outfit was keen to put on an exhilarating performance in front of the Year 12 cohort, family and friends and exhilarating it was. Sacred Heart struggled to merely sniff the ball for the opening ten minutes, where numerous chances were created by the talent crammed Rostrevor side. This was rewarded with an early goal putting the boys a goal to the good. This was followed up momentarily with an explosive play out of the midfield duo consisting of the Frangakis twins, Luke and Daniel, which was finalised with a calm finish from wonder striker Alessio Melisi. The Red and Black were loud and proud going into the half 2-0 up. This explosiveness continued into the second with a barrage of shots peppering the Sacred Heart shot stopper, 3-0, 4-0, 5-0 The Rostrevor side displayed their true class by inviting Sacred Heart to an attacking masterclass ending with an incredible 5-0 thumping which could be heard echoing back at Rostrevor. Goals from Ethan Centofanti, Alessio Melisi, Luke and Daniel Frangakis and Noah Blazeka contributed to the thrashing of the Sacred Heart side. The Red and Black retained the Brother Bourke Trophy for the twelfth consecutive year. The Soccer Intercol belongs to Rostrevor, and only Rostrevor.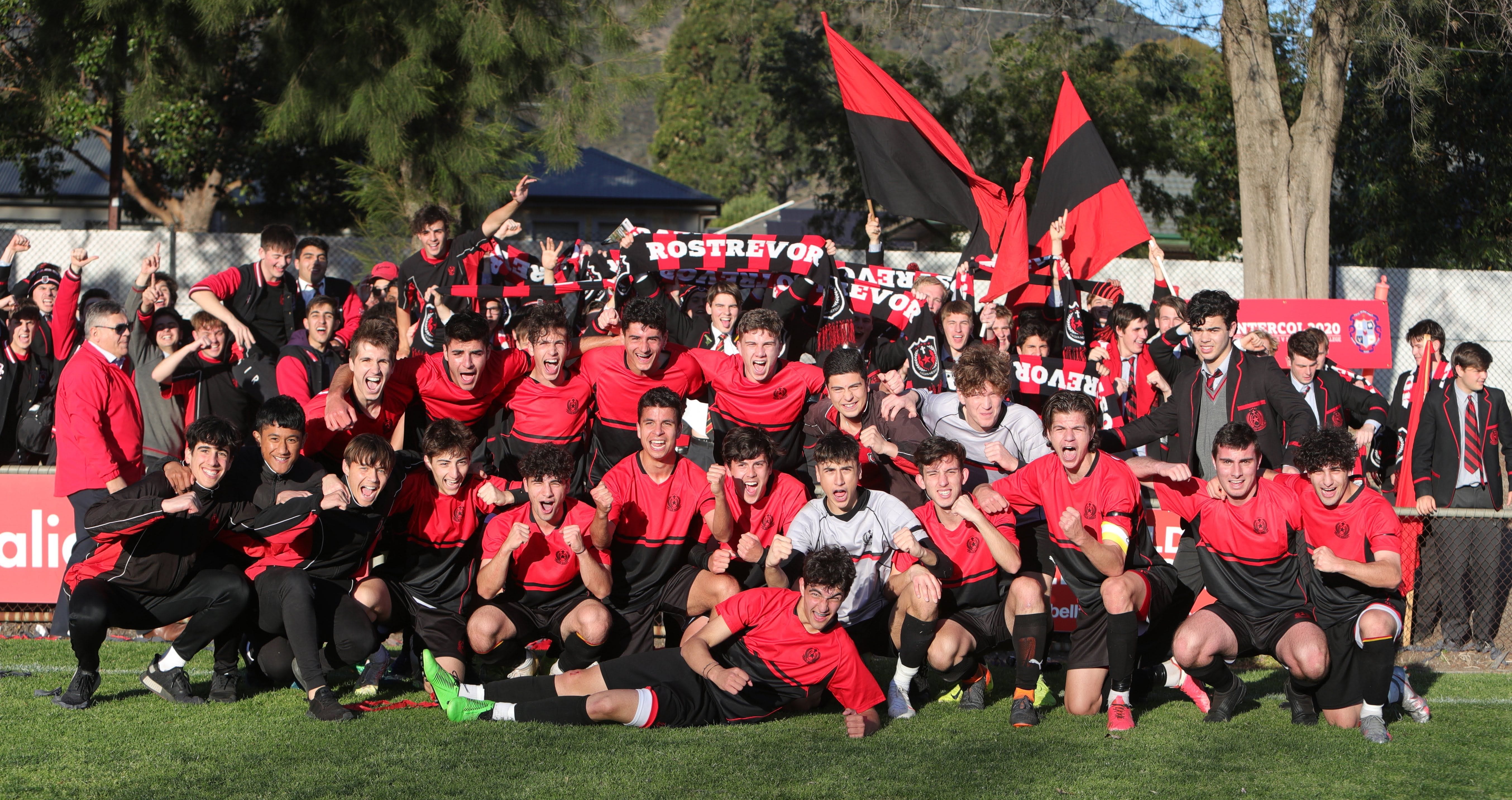 The First XI campaign was not over yet. Finding a spot in the State Knockout Grand Final after a convincing 4-2 victory over Nazareth, the boys looked to muster up a final hurrah to be crowned the State Champions against Marryatville High School. Sub-par weather saw the boys fighting in what felt like a windy day at Stoke, with continual back and forth play enticing the crowd. A penalty denied by a brilliant save from the Marryatville keeper saw a 0-0 score line at the half. Fired up and raring to go, strangely, Rostrevor conceded an early penalty after four minutes of play in the second. It was so quiet you could have heard a pin drop. The boys, knowing they're better than a scrappy loss to Marryatville, set forward in an all-out-attack style of play seeing the Marryatville goal showered by more than two dozen shots in 20 minutes. This was rewarded, a goal, a celebration, a new spark, 1-1. At the end of regulation time, the boys ventured into unseen territory extra time. The first ten minutes flew by and before we knew, two minutes stood between us and a penalty shootout. Alessio Melisi had a different idea. Quite literally 'skinning' the Marryatville centre back, Alessio slotted home the game winner in the 98th minute to crown Rostrevor College State Champions for the ninth time, making us the State's most successful school of all time in the competition. The boys celebrated an incredible State victory surrounded by friends and family of the College who provided fabulous support throughout the season.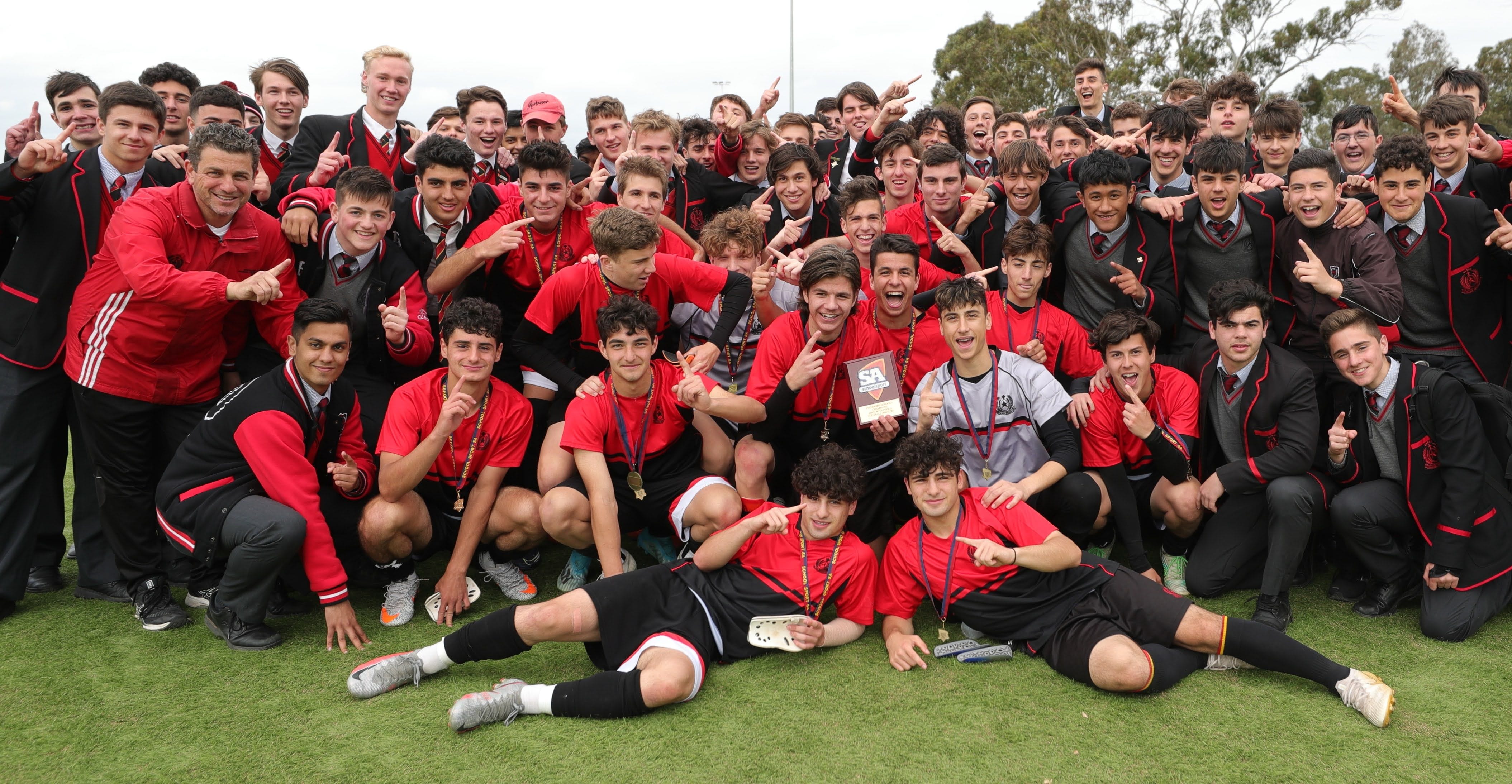 As Vice-Captain of the First XI side this year, I would like to extend a massive notion of thanks to the Coach, Mr Terry Frangakis, and Team Manager, Mr Evan Pezos. Furthermore, I would like to thank all the players for their tremendous effort on the pitch and all the Red and Black brothers for their exceptional support from the sidelines.
Rostrevor's 2020 First XI reign supreme. Fortuna audaces iuvat
Gianni Bergamin,
Head Prefect
Rostrevor College

What a year it has been. Through all the trials and tribulations, the Year 12 cohort of 2020 has stood strong and taken every challenge head-on, and I must say, we have flourished. We have pushed past what we didn't think was possible, raising more money than we ever expected, achieving grades that would be unthinkable in the best of circumstances, and defeating the best teams in the sporting circuit. Now the time has come for us to step down as the Year 12 cohort, and for the new boys on the block to pave their own path. Valiantly led by Manish Augustine and Alastair Lord, the Head and Deputy Head Prefect of 2021, I am sure that the boys of next year will do as well, if not better than we have this year.
It would be remiss of me if I were not to thank and congratulate all my Year 12 brothers. It has been amazing, it has been brilliant, and although the stress of final exams is nearing, remember that Rostrevor has taught us all the same, that no matter what we will always have each other's backs. To the boys of 2020, we have written this chapter well.
Christy Saji,
Deputy Head Prefect
Rostrevor College

Term 3 saw Duggan House welcome seven new staff to the already excellent team, consisting of a new Housemother, Lynne Moten, and six new supervisors Kerry Houston, Tom Kenny, Connor McLaughlin, Marlon Shepherdson and Daniel Torode. We also welcomed all boarders back with a big shout out to our Northern Territory based boarders who we missed in Term 2.
It's pleasing to see Duggan House represented prominently within the leadership of the school with four boarders elected as Prefects for 2021. Congratulations to Tristan Hunter (Social Justice Captain), Stuart Greenslade (Webb House Captain), Charles Kemp (Barron House Captain) and Jayden Gale (Head Boarder). Good luck to all, I'm sure you will represent the school with pride and advocate for your fellow students admirably.
The Boarding House was fortunate to have six new three-seater sofas delivered during Term 3, replacing some of the older furniture. This creates comfortable seating in all our breakout and common spaces, essential for the boys who wish to gather in groups of three or more for any reason.
COVID measures remain in place for our own protection. It has been a struggle at times, but we have all done our best to comply and remain positive. On the upside, there have been record low rates of illness as a benefit of the extra measures in place.
Plans for the new Boarding House layout are progressing well. When complete, the updates will enhance the facility, making it an even more inviting 'home away from home' for future Rostrevor boarders. (See more)
As the Year 12 cohort nears the end of our Rostrevor journey and I wish everyone all the best with their final assignments and upcoming exams.
Cooper Llewelyn,
Head Boarder
Rostrevor College


With much speculation around our many celebrated activities at the College, it was a huge relief that both Marian Day and Unfair Day took place. The day was conducted in a slightly different fashion to past years, however, the boys adapted smoothly and respectfully. It provided a great opportunity for reflection and celebration as our community united to support those less fortunate. After our virtual morning Mass, the Valley was transformed by the many fundraising stalls of games, food and fun. A big thank you to all the staff and students who assisted with the stalls and participated in the virtual Mass. It truly showed the resilience and diversity of our community in such overwhelming times. Along with the staff and students, we thank Father Peter Zwaans who delivered the pre-recorded Mass. Ultimately, it was a great success, in true Edmund Rice fashion.
Ned Carey,
Community Activities
Rostrevor College

Rostrevor College First XVIII Intercol Clash with Sacred Heart
Even given the very unorthodox situation due to COVID-19, the boys were still able to don the red and black guernsey for the last time this year in the biggest clash Intercol. The team was very excited to get the weekend underway with a couple of solid performances leading into Intercol after a dominating game against Pembroke.
The scene was set with Principal, Mr Brian Schumacher, The Honourable Steven Marshall MP, Premier of South Australia, The Honourable Vincent Tarzia MP, Minister for Police, Emergency Services and Correctional Services (and Old Collegian) and The Honourable John Gardner MP, Minister for Education, all attending the match. Crows Premiership Captain, Mark Bickley, and Advertiser Sports reporter, Daniela Abbracciavento, featured a live commentary on the game which was live streamed by 'Adelaide Now Livestream'. Hundreds of enthusiastic students filled the Red and Black supporters' group with their chants that reverberated around the Big Memorial Oval to try and push the boys over the line and finish with an unforgettable win.
The game was fierce and heated but filled with respect and passion for each College. The First XVIII were able to get off to a great start with Rostrevor leading by a single point at the half time break. The team performance was good all round as the First XVIII were able to stay close with the talented Sacred Heart side. Unfortunately, Sacred Heart prevailed too strong after coming away with convincing third and fourth quarters which separated the two schools. Sacred Heart ended the game in resilient fashion with the final score 12.16 (88) to 7.5 (47). Despite the result the Intercol match was a spectacle of talent, tradition, sportsmanship and passion for the Red and Black.
A huge and special thank you to the coach, Mr James Allan, for his hard work with the First XVIII team this year. First XVIII Gallery and Second XVIII (Photo gallery here)
Xavier Tranfa,
Internal Services
Rostrevor College

Week 6 provided an opportunity for Year 12 students to venture out of the classroom and enter into a state of retreat. For many previous students, the Retreats have been highlighted as one of the memorable times endured at Rostrevor, built on the premise of everlasting friendships and moments of spiritual enlightenment. The three-day Retreat incorporated a variety of activities, namely sharing testimonies, times of significance, and personal reflections. A common favourite among the cohort was the kite flying activity; boys wrote their aspirations on the face of a kite before flying them around each other, representing the collaboration and commitment in order to fulfil each other's dreams. Not only did the Retreat provide a chance to reflect in such a busy period of our lives, but students were able to build relationships with boys in their House who previously may have been unfamiliar with one another. Such an amazing part of the week was the way in which teachers connected with students on a personal level. Through opening up, students were provided with the firsthand model of how to enter manhood (theme of Year 12 Retreat) and the ways in which to formulate relationships in such a daunting stage of our adolescence. Another memorable part of the Retreat was receiving written letters from our parents/caregivers. Through reading these heartfelt letters, we were overwhelmingly touched by how appreciated we are by our families and the joy that we bring to the lives of so many. Overall, the Retreat was certainly enjoyed by the whole cohort, providing us with much needed time to step away from the classroom, and to enter an environment of complete restraint from the outside world, broadening our eyes to future endeavours.
Matthew Dnistriansky,
Social Justice
Rostrevor College

With only one term left in this Year of Camaraderie, the 2020 Prefects will soon be reflecting on the year that has been, and how we fulfilled the virtues we set out to enrich. The buddy class opportunity has been something that we were apprehensive about to begin with, however, we have loved every second of this quality bonding time. With each Prefect visiting their respective Junior classes once a week, many relationships have been formed that will be cherished by a special red and black bond into the future. A big thank you to all the Junior Years teachers that have been able to fit us into their busy school day schedules and help us understand the boys' young minds. Along with the teachers, it has been very comforting that the Junior boys have welcomed the Seniors with open arms and made all of us leave with a big smile on our faces.
Patrick Baldwin,
Barron House Captain
Rostrevor College

Firstly, Tom and I would like to welcome Jordan Martin, a day student, and Liam Delaney, a boarding student from the stunning city of blue lakes and sinkholes, Mount Gambier. Within the peculiar milieu of this year, we hope that Egan House has made what is a rather big school feel more welcoming and less intimidating.
Egan's successes came in many forms this term; however, the major triumphs emanated from the athletics front. The House extended its prodigious athletic dominance in the inaugural Cross Country competition held on Marian Day, which saw Egan secure all three shields. We had several year level winners, and James De Conno (Year 9) tore up the track with the quickest overall time. However, what was more delightful than the results was the fervent willingness of Egan students to participate in the events, which was simply marvellous. Special thanks to Mr Urbani for all his work prior to and during this calendar event.
Lastly, it can be said that the athletics track is an apt metaphor for these next couple of months. The finish line is agonisingly close, and in these last few weeks it is crucial that we look after ourselves and each other in what has been an emotionally taxing and stressful year.
Tom and I would like to wish Tyson Walls, 2021 Egan Captain, and Oliver Piro, 2021 Egan Vice-Captain, all the best as they make our roles theirs. The House could not be in safer hands.
Tom Cusack and Liam D'Silva
Egan House Captain and Vice-Captain
Rostrevor College

To sum up the nature of Term Three, there are no words more fitting than 'jam packed'. With most activities returning to reality, it has been an extraordinarily busy term for Gurr House, the Year 12 cohort and the rest of the school. Despite this, the Prefect team has worked diligently on a series of initiatives to instil a sense of normality amongst the community. One of the most prevalent being the Rostrevor 'War on Waste'. An initiative developed by the Prefects in conjunction with the Social Justice team aiming to reduce Rostrevor's carbon footprint and educate students on the importance of recycling, correct bin use and keeping the yard clean. Amongst this, each House was designated a specific role to play, with Gurr House in charge of 'Nude Food Wednesdays'. This initiative challenges students to bring in food packaged in re-useable containers, beeswax wraps or other recyclable materials. After what can be deemed as a tricky beginning to the campaign due to interruptions, the students have really begun to embrace it and improvement is noticed every week. The Gurr leadership team and I are optimistic that 'Nude Food Wednesdays' is a healthy initiative that will continue for many years to come. With this, I would like to extend a warm thank you to all Vice-Captains and Social Justice members who have worked hard to promote and monitor progress thus far. Lastly, congratulations to Hussain Hardwarewala and Brayden Matzick on their appointments as House Captain and Vice-Captain respectively for 2021. I am confident that they will represent Gurr House and Rostrevor positively, displaying all the qualities of a 'Rossi boy'.
Jack Haddad,
Gurr House Captain
Rostrevor College

On 18 September, we held our Walkathon to raise money and awareness for each House's charity: Murphy House St Patrick's Special School; Barron and Gurr Houses Edmund Rice Camps; Egan House St Vincent de Paul (Vinnies); O'Brien House Reverend Brother Patrick Foundation; Webb House Hutt Street Centre.
Students were also able to purchase pancakes or an egg and bacon sandwich for breakfast in return for a $5 donation. The generosity displayed by so many boys was over and above that expected, which made me proud to call myself a Rossi boy.
As my time at Rostrevor comes to an end, I have been reflecting on what a great place Rostrevor is and the generosity that every member of this community shows, which was highlighted throughout the term with many boys reaching out to volunteer in any way possible during these trying times.
I would like to congratulate Henry Brasher on his appointment as Murphy House Captain in 2021 and fellow Murphy House member, Tristan Hunter, as the Social Justice Captain.
Oscar Klose,
Murphy House Captain
Rostrevor College

With the impact of COVID-19 impacting greatly on the Prefect initiatives for Term 2, we were eager to have Term 3 packed with activities. The Prefects conducted a House basketball tournament over two weeks, one for Middle Years (7-9) and other for Senior Years (7-12). It was conducted at lunch time on the outdoor basketball courts, with many spectators on each occasion.
The games were thrilling and close with the Senior semi-final game decided by a buzzer beater from Darcy McNamara (from Year 10 Webb House) to send Webb though to the final to face Gurr. In the Middle Years, Webb also qualified for the final to face Barron. Barron won the match up, with Antony Stepic (Year 9) named as the Middle Years Tournament MVP. The Senior Years final ended in a resounding victory for Webb with Darcy McNamara's heroics throughout the tournament carrying through which won him the Senior Years MVP. All money raised from the entry fee will be donated to the Prefects' Charity, Eddie Rice Camps.
The excitement from the Tournament raised House spirit and gave much attention to the school basketball program. This was embodied by the spirit during the First V Intercol game which saw the boys draw at 43 points, the second best result Rostrevor has ever achieved in an Intercol basketball game.
Jacob Van Den Kieboom,
O'Brien House Captain
Rostrevor College
On a sunny Thursday in Week 1, the infamous Rostrevor College Prefect netball team made the journey to take on the Loreto College Executive Group in the highly contested annual netball fixture, as part of their Pink Week celebrations. After weeks of rigorous training and learning of the rules, the boys were excited to put their talent on display in front of a packed lunchtime crowd on the outdoor netball courts. Some excellent defence from Jacob Van Den Kieboom at goal keeper restricted the home team's scoring flow, allowing the twin towers of Patrick Baldwin and Cooper Llewelyn at goal shooter and goal attack to score goal after goal, with the Rossi boys coming out on top 23-13 victors.
Two weeks later, Rostrevor hosted Loreto in another netball fixture to raise funds for charities supporting Blue Week. With support from many red and black spectators, Rostrevor was able to overcome some questionable shooting from Jack Haddad and unusual catching techniques from Christy Saji to secure the win, with the final score line reading 33-16. The annual netball games are exemplary of the great relationship between Rostrevor and Loreto, and a great way of raising funds and awareness of breast cancer as part of Pink Week and men's mental health for Blue Week. Rostrevor looks forward to hosting Loreto next year for netball and working together on other initiatives.
Thomas Hill,
Webb House Captain
Rostrevor College
---
2021 College Prefects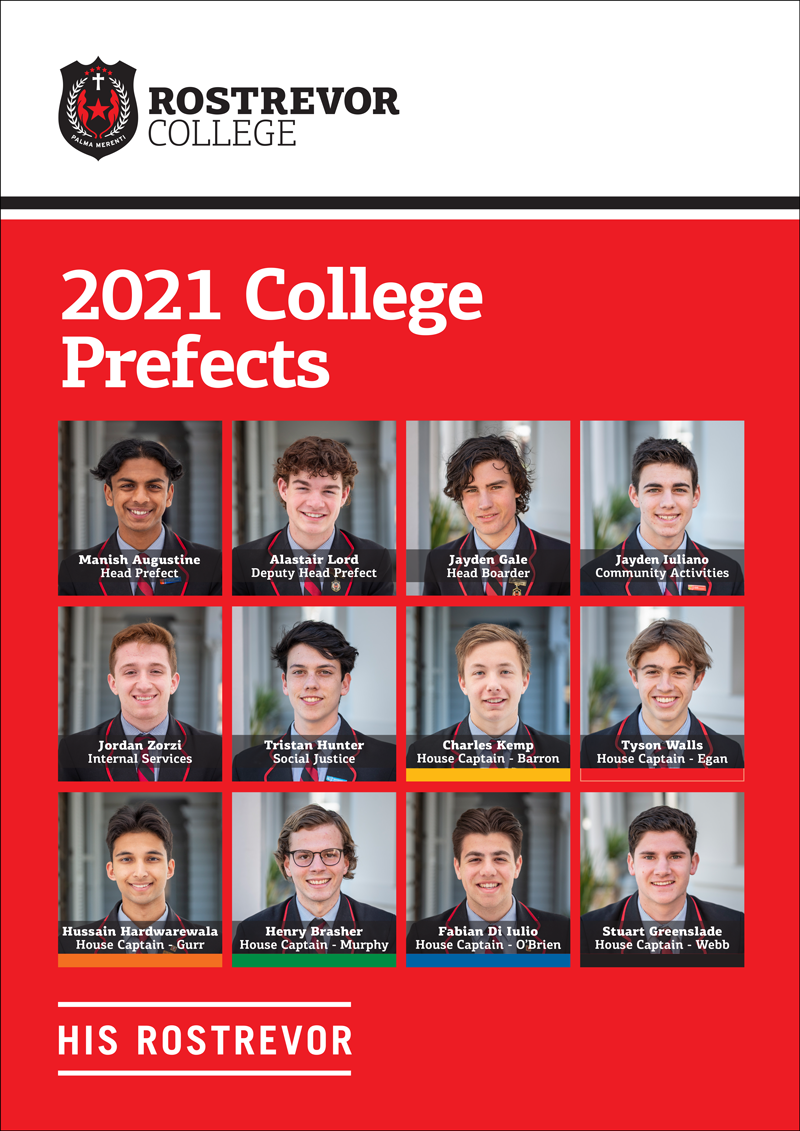 ---
MYSY Athletics Carnival
Click the image below to view all of the highlights from the day.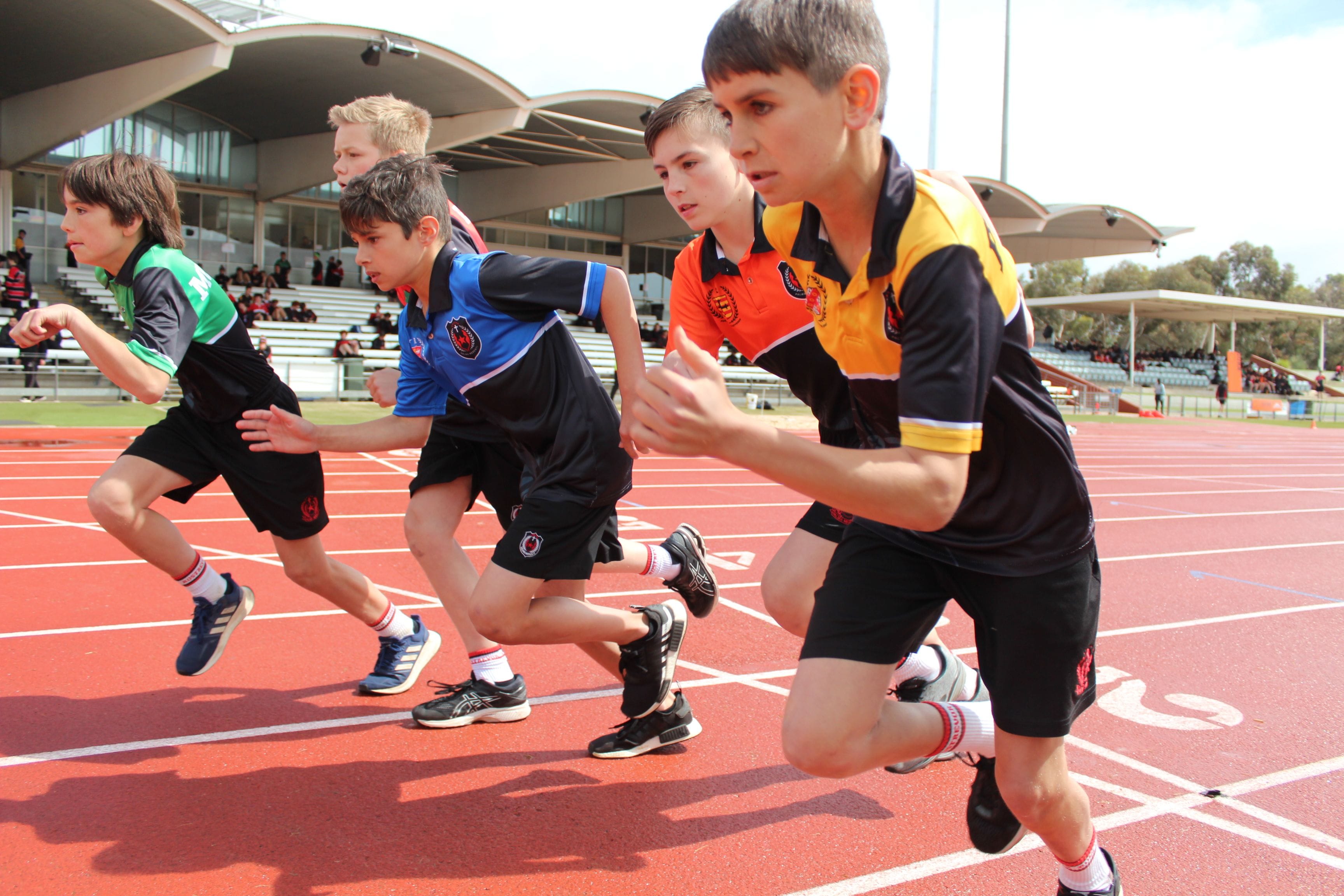 Author:
Brian Schumacher
About: Principal, Rostrevor College