Deputy Principal's News - 4 November 2022
Posted on 4 November 2022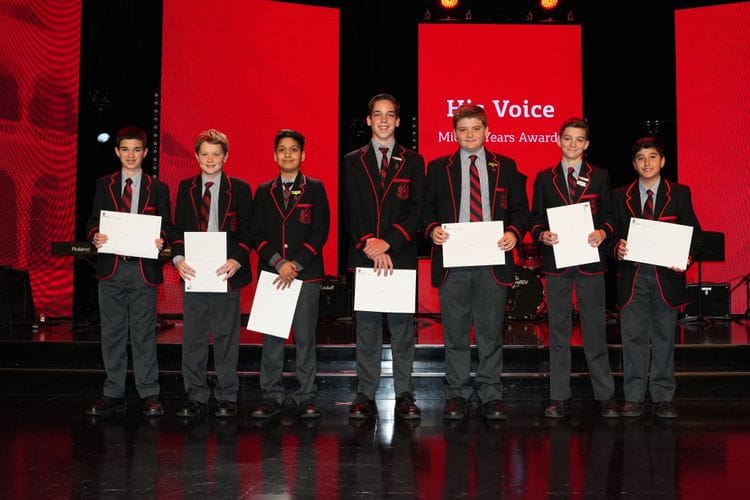 Frank Ranaldo
Deputy Principal - Dean of Students (R-12)
Presentation Night
Our R-12 Presentation Night on Monday was a wonderful community event where we recognised the achievements of those who have excelled in not only academic endeavours but in the vast range of opportunities afforded to our students such as service and leadership, community, House contributions and personal achievement.
We also showcased the boundless talents of our Music Department. The quality of the performances was outstanding, and this is in no small measure due to the passion and dedication of our very talented Music staff.
Photos of Presentation Night can be accessed via the link & access code below:
Website : www.eventphoto.com.au
Access Key : RC22PN
---
Year 8 Reflection Day

Our Year 8 Reflection Day was held on Wednesday, facilitated by Year 11 Youth Ministry classes. The Reflection Day theme of "Rostrevor survivor" encapsulated how we not only survive, but thrive, with authentic relationships and healthy spirituality. The Year 8s immersed themselves in practical and reflective activities, games and a special liturgy.
---
Encounter Youth Presentations

The College has had a close relationship with Encounter Youth for a number of years now and, on Friday morning, they delivered a number of engaging sessions to our Middle Years boys in Years 7, 8 and 9. These presentations were specifically aimed at educating our boys on the dangers of risk-taking behaviour such as smoking/vaping and consuming alcohol, and also focused on safe partying, respectful relationships and developing resilience to have the strength to say no in challenging social environments.
Together with other recent presentations from Relationships Australia, Life Education and the Carly Ryan Foundation, there has been a significant focus on the wellbeing of all our students, with the aim of empowering them to be able to make smart and educated decisions.
---
RAP - Road Awareness Program - Metropolitan Fire Service

The Road Awareness Program (RAP) is a powerful, hard-hitting road safety presentation delivered by firefighters to both young and experienced drivers across South Australia and interstate. Originally designed for young people in Year 11, its broad appeal and effectiveness has allowed it to expand its reach into workplaces, sporting clubs, correctional services facilities and community groups.
Designed to give an open and honest insight into the experience of firefighters working in road crash rescue, the RAP seeks to actively engage and empower drivers and other road users through positive peer pressure and its core message: "You get to choose the risk; but you don't get to choose the consequences".
---
Rostrevor Parents & Friends Committee
We are keen to regenerate the Rostrevor College Parents & Friends Committee with a focus on "friend-raising" and a move away from "fund-raising". With the support of Deputy Principal, Frank Ranaldo, we are looking to re-establish a group which helps create opportunities for families to come together as a school community. If you are interested in being a part of the Parents & Friends Committee, please register your interest here. We hope to hold an initial meeting prior to the end of the year.
---
Collage of Migration

On Wednesday, our students participated in the Collage of Migration event at Mary MacKillop College. This annual event involves Year 10 Italian students from both Rostrevor and Mary MacKillop Colleges and celebrates our cultural diversity and the stories of migrants in Australia.
Students study a migrant, which in most cases is a grandparent, and learn about their journey to Australia, their first impressions upon arrival and how they managed to settle into a new country to call their own. I would like to thank the staff at Mary MacKillop College and our senior Italian teacher, Mrs Elizabeth Trasente, for their efforts in making this event such a success.
---
Australian Informatics Olympiad (AIO)

This year, Year 10 Digital Technology students; Zak, Connor & Archie, participated in the national programming competition Australian Informatics Olympiad (AIO). The competition is a 3-hour programming skills test, where the participants must solve six questions that they haven't seen before (in any programming language they want).
Our students had not competed before, so it was a novelty for them. They practiced from the existing examples and used their technical skills to achieve fantastic results. All three students were awarded the bronze medal. Participating in this event not only exposed them to the real world of programming and national competitions but also amplified their confidence. Congratulations boys!
---
Term Dates 2023
Term dates for 2023 are available by clicking here. The Parent Calendar will be published prior to the commencement of 2023 and will be available on the College website.
---
Co-curricular (Week 3, Term 4)