From the Principal (COVID-19 Update) - Wednesday 25 November 2020
Posted on 25 November 2020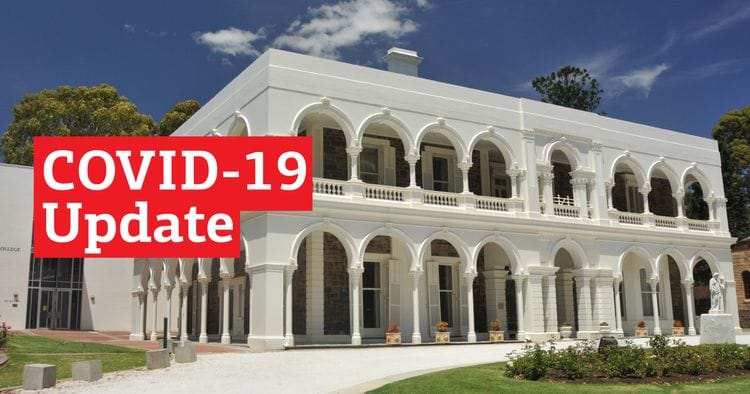 COVID-19 Update
Wednesday 25 November 2020

Brian Schumacher
Principal
Dear parents and caregivers,
We are delighted to have the boys back at school and attendance levels of over 90% indicate that this is working well for families too. While there are no new restrictions for children, there are a couple of changes that affect schools and school staff more broadly. The restrictions are based on the advice of SA Health to schools. I have noted these below.
We are required to reduce the level of access to the school for parents/caregivers, volunteers, and external contractors, keeping it to a minimum. This is why we appreciate parents/caregivers not coming into the courtyard or playground at this stage. Of course, if you need to speak with a teacher or you have an appointment please come into Reception at either the Junior School or Main Office.

Excursions and incursions (guest speakers and workshops) have been cancelled for the remainder of 2020.
All student assemblies, liturgies and farewells will proceed with only students and staff present. We will livestream or otherwise publish images of these events for families to enjoy in the hope that we can return to normal in 2021.

We have cancelled or moved to virtual gatherings for all staff meetings and other meetings such as the College Board Meeting tonight. We have also restricted access to staff common rooms to ensure adequate social distancing between adults.

College staff have been provided with masks to wear when they are working in close proximity with other adults. They are not required to wear masks when teaching or assisting students.

Our additional cleaning of surfaces and bathrooms throughout the day continues; something we have maintained as an additional precaution throughout the year.

All staff and students are asked to stay at home if they are unwell and to get tested if they display any COVID-19 symptoms. This is something everyone has been very supportive of and I believe something that has made a big difference to keeping us all safe.

Finally, congratulations to the Year 10 and Year 11 boys who have made the most of their alternate programs over the last few days. It is great to see the majority of students so actively engaged in learning at this stage of the year despite the disruption and uncertainty.
The next update will be distributed this Friday along with images of the Year 12 Valedictory Assembly.
Yours sincerely
Brian Schumacher
Principal
Author:
Brian Schumacher
About: Principal, Rostrevor College