From the Principal (COVID-19 Update) - Monday 16 November 2020
Posted on 16 November 2020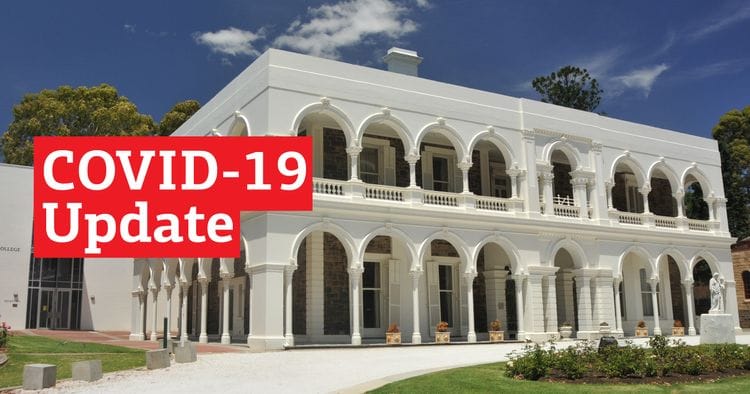 COVID-19 Update

Brian Schumacher
Principal

Dear parents/caregivers
I trust that this update finds you well as we watch with concern the impact of another cluster of Coronavirus infections in South Australia. As you would be aware, there has been an increase in the number of recorded cases in SA and, consequently, the State Government has reintroduced a range of restrictions.
The purpose of this letter is to let you know that we are following the developments closely and have begun planning our response to any increased restrictions on school activities in the weeks ahead. We will also be emphasising personal hygiene and sensible social distancing within the school context as a way of doing everything we can to keep everyone safe at Rostrevor.
Year 12 Graduation Dinner (scheduled for Tuesday 17 November 2020) - CANCELLED.

Year 12 Valedictory Assembly (scheduled for Wednesday 18 November 2020) - POSTPONED.
We have begun working on a re-configured event that will allow us to celebrate the achievements of our 2020 Graduates. We will keep you updated on changes over the coming days.
All Co-curricular Activities (Matches and Training) - CANCELLED (effective immediately)
School continues with the following restrictions:
With the exception of two long-term volunteers in the Junior School, we are currently not accepting assistance from volunteers.
Assemblies and large gatherings of students have been cancelled.
Excursions and camps have been postponed or cancelled.
Examinations will continue in normal class groupings.

Boarding
Interstate Boarders have begun travelling home.
South Australian Boarders will remain at school while we obtain more details about further travel restrictions.

Preparing for the possibility of school closure
With two Catholic schools closed, we have reviewed our closure plans to ensure a smooth response should there be a positive case within our community.
Rostrevor COVID-19 updates
You will receive a further COVID-19 update this coming Wednesday 18 November 2020.
Yours sincerely
Brian Schumacher
Principal
Author:
Brian Schumacher
About: Principal, Rostrevor College