Intercol 2022
Posted on 22 August 2022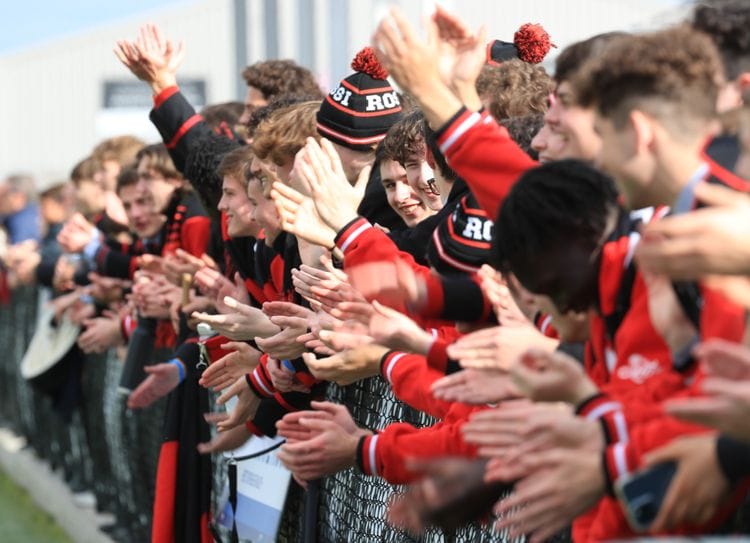 See Intercol fixtures, maps, livestream link at our dedicated Intercol webpage

It has been a wonderful start to Intercol 2022 with some wonderful examples of sportsmanship and camaraderie and some exciting matches that have gone down to the wire. Intercol week kicked off with an Assembly on Monday in which the College welcomed Sacred Heart College Captains to speak alongside Rostrevor Prefects on the theme of "Respect Outweighs Rivalry".
Congratulations to those who competed on Wednesday and to the Intercol medalists who exemplify College values and sportsmanship. Good luck to all our teams across the sports of basketball, football, soccer and table tennis who will participate in Intercol tonight and tomorrow and we look forward to the great celebration of College spirit and tradition that is Intercol.
Tomorrow's Football livestream will start at 8:30am and can be viewed here: - 10A, 3rd XVIII, 2nd XVIII, 1st XVIII Football
First XI Reclaims Intercol Trophy
The West Beach soccer pitch reverberated with Red & Black chants as the First XI brought home the Intercol trophy in an exciting 2-1 victory on Wednesday! The Second XI had a thrilling 1-1 draw. Well done to all the players, coaches and supporters with special mention of Intercol medalists Aidan Schirripa (1sts) and Sabastian Di Bacco (2nds)


The intensity and passion of Intercol competition took centre court on Wednesday as Rostrevor's Open A Basketball turned on some of the most exciting plays in recent Intercol history to secure a dramatic 40-40 draw in the final seconds of the match.
It followed similarly close contests by the talented Middle A (57 - 51) and Open B (51 - 44) sides that had the large Red & Black crowd on its feet. Well done to Intercol medalists Archer McNamara, Zaivier Page and Open A captain Darcy McNamara. We thank Old Collegian Claude Beltrame ('78) for these great images:

Intercol Squash

Congratulations to our Intercol Squash teams that were victorious in a convincing display on Wednesday night, winning 8-2. Year 12 Anton Piotto and Year 9 Josh Holt were Rostrevor's Intercol medalists. This evening we cheer on our two Middle Years Table Tennis teams. See the photo gallery here
Table Tennis
It was a close contest in the Middle Years Table Tennis competition with the Red team falling a few points short and the Black team victorious. See the photo gallery here.
Saturday Intercol
See our young sportsmen and Red & Black supporters in action, including Saturday morning soccer, football and basketball games and all the colour and crowds from the afternoon's First and Second XVIII games. Saturday Intercol Photo Gallery
Respect Outweighs Rivalry

The Intercol 2022 student video, produced by Wyatt Pisani and Anton Slivak was also launched on Monday and the College has been awash with red and black beanies, scarves and posters.

Last week, Rostrevor's sporting captains Darcy McNamara (basketball), Beau Baldwin (football) and Gianni Ruggiero and David Preka (soccer) joined Head Prefect Darcy McKenny at Sacred Heart College to address their Intercol Assembly and take part in some pre-match promotions. Adelaide Now subscribers can read the pre-match First XVIII summary with "players to watch" HERE