Letters of Hope during Covid-19
Posted on 30 June 2020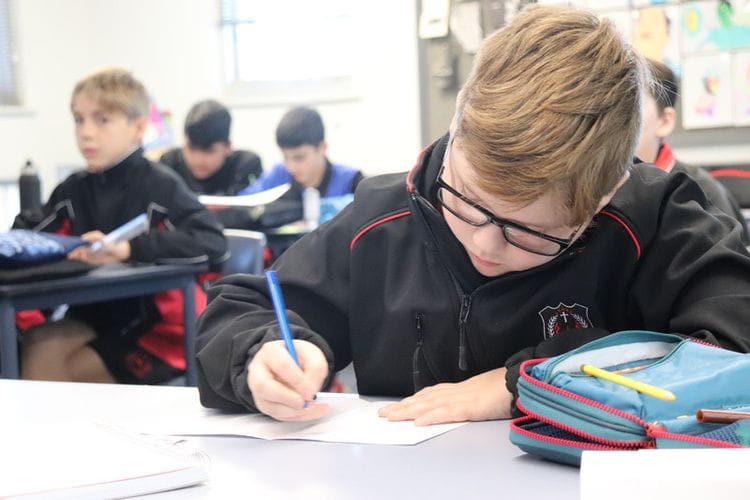 Nurses, police and elderly people living in isolation are among those to receive heart-warming "Letters of Hope" from Rostrevor College students.
Students from Reception to Year 12 have penned hundreds of letters to frontline workers and loved ones who have been hardest hit by the pandemic and the social isolation it has caused.
Many students, like Alexander and Luca, wrote cards and letters to health care workers at hospitals and medical clinics across Adelaide to thank them and remind them they are appreciated.
"I've drawn a dove for the nurses as a symbol of hope and want to thank them for all they've been doing and how hard they've been working these past few months," Luca, 11, said.
"I want all the health care workers to be strong in this time of darkness and keep doing what they are doing because they are doing a great job," added Alexander, 11.
Year 3 student Luca Beltrame, 8, said he had missed spending time with his grandmother and wanted to remind her she was in his thoughts.
"Things are a little bit different at the moment and I'm sorry that I can't see you," he wrote. "When this is all over, I can't wait to go for walks again on the beach with you again."
Year 6 student, Bailey Patterson wrote to police officers stationed at Norwood.
"I thanked them for all their hard work taking care of Norwood, which is quite a popular place, and to tell them that they've been handling the Covid crisis very well," Bailey, 11 said.
Rostrevor College Principal Brian Schumacher said it was important for young people to be given the chance to pause and think about those around them.
"The compassion shown by the boys has been warmly received, particularly by older people in isolation in their homes and in aged care," Mr Schumacher said.
"Taking the time to put pen to paper and write a letter encourages young people to consider others who are more vulnerable than themselves and offer a moment of support and encouragement."
The personal letter writing was particularly poignant for Rostrevor's Year 11 students who formed tight bonds with Walkerville Aged Care residents when they were assigned to write the memoirs of an older person last year.
Sixteen-year-old Fabian Di Iulio documented the life stories of Don Cooper and took the opportunity to write to the 85 year old again during the Covid-19 lockdown.
"I thanked him for the life lessons he taught me and for opening up to me and said: 'I hope you're ok during these troubling times and that you're staying strong as you have throughout your life'," Fabian said.
"Handwriting is personal and shows an extra level of care and effort and a letter is something permanent that a person can keep and look at whenever they want to."
Tory Caltabiano from the North Eastern Community Hospital said the letters sent to its aged care residents had arrived during "a very tough time" and that they were buoyed by "such positivity and optimism in the face of fear and the unknown".
Similarly, staff at Estia Health aged care centre at Hope Valley said the letters "brought smiles to many faces".
"It was uplifting to receive positive and reassuring words that we are not alone and we are all in this together."
Too see a video on the letter-writing initiative, click here: