Magarey Medalist to make his mark at Rostrevor
Posted on 13 January 2020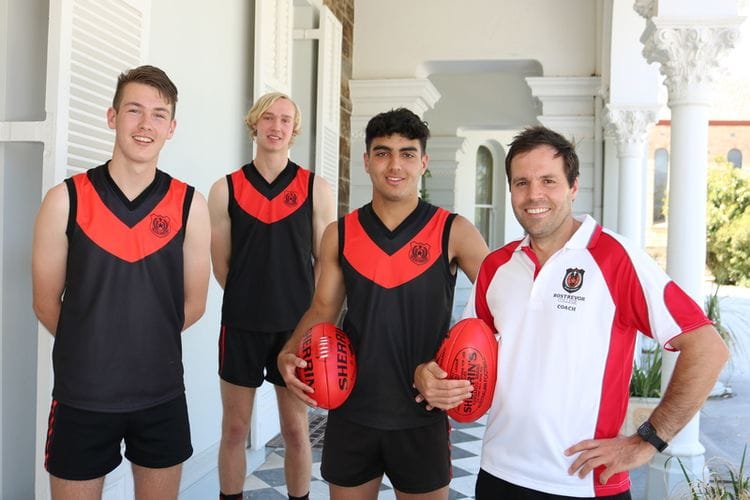 Three-time Magarey Medalist James Allan has been appointed as Rostrevor College's first Director of Football.

The former North Adelaide Captain and 2014 Norwood Premiership player joins the College later this month as First XVIII Coach and secondary teacher and will steer football development from junior years to Year 12.

In his recent role as Norwood's U18 coach, he has already helped shape some of Rostrevor's most talented footballers including Matthew Dnistriansky, Ned Carey and Xavier Tranfa, pictured.

The College, which has had seven AFL recruits in the past three years, is keen to further strengthen its AFL development from junior years to Year 12, with a view to expanding the model to other College sports in future.

Allan has worked with many Rostrevor students at the Redlegs and has a pretty simple message focus on the fundamental skills, train hard and do everything with "game-like intensity".

"The key is to develop good habits early," Allan said. "These days, talent only gets you so far. It's training and good habits and a good work ethic that really make the difference.

"I'm looking forward to getting started and helping to build a pathway for young players across all age levels to reach their full potential."

Principal Brian Schumacher said the appointment would help build a culture of excellence around football and provide even more opportunities for boarders and day students.

"Rostrevor is a major provider for Norwood at the local level and the Eyre Peninsula is in the development zone for the Redlegs, so a lot of those boys have come over to do their schooling at Rostrevor," he said.

Allan said one part of the role he was passionate about was "coaching the coaches" across all ages and levels of football.

"How they coach is important; their training systems, introducing a game plan early and getting the boys focussing on the fundamental footy skills," Allan said.

"Some of those basic footy skills have dropped off a lot. Coaches are watching the footy shows and getting too complicated.

"The key is to keep it simple and, with everything we do, we want to do at game-like intensity."

Allan has also had a strong association with the Geelong FC and, last month, took the opportunity to visit Rostrevor AFL draftees Jacob Kennerley, Ben Jarvis and Cameron Taheny who developed into quality players under his watch at Norwood.

The trio also benefited from the immense talent of Rostrevor's departing First XVIII Coach Ron Fuller who will continue his involvement with the College in a reduced capacity.

One rising star, Rostrevor prefect Ned Carey, has been selected in the SA Hub of the AFL Academy for 2020 which identifies and further develops draft hopefuls and will take part in a major coaching camp hosted at Immanuel College next week (Jan 21).
In April, the 198cm key forward will travel to Western Australia to compete against the best of that State's emerging footballers a part of the under-18 State squad selection process.