No Limits for Ace Scholar
Posted on 1 July 2019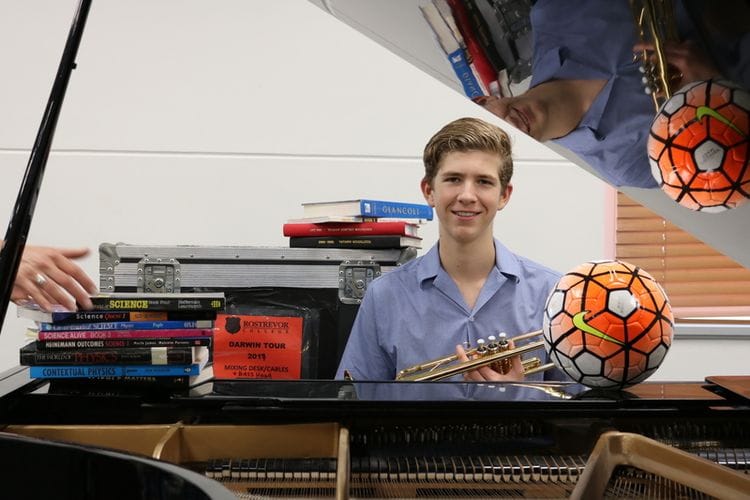 Year 9 Cameron Tunno says a "healthy obsession with learning" and the backing of a College which places no limitations on its students has been the key to his stunning academic performance.
The scholar has been named Dux two years running and topped his class in English (Extension), Mathematics (Year 10), Music, Religious Education and Science.
He has repeated the stunning result in the first semester of 2019 and credits his excellent teachers and Rostrevor's wide range of subject choice for his academic success.
"They have been very accommodating, extending me musically, mathematically and in English as well," he says. "There are a lot of options and opportunities at Rostrevor. They are happy to provide whatever you need to excel and not all schools do that. There are no limitations for me."
Cameron, who is also a talented soccer player and goalkeeper, says he doesn't view studying and learning as a chore.
"Acquiring knowledge is fun for me," he says. "Knowing things and having the ability to discuss things and know what you're talking about is rewarding.
"Sometimes, I get a major obsession and an intense desire to pursue something but not in an unhealthy way. I just have to know things so that I can be as good as I can be."
Cameron began playing the piano at age three. He has since added percussion, vocals and trumpet to his repertoire to expand his musical opportunities. He plays in three College bands and is among 15 students who performed in New Orleans and New York as part of Rostrevor's USA Music Tour.
His music teacher, Marnie Tiggemann, says Cameron is mature beyond his years and "very much an all-rounder".
"His ability is outstanding but he is also very caring of others and often guides or mentors his peers," she says.
Apart from his various talents, Cameron has an uncanny knowledge of anything related to 70s and 80s rock band Queen, having spent countless hours watching bootleg recordings and memorising Freddie Mercury's finest performances across the decades.
"To me, they reached the pinnacle of rock in the 70s and 80s they were the best of their generation," he says.
"Whatever I do, I will always make time to play music. The great thing about music is, as long as you have an instrument, some musical knowledge and the interest, you can pick it up at any time and have some fun playing."