Term 4 Highlights
Posted on 20 November 2020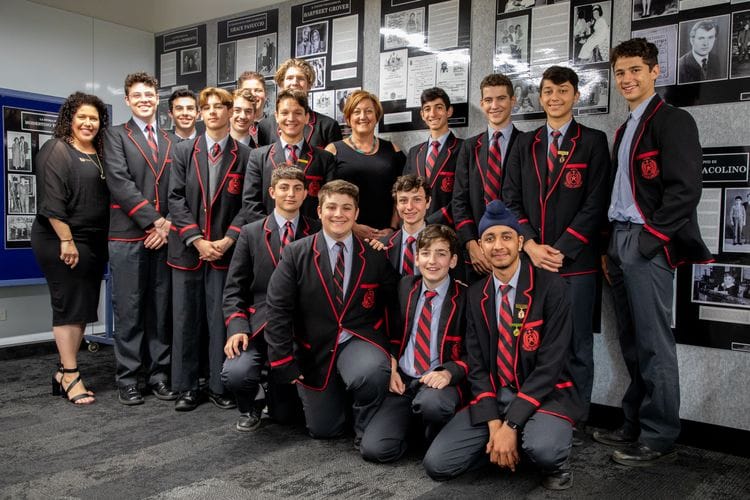 Term 4 Highlights

Brian Schumacher
Principal

It has been a tumultuous time in recent weeks and it's easy to forget the wonderful strides our students have made this year. From the classroom to the stage and the sporting fields, life at Rostrevor has been a hive of activity and achievement as these highlights from the past two weeks demonstrate.
Music in the Valley
In a year of few performance opportunities for our music students, last Friday's Music in the Valley concert was a great showcase of Rostrevor's bands and ensembles. Thanks go to our wonderful Music Department which was determined to give its students the chance to perform in front of their families.
To see the full photo gallery from the event, click the image below: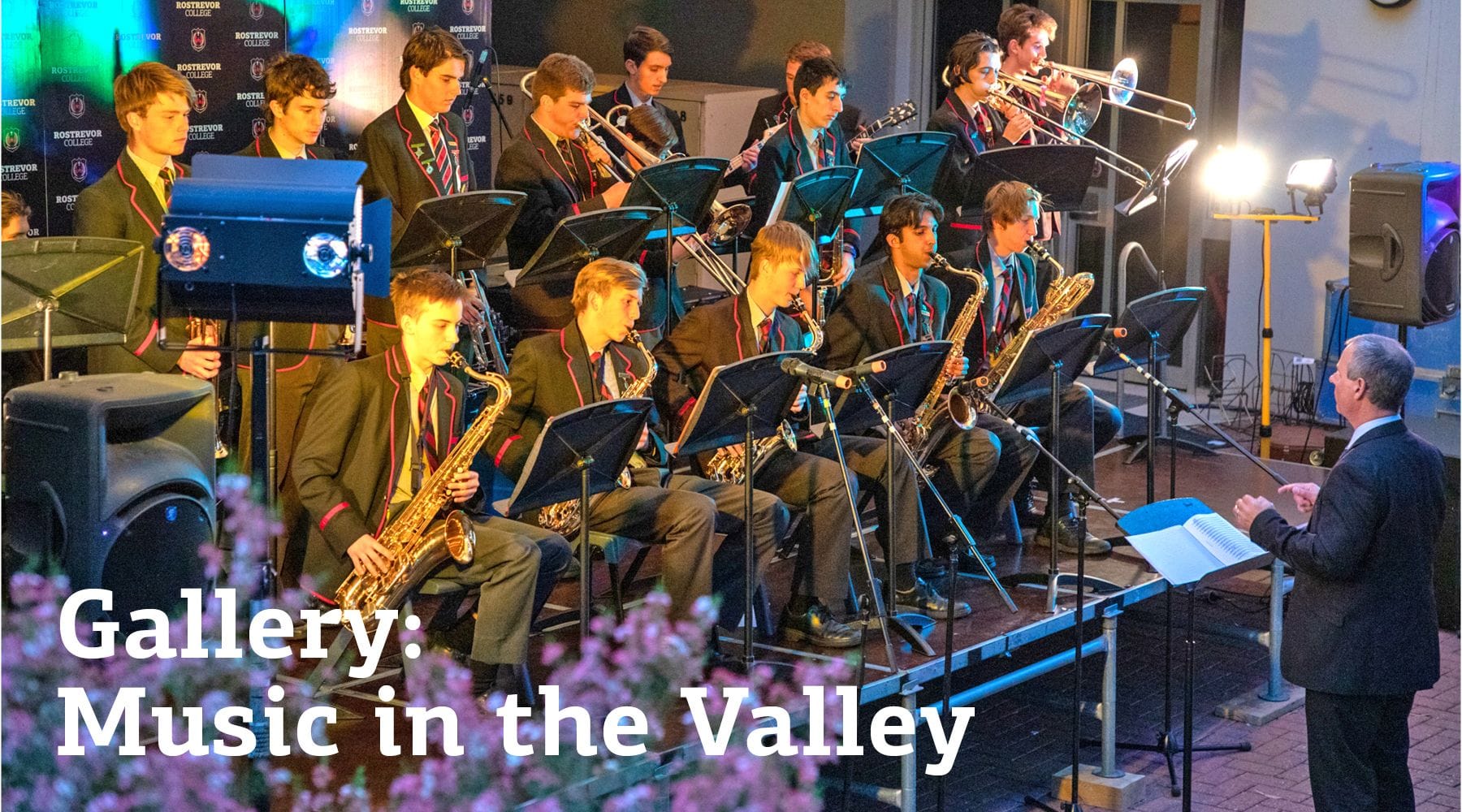 Transition Days - Rostrevor welcomes its new faces


In the past two weeks, Rostrevor has been delighted to welcome its new 2021 students in a series of Transition Days across all year levels and our boarding house. There were many moments of excitement for our new students as they had their first taste of College life at Rostrevor.


Final Innings for First XI Coach Bill Trewartha
For nine years, Bill Trewartha's name has been synonymous with Cricket at Rostrevor. He has led many First XI sides to victory and helped develop young players into serious contenders in the sport at State and National level. Last week's home match against St Michael's was Mr Trewartha's last appearance as First XI Coach, although he remains an integral member of Rostrevor College's Leadership Team. Past players and Rostrevor's broader cricket fraternity attended in large numbers to support the First XI team, which enjoyed a convincing win against St Michael's.
Rostrevor Old Scholar Claude Beltrame ('78) took some great photos on the day of the Firsts and the earlier 7A match.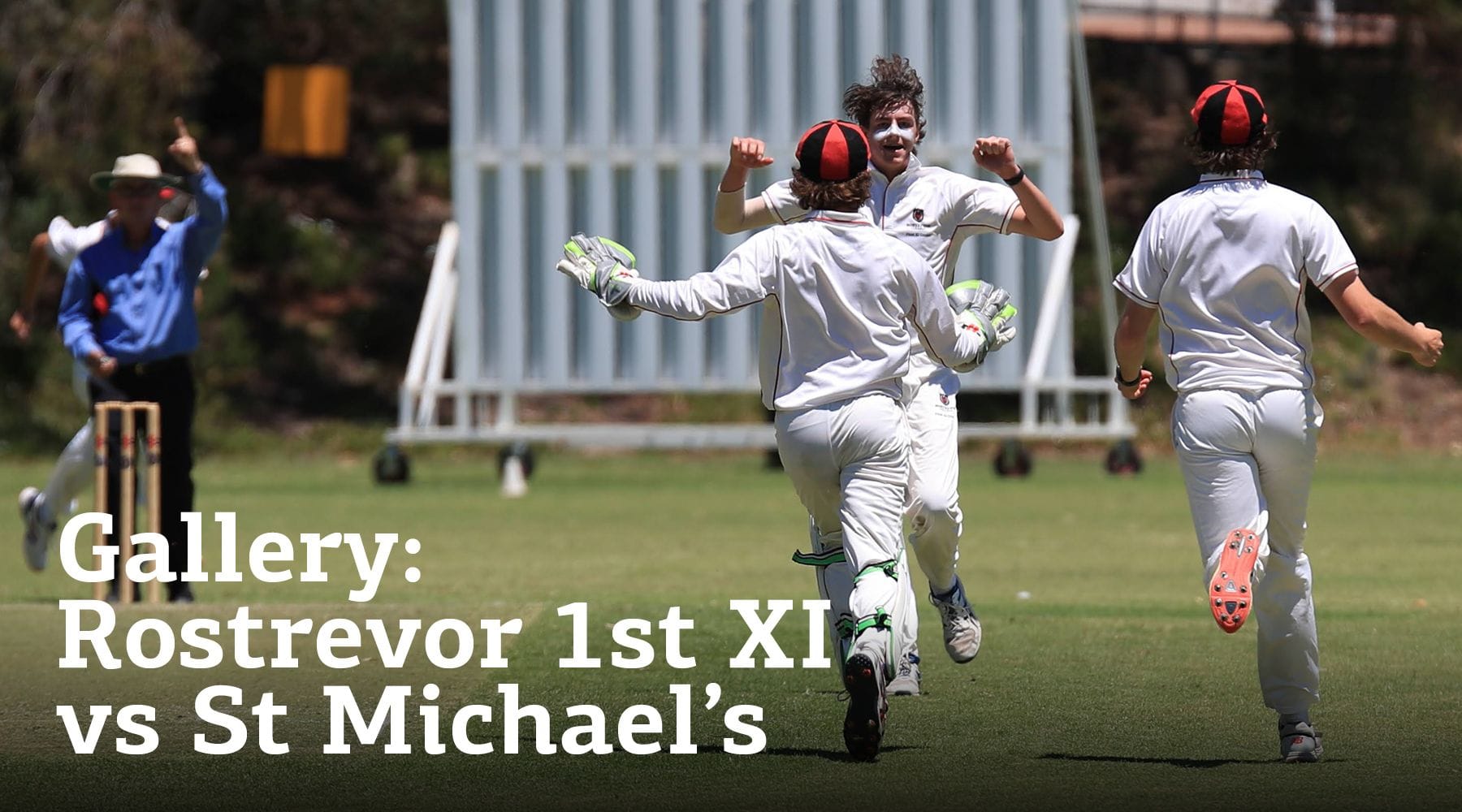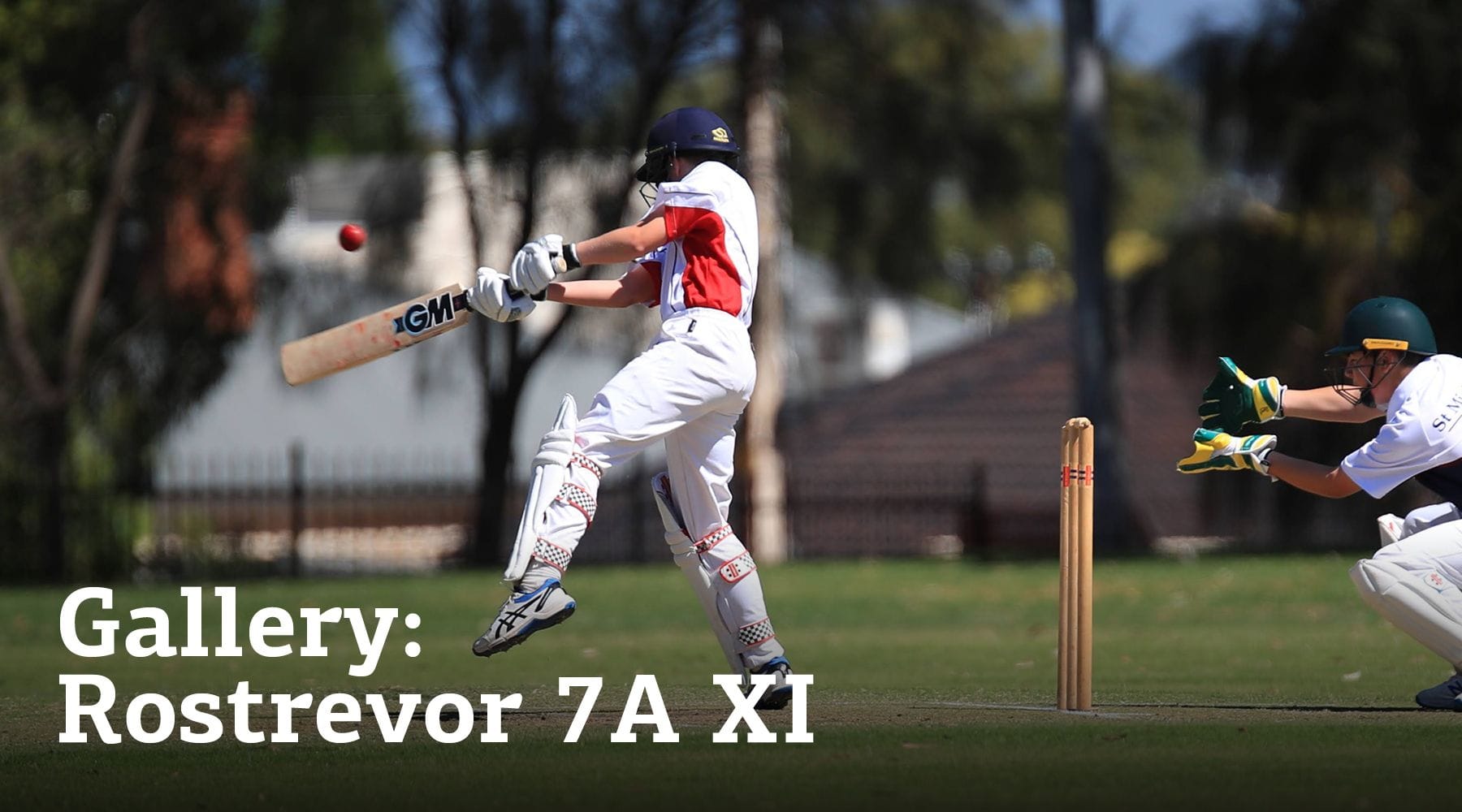 We have also pulled together the nine First XI teams that Mr Trewartha guided through this past decade: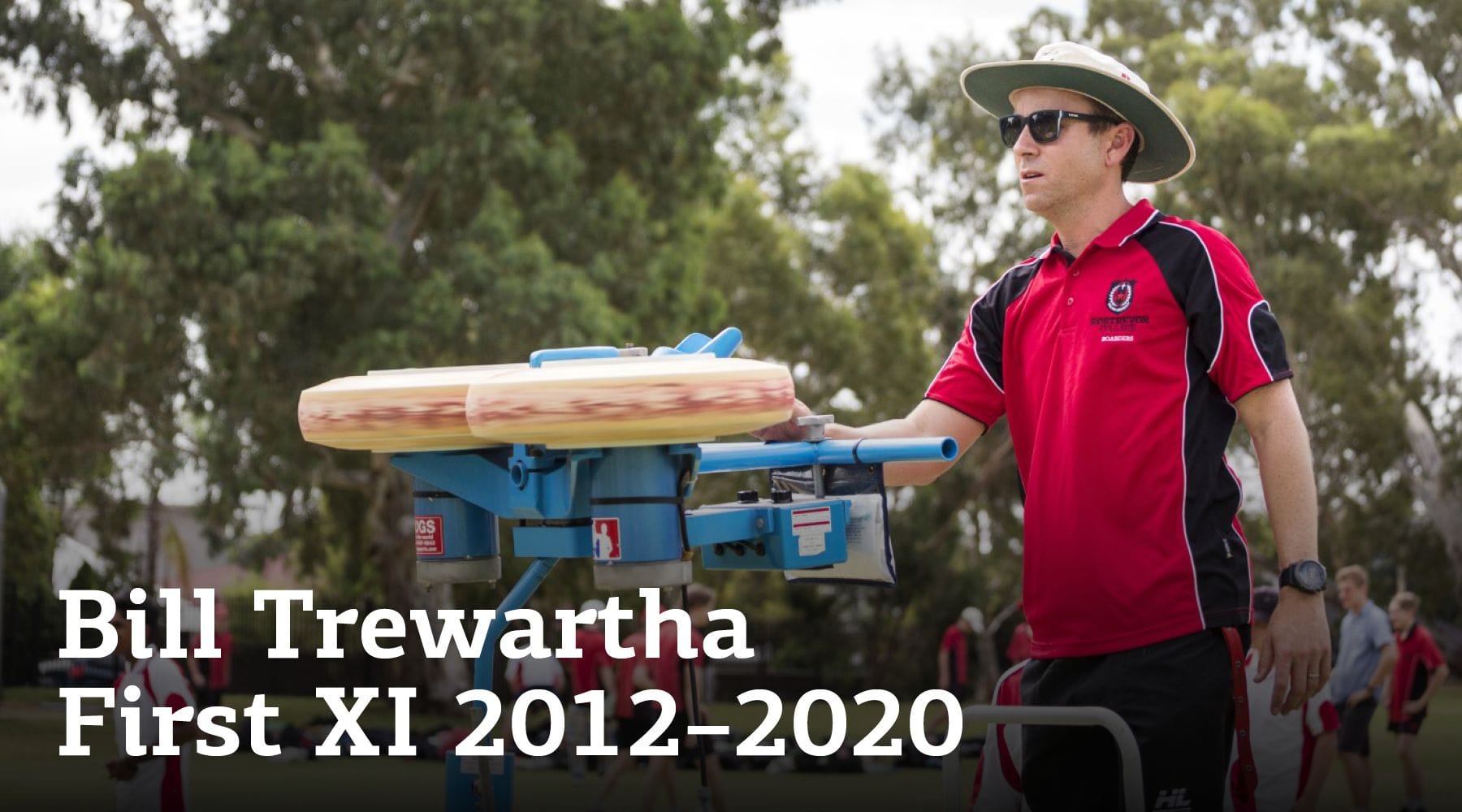 NAIDOC Week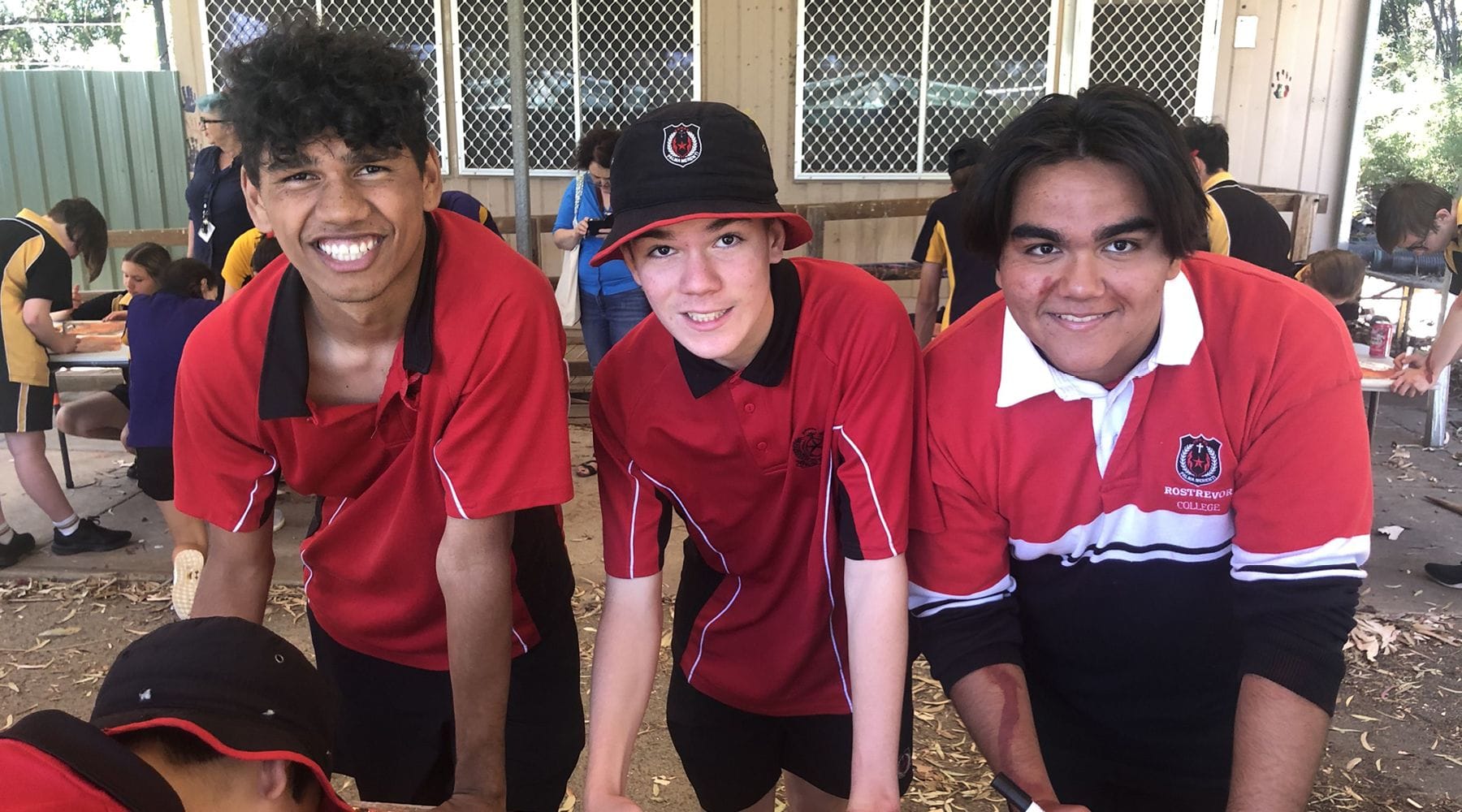 Week 5 was a very busy and rewarding week for Rostrevor's Aboriginal and Torres Strait Islander students - as well as the broader College community - as we celebrated NAIDOC Week. On Remembrance Day, our ATSI students attended Tauondi College where they honoured Aboriginal servicemen and women who served in the Australia Defence Force followed by cultural workshops including painting, dance and even cooking kangaroo tails!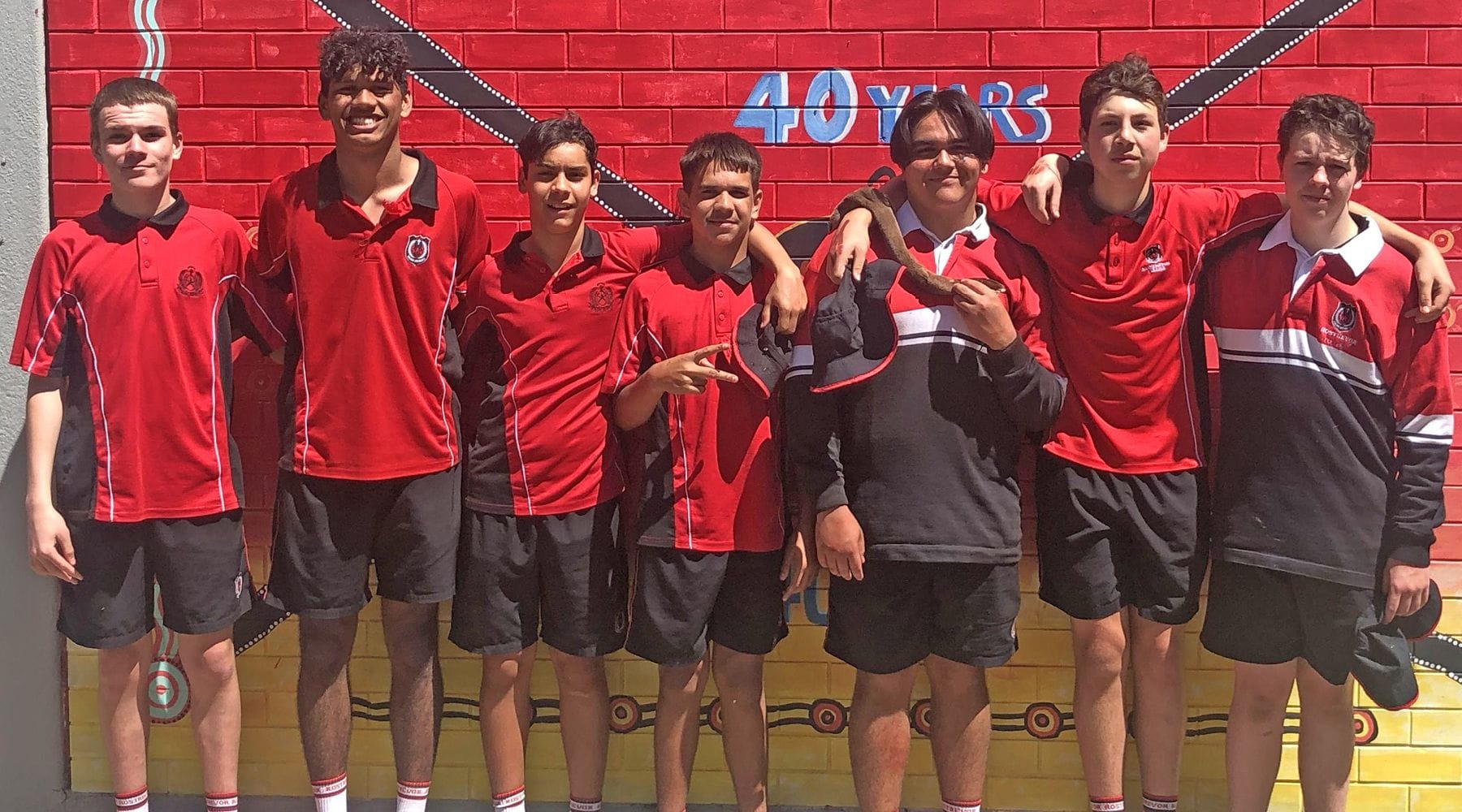 Our 'Indigenous Youth Leadership Program' scholarship recipients attended a NAIDOC Week Dinner at the Adelaide Convention Centre, held by the Smith Family. Congratulations go to Dyvondre Banderson who was presented the 'Quiet Achiever' award and to Tristan Hunter who received the 'Role Model' award. Our thanks go to the Smith Family on its great support of our ATSI students.

Our Yr 6 students were given a great opportunity to learn more about local Indigenous culture and communities through interactive dance sessions with Desert and Sea - "Talkinjeri" dancer Iteka Sanderson-Bromley. Iteka conducted several sessions teaching our students about SA's Aboriginal nations and the important links between dance and spirituality. The Indigenous dance in schools program is facilitated by Catholic Education SA.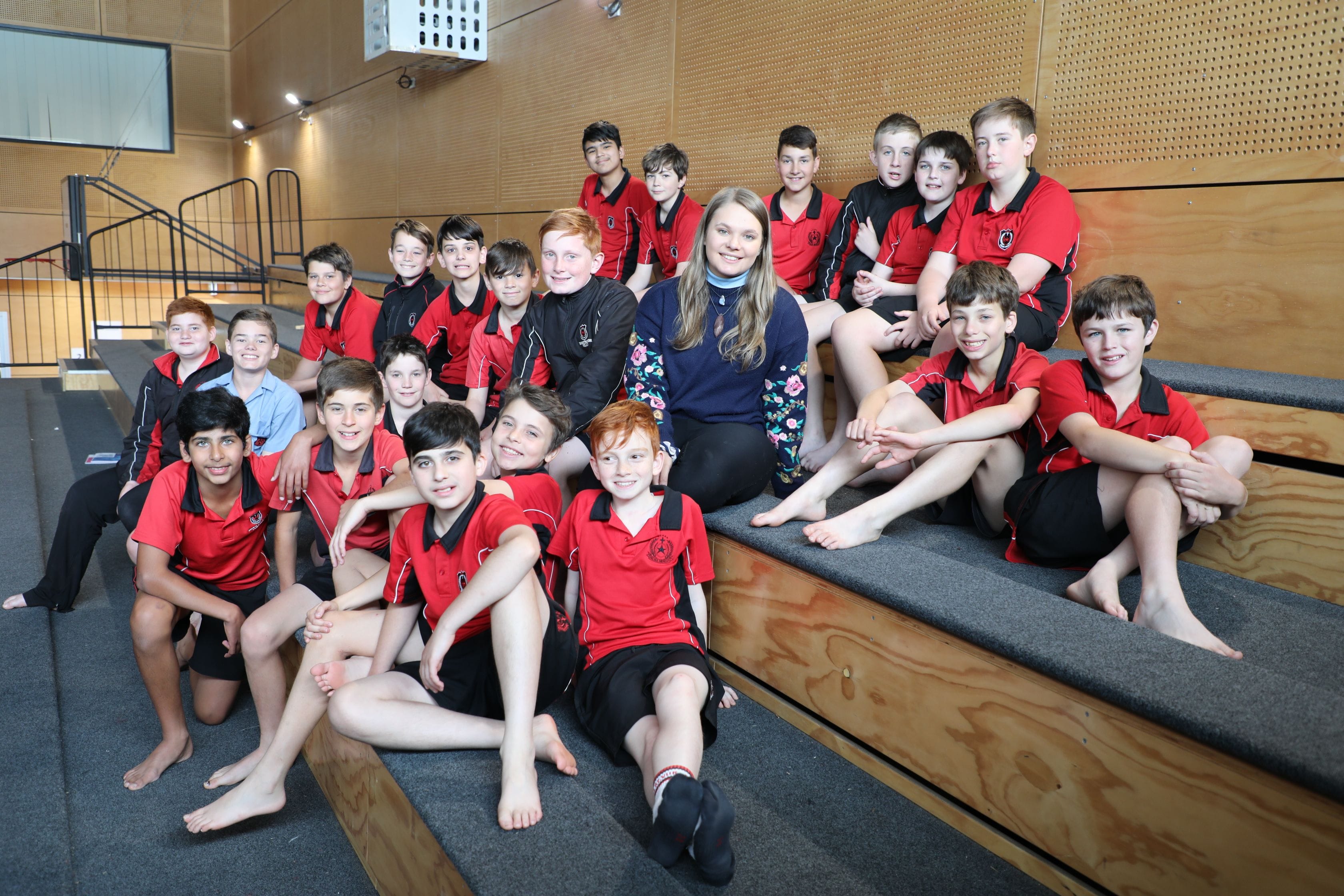 Thanks go to Director - Student Wellbeing ATSI Students, Mr Geoff Aufderheide, for his coordination of NAIDOC Week activities at Rostrevor in support of our Indigenous students.

Geography Award Winners
Congratulations to our Year 9 and 10 winners in the Australian Geography Competition. Special mention goes to Yr 9 Charlie Deane-Shaw who topped the State and scored in the top 1% in Australia!!
High Distinctions or Distinctions were awarded to Yr 9s Harry Brock, Dion Bria and Charlie Crafter and Yr 10 Joao Paulo D'Assumpcao (pictured here with Deputy Principals Mrs Nicole Laube and Mr Frank Renaldo). Year 10 Charlie Spajic also achieved a High Distinction. It is the third year in a row that Rostrevor has performed exceptionally in the competition which attracts thousands of entrants nationally. Well done to our Geography teachers and students.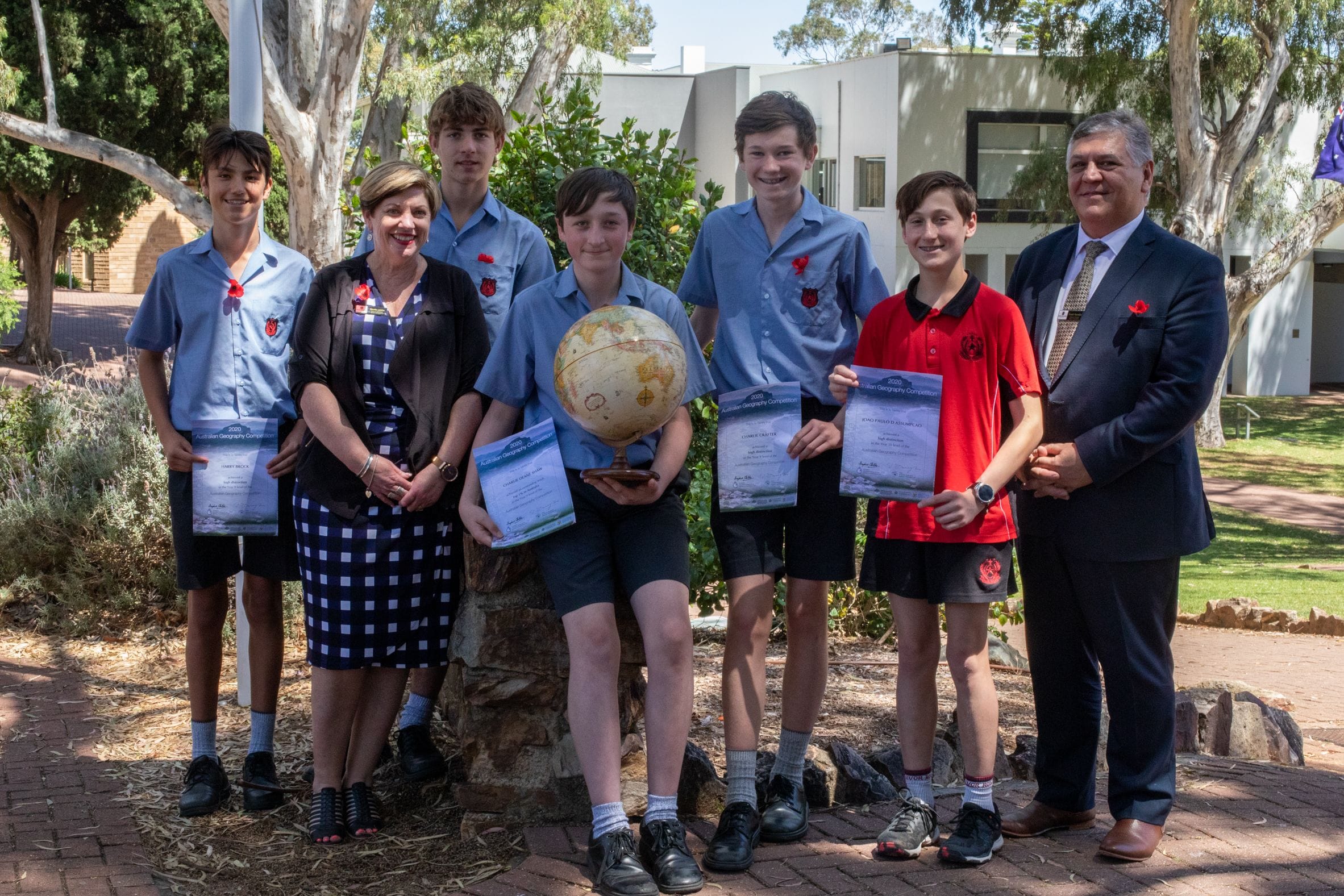 Collage of Migration Posters
The 2020 Collage of Migration event on Tuesday 10th November was a wonderful tribute to South Australia's migrant heritage. The Year 10 Italian students worked exceptionally hard on their stunning black and white posters which showcase the beautiful stories of hardship and triumph that migrants faced when travelling to Australia many years ago. Thanks go to Elizabeth Trasente and Carelyn Robinson for their great efforts.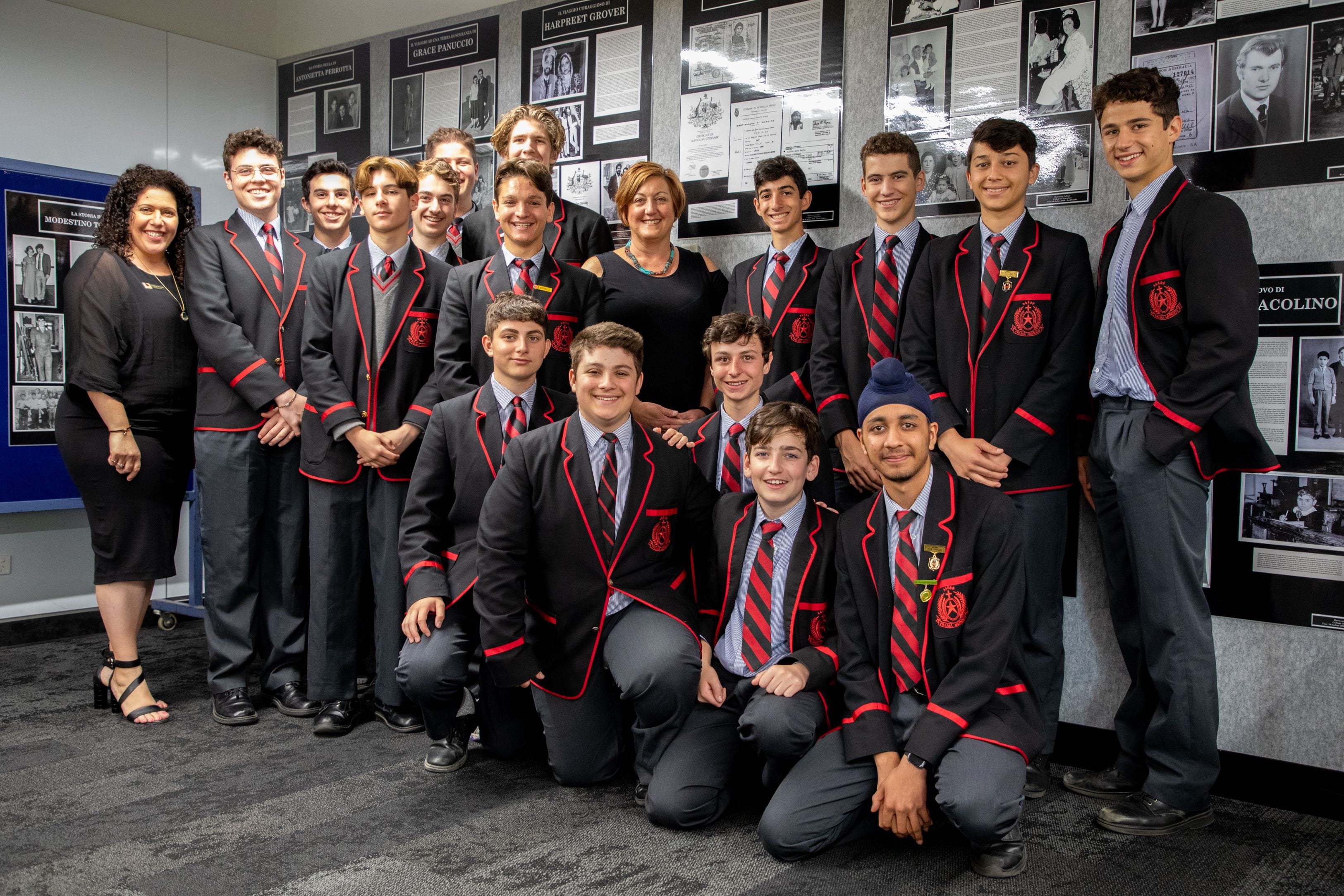 As part of the Collage of Migration, each student presented their posters in a great showcase of language skills, compassion and respect. View the full video here:

Remembrance Day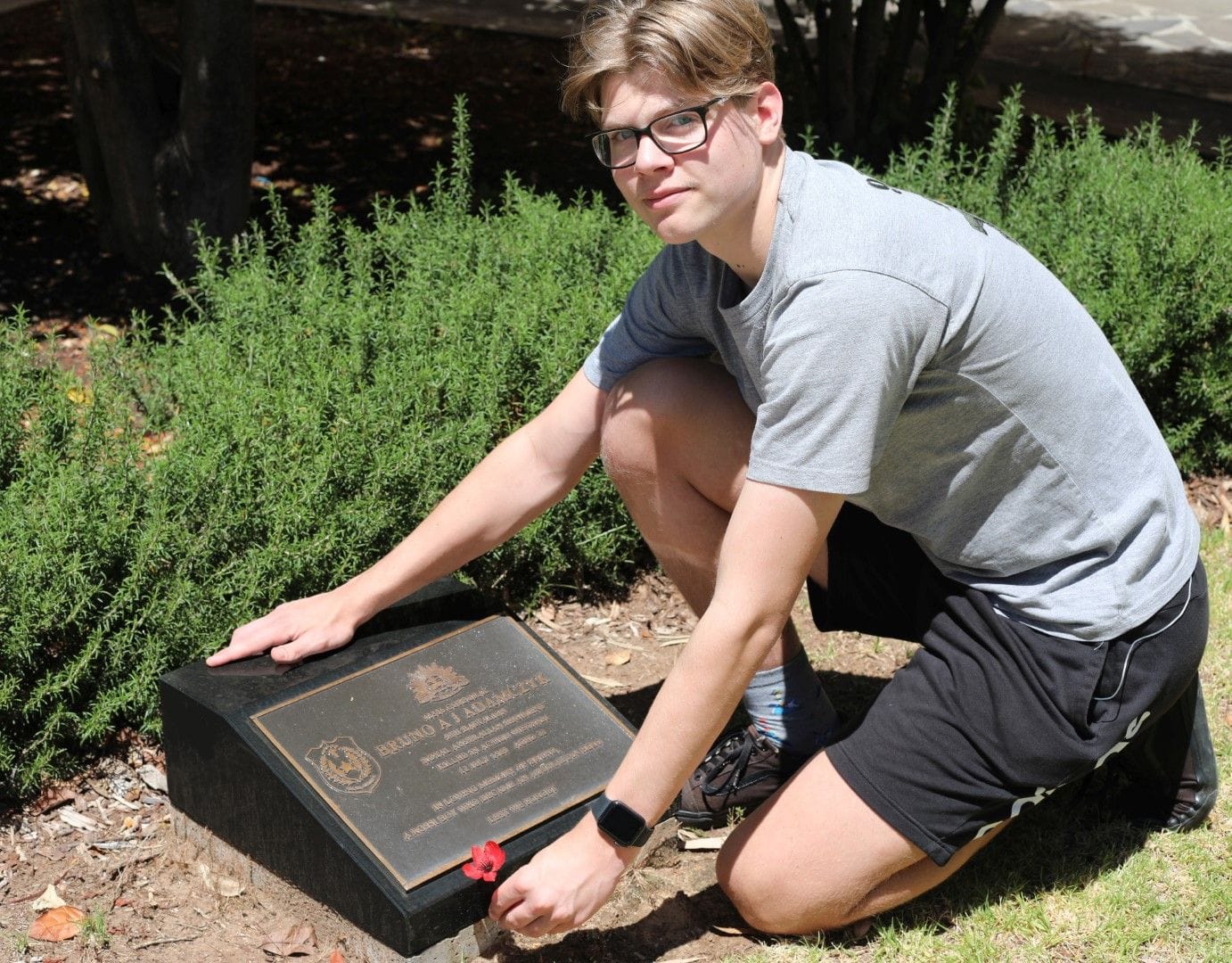 Talented Yr 12 musician Dylan Matthews has written and produced this wonderful song and video in tribute to the grandfather he never met. His poppa, Corporal Bruno Adamczyk, was a Rostrevor Old Scholar who died in battle at just 22 in Vietnam. As part of their Year 12 SACE Music studies, students are required to write and record their own song. Dylan's lyrics to "In Your Memory" were performed by a close friend of the Matthews family, Old Scholar Michael Evans ('81), and recorded in Rostrevor's exceptional recording studio. It is an incredible achievement and a fitting tribute to share with the Rostrevor community.
Seeds in Space Program
We are excited to announce that Rostrevor College has been selected to be part of a joint Australia Space Agency/Japan Aerospace Exploration Agency to grow wattle seeds that have spent time in Space.The SpaceX rocket launch in December will carry our seeds to the International Space Station where they will spend 6 months before returning to Earth and a garden bed at Rostrevor College. Our JY students will grow the seeds (alongside others that have not been to space) and record data on germination, seed and plant growth over the next two years. Well done to our supportive Yr 5 teachers, Mr David Knight and Mr Adam Pipe, and Science teacher Ms Natasha Edwards. See below to watch the winning video entry.
Author:
Brian Schumacher
About: Principal, Rostrevor College