Principal's News - 16 September 2022
Posted on 16 September 2022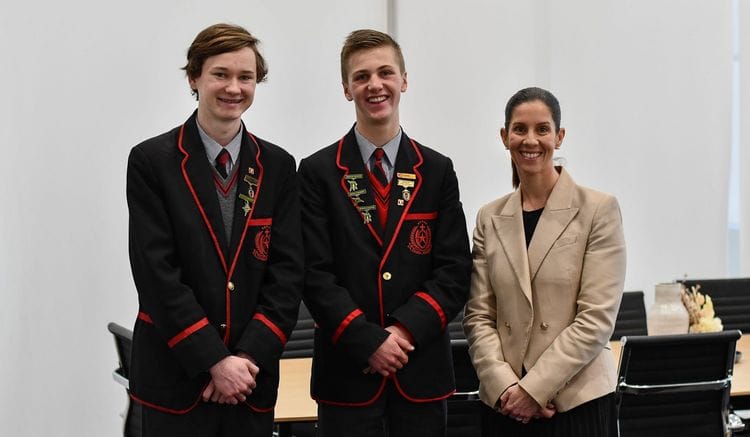 Shana Bennett
Principal
Prefect Announcement

It is my great pleasure to announce the 2023 Prefecture, which will be led by Head Prefect
Lachlan Tripodi and Deputy Head Prefect Charlie Crafter. I met with all the 2023 Prefects this
morning and reminded them that leadership is not about a title, not about a badge, not about
doing things to further promote yourself – true leadership is about the service you give to
others and the difference that you make. I have every confidence that the 2023 Prefecture will
be outstanding leaders as we head into the Centenary Year!
To view the full list of 2023 Prefects and House Vice Captains, please CLICK HERE
Music Night

Congratulations to our many talented Middle Years and Senior Years musicians who put on a wonderful show at the 2022 Music Night at Norwood Concert Hall on Wednesday. I thank our Music Department for the flexibility, energy and creativity it has demonstrated to create opportunities for our musicians to showcase their gifts and talents. I also take this opportunity to thank the students for their performances, as well as families and friends for their tireless support. Click on this link to view the full Music Night Photo Gallery. Please view the MY/SY Music Program HERE
And, a reminder that the Junior Years Music Night will be held at Rostrevor College in Callan Hall on Friday 23 September at 7pm. Audience tickets available via Qkr! (participating students do not require a ticket)
JY Sports Day – Sept 29 families welcome

The Junior Years Sports Day is fast approaching, and we look forward to seeing many families attend on Thursday September 29. A letter with more details will be sent out to our Junior Years families next week.
Max brings SANFL Cup to Rostrevor

There was great excitement at Rostrevor as AFL Draft prospect Max Michalanney ('21) brought the SANFL Premiership Cup to the College as part of the build up to this Sunday's Grand Final clash between Norwood and North Adelaide at Adelaide Oval.
Footballers of all ages gathered around Max who has had a great year representing South Australia and Norwood in its League and Reserves teams. Joining Max on the field on Sunday will be many Rostrevor graduates including Luke Surman, Ben Jarvis, Matthew Panos, Jacob Kennerley, Josh Richards and Cameron Ball. Other Squad members who have also played League matches this year include Cameron Taheny, Xavier Tranfa and Pierce Seymour. North Adelaide is captained by Rostrevor Old Collegian Alex Spina. See the article on Page 9 of Thursday's Advertiser HERE
First XI Soccer into State GF

Congratulations to Rostrevor's First XI that is one step away from clinching the All Schools Cup State Title. After a grueling 100 minutes with no score from either team, it came down to a tense penalty shootout between Rostrevor and Henley HS at Tuesday's semi-final. In a match-defining moment (and with the teams at 7 goals apiece), goalkeeper Ryan Borzillo saved Henley's 8th penalty shot and then stepped up and scored the winning goal delivering an 8-7 win to Rostrevor and a berth in the grand final against CBC.
Adelaide Premier League Cricket

Congratulations talented cricketers Dom Zappia, Jake Polkinghorne, Sidney McDonald, William Fanning, Nicholas Furst, Archah Parisi, Jack Haddad and Alecs Zorzi (not pictured) who have been selected by various clubs to play in the exciting, new Adelaide Premier League competition.
History & Geography High Distinctions

Congratulations to Luca Ruotolo, Xavier Clark, Finn McNamara, Connor Bohlin, Cooper Swain and Jackson Burman on their Distinctions and High Distinctions in the National Geography and National History Competitions that are undertaken by thousands of students across Australia every year. Max Gouletsas and Alex Minicozzi are also to be commended.
Rostrevor and the NDIS - Family Information Session
To learn about how Rostrevor is working with the National Disability Insurance Scheme (NDIS) to support students and what supports may be available for your son, come along to the Family Information Session Wednesday, Sept 21 from 1:30pm til 3pm. For more information and to register, see the FLYER HERE
Lighten the Load (Vinnies' Bins) Donations

It's time to empty out the winter wardrobe of surplus, quality items and get behind Rostrevor's and Vinnies SA's Lighten the Load campaign, which is being driven by the College's Social Justice Group. Donating your quality second-hand items will directly support those in need in South Australia.