Principal's News - 19 August 2022
Posted on 19 August 2022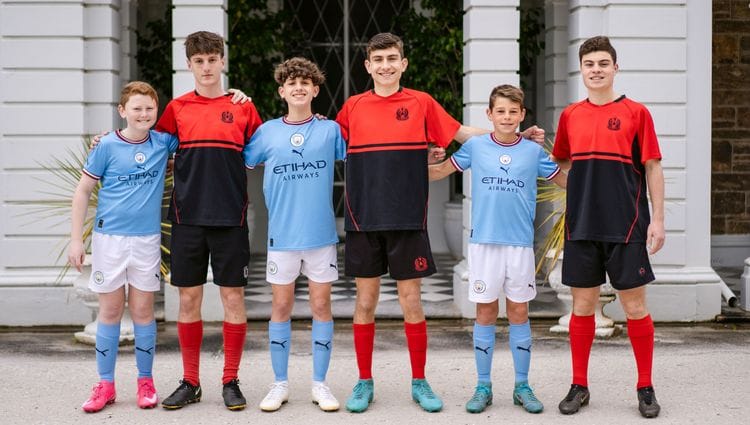 Shana Bennett
Principal
Manchester City Football School

In an incredibly exciting day for our College yesterday, I was thrilled to announce Rostrevor College will be home to the first and only Manchester City Football School in South Australia and the Northern Territory. It was especially wonderful to see the excitement on the faces of students as I shared the news with them at a special Assembly yesterday. The reaction to the news that Rostrevor has partnered with one of the largest soccer clubs in the world has been nothing short of astounding and I, along with many young soccer players, look forward to the opportunity this partnership brings.

The program will commence in 2023 with curriculum offerings to Year 7 students and will support our existing Co-Curricular Program while also providing opportunities for specialised after-hours and holiday clinics. More information on the program will follow in coming weeks, with initial registrations of interest welcome here
Please enjoy this video featuring some of Rostrevor's soccer players coordinated by Rostrevor's Development Office and produced by the highly-talented team at LS Creative Co! A photo gallery of images by Marie Pittman from LS Creative Co! can be viewed here. The ABC online news report can be viewed here. Subscribers to Adelaide Now can view its news report here
Congratulations to our First XI

In more exciting soccer news, I join the the Rostrevor Community in congratulating our First XI on its thrilling grand final win against CBC in the Sports Association of Adelaide Schools (SAAS) competition. As one of many spectators at the match, I would like to make particular mention of the fantastic way in which our young men conducted themselves both on and off the field. The match was played with great sportsmanship and respect, which was a credit to both Colleges.

The skill level was outstanding and I commend both teams and thank Rostrevor's Director of Soccer and our First XI Coach, Terry Frangakis. The team now looks forward to next Wednesday's Intercol match at Sacred Heart College and also the opportunity to play for the State Title in late August. The community again thanks Old Scholar Claude Beltrame for capturing some great images of the match and celebrations here
Student Free Day - Friday 2 September
We look forward to sharing the progress of Rostrevor students with families in our Parent-Teacher-Student interviews on September 1 and 2 and remind families that Friday, 2 September is a Student Free Day. Please see the letter sent to families regarding the process for online bookings.
MY/SY Swimming Carnival

Today, Rostrevor held its Middle and Senior Years Swimming Carnival, which was celebrated with great House passion and pride. Well done to Gurr House, which won the Br J V Trophy for Champion House as well as the Senior Years Shield. Congratulations to Webb House which won the Middle Years Shield and to Egan House which chanted its way to the Spirit Shield for 2022.



A full photo gallery will be shared next week, but please enjoy the 100m Freestyle Invitational Race featuring Rostrevor's fastest swimmers here. Congratulations to Gurr House's Tom Braunack who had a convincing win. Meanwhile, the Teachers displayed great form over the Prefects, securing valuable bragging rights in the Teachers vs Prefects race here
Triple j Unearthed Finalist - Jackson Harvey

To hear one of Australia's hottest emerging bands featuring Rostrevor's Jackson Harvey, get along to the Crown and Anchor tonight to see triple j Unearthed Finalists Sunsick Daisy.
Book Week - August 22 - 26

One of the most exciting weeks of the year, especially for our Junior Years, is almost here - Book Week! This year's national theme is "Dreaming with eyes open...", so it's time to for students to let their imaginations fly and come up with a costume for the Book Week Parade which will be held on Friday 26 August at 9am. The Ideas Centre will hold a Book Fair before and after school each day during Book Week with parents and caregivers welcome. See the Book Week letter here.

Spirituality in the Junior Years

Today, our Year 4s gathered in the Chapel for a Religious Education unit focussing on the Holy Spirit in light of the recent confirmation of several Junior Years students.
Co-Curricular
Term 3, Week 4 Fixtures and Results
Middle Years Basketball - Grand Final match
Good luck to Rostrevor's Middle A Basketball side, coached by Mr Steel, which will play in the Sports Association of Adelaide Schools (SAAS) grand final match against Concordia tomorrow at Nazareth College at 10:30am.
Knockout Soccer

Congratulations to Rostrevor's Year 7/8 AND 9/10 Knockout Soccer teams which will both proceed to the finals following their respective 2-0 and 4-2 victories this week.
No Debating it - Rostrevor's on top

The Debating season has been a great success, with one of our Senior Years teams undefeated so far this season. Well done to Year 12s Harrison White and Sej Sidhu and Year 10 Alex Clark on their recent performances with special mention of 3rd speaker Harrison White, who attained an exceptional 95 score to help their team advance to the quarter finals on 7 September. Most of Rostrevor's teams have enjoyed many wins this year and we wish the Year 7s and 9s the best of luck in coming weeks as they aim for finals.
College Photography Orders
Families are reminded that galleries, including Co-Curricular photos are now live, and that orders for all photos to be delivered to the College will close on Friday 26 August for a mid-September delivery. After that date, shipping to a postal address - with a small fee - will be the only delivery option.
New Junior Years Hub

We are excited to launch our new Junior Years Hub - a one-stop shop for parents focused on learning and activities in the Junior Years. With a strong focus on Rostrevor's approach to literacy, the site has step-by-step guides for parents including "Beginning Reading" and explains the many learning supports and opportunities provided to young Rostrevor students. The Junior Years Hub will continue to evolve over coming months with frequent updates from the Assistant Principal - Junior Years, Mrs Paley, and our Leader of Learning - Junior Years, Ms Lanzilli.
Workshops under way for Centenary Book

We are thrilled to have Old Scholar and former teacher Greg Hay ('73) helping to create Rostrevor's Centenary Book which will be filled with images and reflections of the 100 years of the College. Greg is seeking your stories and insights and is hosting a series of workshops so he may learn about the Rostrevor impact and understand why the College has made such a difference in so many lives. Please CLICK HERE to read more and get involved.
Supporting success for all students
As part of the process of supporting a student with an identified or additional learning need, a Personalised Plan for Learning (PPL) is created. This plan is based on criteria recommended by the Nationally Consistent Collection of Data on School Students with Disability (NCCD) and outlines the strategies of support that can be put in place for a student. To learn more about the NCCD data collection, its purpose, legislative basis and to whom NCCD data will be disclosed, please CLICK HERE
Sibling Enrolments for 2024
As many year levels have reached capacity for 2023 (and are nearing capacity for 2024), existing Rostrevor families are encouraged to submit sibling-enrolment paperwork to Enrolments Officer Annemarie Mein as soon as possible.