Principal's News - 23 September 2022
Posted on 23 September 2022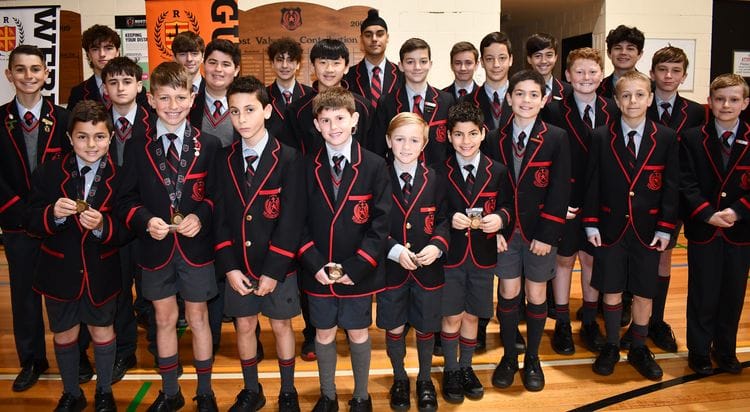 Shana Bennett
Principal
Winter Co-Curricular Assembly

Today, we celebrated the dedication and talent of our students across many activities that are offered through the College's Co-curricular Program. From Music and Sport to Chess and Debating, what really shone through today was the emphasis on the team rather than the individual. I would like to congratulate every boy who took part in the rich Co-Curricular offering at Rostrevor and thank the coaches, managers and parents who make these rewarding and enrichening activities possible.
Winter Co-Curricular Assembly Booklet
Winter Co-Curricular Photo Gallery
Winter Co-Curricular Award videos
2021 High Achievers Celebration
On Monday, we will welcome back many of our 2021 high achievers, including Dux Jordan Zorzi, Proxime Accessit Jack Basso, A+ and Merit students and those who achieved ATARs above 90. Unfortunately, the traditional Dux Assembly at the start of the year was impacted by COVID constraints at the time, so we are pleased to have the opportunity to share these achievements with graduates and their families. The complexities of COVID have pushed many events into the latter part of the year and I would like to acknowledge and commend the efforts of College staff who have made many of these celebrations possible despite having an enormous amount on their plate.
Year 11 Formal
It was great to see our Year 11 students pulling out their finery to enjoy their Formal at Glen Ewin Estate. On a cold and wintery night, they certainly warmed up by doing some amazing moves on the dancefloor! Thanks to the staff who planned and supported the event and to all the guests. It was a wonderful evening, and I am sure it will be remembered and cherished by all who attended. Professional images by Event Photo will be available for purchase next week with a link supplied to students.
Prefect Camp

It was great to head along to the 2023 Prefect Camp on Sunday as our future student leaders spent several days at the Monastery in Urrbrae as part of their induction to the Prefecture. See the list of College Prefects and Vice Captains and their responsibilities HERE
Manchester City Football School

On Tuesday, families with sons enrolled in Year 7 for 2023 had the opportunity to hear directly from senior personnel from Manchester City including Tony Byrne - UK Operations Manager - Football Education (Manchester City Football Club) and Jonathan Smith - Head of Commercial & Football Education (Manchester City Football Club) about how the program will integrate with the Year 7 curriculum at Rostrevor next year.
Year 5 Winners of the Interzone Cup

Congratulations to the Year 5 (Under 11) team which won the Interzone Cup in a thrilling match on the "big stage" of the new ServiceFM stadium at Gepps Cross on Wednesday night. As the best team in the Eastern Zone Soccer Competition, the boys were selected by the FFSA to play the best team in the Western Zone - Grange Primary School. Rostrevor came from behind to win the match 3-2 in the final minute of the game. The goal scorers were Lucas Holling (2) and Hugh Benzan. Thanks go to Adrian Masullo for coaching the team this year.
Preparing for Exams - Channel 10 news story

Year 12 Marco Cerracchio featured in a Channel 10 news report last night on preparing for exams. The news item can be viewed HERE
Music Night Gallery

Tonight, we look forward to the Junior Years Music Night at Rostrevor College. Please see the photo gallery from last week's Middle and Senior Years Music Night
First XVIII Presentation Night
Wednesday night's First XVIII Presentation Dinner enabled the College to congratulate the players and thank Coach Jimmy Allan, team managers, umpires, supporters and parents. Well done to Best & Fairest Noah Hyde, Runner Up Best & Fairest Finn Wakelin, Red & Black Award winner Beau Baldwin, Pursuit of Excellence Award recipient Damon Stepic and Coach's Award winner Jackson Thomas. See the full photo gallery by Claude Beltrame ('78) HERE. The College again thanks Old Scholar Claude Beltrame ('78) who has provided the Rostrevor community with an incredible 3500 photographs of students and Old Collegians in action cross Football, Soccer, Basketball and Cricket this year.
O'Brien Fundraiser
The O'Brien House charity, Reverend Brother Patrick Foundation, works tirelessly with children, youth, women, and people with disabilities in the Indian Chennai and Kanchipuram districts. To raise funds for the Foundation, on Monday 26 September, O'Brien House is offering pizza and donuts for purchase. While pre-orders have closed, there will be a limited number of additional food items for sale on the day. See the Middle and Senior Years food prices HERE and the Junior Years pricing HERE
SA School Sports - State Championships

Well done to Junior Years athletes (back) Archie Craig, Ryder Dalton, Levi Taddeo and Jack Story and (front) Kai Langeluddecke, Austin Eime and Cooper Shaw who were all selected for the SA School Sports Track and Field Championships held on Tuesday.
JY Sports Day – Sept 29 families welcome

The Junior Years Sports Day is fast approaching, and we look forward to seeing many families attend on Thursday September 29.
Vinnies SA Donations

Next week is your final chance to donate your quality wardrobe and kitchen items to Vinnies SA's Lighten the Load campaign, which is being driven by the College's Social Justice Group. Donating your quality second-hand items will directly support those in need in South Australia.