Principal's News - 24 June 2022
Posted on 24 June 2022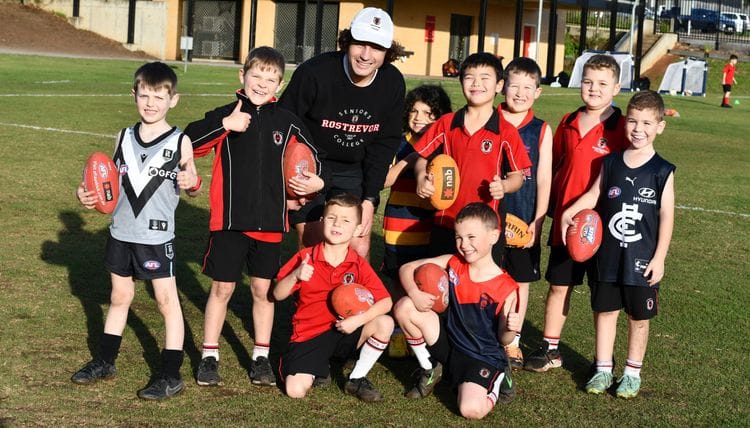 Shana Bennett
Principal
Thank you to our Old Scholars and Volunteers

As we approach the final week of sporting matches for Term 2, I would like to sincerely thank all the parent volunteers and and Old Scholars who do so much to support our boys in their Co-Curricular pursuits. From coaching and managing teams to running the Kiosk and hosting afternoon teas in the Pavilion on match day, our volunteers do an amazing job. I wish all our Co-Curricular teams well in this final weekend of games and thank the many supporting parents and grandparents who encourage their sons and grandsons week in, week out.

Our Junior Years students have loved their interactions with their not-so-Old-Scholar coaches including Patrick Baldwin ('20) - tennis and football, Jayden Gale ('21) - football, and Alessio Melisi ('20) - soccer.
Final Week of Term
We would like to remind parents - especially our new families - that Term 2 ends on Friday, July 1 at 3:15pm. The following week, July 4 to 8 is dedicated to the professional development of College staff and provides families with an extended break in the middle of the year to enable students to return refreshed in Term 3. Please note that Monday, July 25, is a Student-Free Day with Term 3 commencing on Tuesday, July 26.
Vocalists win National 3rd Place
Congratulations to Rostrevor's Senior Vocals Group, supported by Mrs Marnie Tiggemann, which won 3rd place in the national Generations in Jazz online competition with this adapted rendition of of Tuxedo Junction and Save the Bones for Henry Jones. It is the highest accolade for the College to date in this category. Click on the image to hear them sing!

Year 11 Service Learning Next Week.
Hot off the heels of Exam Week, 140 Year 11 students will venture off to their Service Learning placements around the country next week. From Maitland to Magill, Nhulunbuy to Newton, Katherine to Kensington, Port Lincoln to Paradise, the boys will undoubtedly have some incredible experiences while serving others, whether it be playing Bingo with elderly residents, helping out at childcare centres and schools, supporting children with severe physical disabilities or supporting Ukrainian Refugee families.
GameAware Parent Information Session

Many parents in our community have expressed concern over the amount of time their sons are spending on screens, whether it be accessing social media or through gaming. As part of our pastoral care program, students in Years 5-9 joined GameAware educational sessions on gaming and social media on Wednesday which was followed by an online session for parents. To watch a replay of the seminar CLICK HERE
Co-curricular
Week 7 Results | Week 8 Fixtures and Maps
Pedal Prix - 6 Hour Race

Well done to Rostrevor's two Pedal Prix teams on their strong performances in Sunday's 6-hour race at Victoria Park Racecourse. The College has welcomed many new students to the sport this year, with Year 7s making up most of Team Eddy. Thanks go to Coach and "head mechanic" Mr William Hunt for his great support of the boys and tireless efforts to keep Team Rossi and Eddy on track.
First XVIII - Rostrevor vs Westminster

It was another strong win by an impressive Rostrevor First XVIII on Saturday as they booted 18-13-121 to Westminster's 7-9-51. Good luck to the side as it plays its final match for the Term against Scotch College (away). Thanks to Claude Beltrame ('78) for these great photos: See the full gallery here:
First XI - Rostrevor vs St Ignatius

The First XI derby lived up to expectations as an undefeated Rostrevor College went toe to toe with St Ignatius for the full 80 minutes on Wednesday night. With the "pink round" match tied for much of the game (following an early goal by Luke Tirimacco), it came down to the final minutes and an effective free kick by Marco Matto to secure the win 2 -1. The result, despite the absence of 6 regular starting players, demonstrates the depth of the squad.
Knockout Soccer - Year 7 & 8 Team Dominates

In other soccer news, the Year 7 & 8 knockout team advanced to the next round following strong wins against Thomas More (4 - 1) and Playford (11 - 1) under the guidance of Old Scholar Zach Centofanti ('18).
Centenary book project unveiled - get involved

We are thrilled to have Old Scholar and former teacher Greg Hay ('73) helping to create Rostrevor's Centenary Book which will be filled with images and reflections of the 100 years of the College. Greg is seeking your stories and insights and is hosting a series of workshops so he may learn about the Rostrevor impact and understand why the College has made such a difference in so many lives. Please CLICK HERE to read more and get involved.
ROCA Business Lunch

A great afternoon was had by 180 attendees, ROCA's biggest business lunch yet! Old Scholars were represented from the Class of 1955 through to the Class of 2019. See the ROCA PHOTO GALLERY HERE. For a deeper insight into the event and the great speakers and sponsors, CLICK HERE
The Push Up Challenge

Year 11s Arnav Kothari, Isaac Kelly and Nathan Ferres are taking on The Push-Up Challenge to support Movember and The Push For Better mental health initiative. The young men have been doing more than 100 push ups a day and are approaching 3,000 push-ups each - raising $900 along the way. To help them reach their $1000 fundraising goal, visit: https://www.thepushupchallenge.com.au/fun.../MovemberSupport
Formal School Photography

Photos are available for purchase by families and are published in the College Annual as a historic record. To "opt in" to view photos prior to purchasing, CLICK HERE
Important reminders
Student-Free Day
Term 3 will commence on Tuesday 26 July to enable all Rostrevor Staff to attend a First Aid Training Day that has been rescheduled from January due to COVID-19
E-cigarettes and Vaping
Recent media attention surrounding vaping gives the College the opportunity to share some important insights and resources. Aside from the fact that vaping is a breach of our Drugs and Alcohol Policy at Rostrevor, we know that there are negative health effects associated with using e-cigarettes. Children and young people who are using these devices are inhaling nicotine and other harmful chemicals.
Through our Drug and Alcohol Program, which is delivered in Pastoral Care, students are told of the associated risks and potential impact vaping can have on their development and overall health. Parents are encouraged to discuss the dangers of nicotine addiction and include e-cigarettes in the discussion alongside alcohol and drugs. Please click here for additional information from the Alcohol & Drug Foundation. Also refer to the tip sheet for parents in having a conversations about e-cigarettes with your teen with by clicking HERE.
Sibling Enrolments for 2024
As many year levels have reached capacity for 2023, existing Rostrevor families are encouraged to submit sibling-enrolment paperwork to Enrolments Officer Annemarie Mein as soon as possible for 2024.
OSHC

It has been a great start for Rostrevor's new OSHC service with 35 families taking advantage of the engaging and enjoyable program led by Director Steve Calio. Parents are reminded that OSHC also offers a before-school session from 7am to 8:30am and that students are not permitted on campus until a supervising teacher is present from 8:15am. See the College OSHC webpage here