Principal's News - 26 August 2022
Posted on 26 August 2022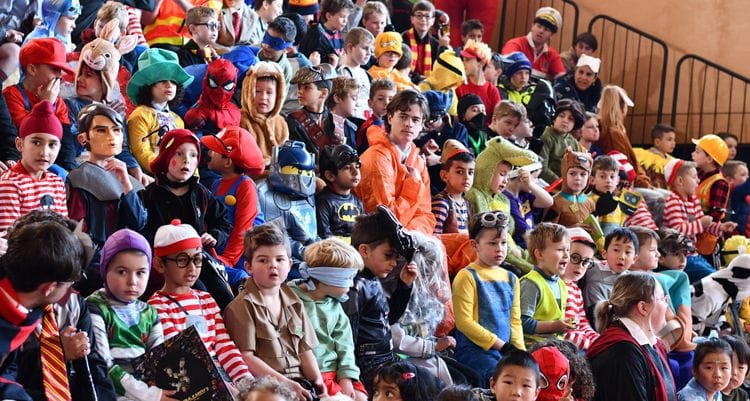 Shana Bennett
Principal
Student Free Day - Friday 2 September
We look forward to sharing the progress of Rostrevor students with families in our Parent-Teacher-Student interviews on September 1 and 2 and remind families that Friday, 2 September is a Student Free Day. Please see the letter sent to families regarding the process for online bookings.
Book Week

Book Week 2022 has been a highlight of the Rostrevor College year with a focus on the joy and discovery that comes from reading. From the successful Book Fair to visits from famous children's authors, our Junior Years students have had the opportunity to immerse themselves in this national celebration culminating in today's colourful Book Week Parade. I'd like to thank our families who got behind the many events and activities this week.
Children's Author Phil Cummings

A visit by renowned children's author Phil Cummings to Rostrevor's Junior Years was among the highlights of Book Week. Our Year 3 - 6 students sat enthralled as Phil recounted tales and answered questions from Rostrevor's eager readers. Among Phil's best known books are ANZAC Biscuits, Boom Bah! and Night Watch (which were presented to Prince George when he visited Australia with the Duke and Duchess of Cambridge) and the title Boy - which was the winner of the Children's Peace Literature Award in 2017.
Book Fair

Rostrevor's Book Fair has been a great hit with students and families; showcasing dozens of great titles suitable for all ages before and after school every day this week. Thanks to our wonderful librarians, Jess Hogan and Debbie Oates, for making Book Week so exciting for our students.
Manchester City Football School

I am pleased to report that last week's announcement of the Manchester City Football School at Rostrevor College has been incredibly well received by our students and families - and the broader community. The College has already received many Registrations of Interest and a great deal of media coverage. The reaction to the news that Rostrevor has partnered with one of the largest soccer clubs in the world has been nothing short of astounding and I, along with many young soccer players, look forward to the opportunity this partnership brings. See the Channel 9 News item below.

The program will commence in 2023 with curriculum offerings to Year 7 students and will support our existing Co-Curricular Program while also providing opportunities for specialised after-hours and holiday clinics. More information on the program will follow in coming weeks, with initial registrations of interest welcome here
Please enjoy this video featuring some of Rostrevor's soccer players coordinated by Rostrevor's Development Office and produced by the highly-talented team at LS Creative Co! A photo gallery of images by Marie Pittman from LS Creative Co! can be viewed here. The ABC online news report can be viewed here. Subscribers to Adelaide Now can view its news report here.
MY/SY Swimming Carnival
To see all the colour and action from last week's Swimming Carnival, see the full photo gallery and results below.



Please enjoy the 100m Freestyle Invitational Race featuring Rostrevor's fastest swimmers here. Congratulations to Gurr House's Tom Braunack who had a convincing win. Meanwhile, the Teachers displayed great form over the Prefects, securing valuable bragging rights in the Teachers vs Prefects race here
Online Safety - Students hear the facts

Today, our Year 8 and 9 students were visited by the Carly Ryan Foundation, which presented on the important topic of Online Safety. Specifically, the focus was on boys being safe in an online environment, with specific reference to privacy settings on social media, what the law says about online content, the sending of explicit material as well as avenues which students can access to report any concerns. The Carly Ryan Foundation also has a fantastic and informative website which can be used by parents to learn about the social media platforms our boys regularly access HERE
Shooting for South Australia

Congratulations to Year 7 Brock Langeluddecke who represented South Australia in the recent U12 Basketball School Sport Australia Championships in Bendigo, helping the SA team to 4th place in the national event.
Co-Curricular
Term 3, Week 5 Fixtures and Results

With a final, classy win over a talented Nazareth side, the Year 7A soccer team finished the season undefeated. Well done to all the players and thanks to coaches Nando Ciaramellano and Mrs DeConno.
Middle Years Basketball - Grand Final match

Well done to Rostrevor's Middle A Basketball side, coached by Mr Steel, which had a close tussle with Concordia last weekend, finishing second in the Sports Association of Adelaide Schools (SAAS) competition.
Secondary Chess Competition

Well done to Rostrevor's Chess players who competed in the Secondary School Chess Competition at Glenunga International HS yesterday, which doubled as a fundraiser for the people of Ukraine. Twenty students from Years 7 to 12 did the College proud, playing against many Div 1 players, while raising hundreds of dollars for the cause. Congratulations to Chess Captain Owen Tallis who won four of his five games.

College Photography Orders
Families are reminded that galleries, including Co-Curricular photos are now live, and that orders for all photos to be delivered to the College will close TONIGHT for a mid-September delivery. After that date, shipping to a postal address - with a small fee - will be the only delivery option.
New Junior Years Hub

We are excited to launch our new Junior Years Hub - a one-stop shop for parents focused on learning and activities in the Junior Years. With a strong focus on Rostrevor's approach to literacy, the site has step-by-step guides for parents including "Beginning Reading" and explains the many learning supports and opportunities provided to young Rostrevor students. The Junior Years Hub will continue to evolve over coming months with frequent updates from the Assistant Principal - Junior Years, Mrs Paley, and our Leader of Learning - Junior Years, Ms Lanzilli.
Workshops under way for Centenary Book

We are thrilled to have Old Scholar and former teacher Greg Hay ('73) helping to create Rostrevor's Centenary Book which will be filled with images and reflections of the 100 years of the College. Greg is seeking your stories and insights and is hosting a series of workshops so he may learn about the Rostrevor impact and understand why the College has made such a difference in so many lives. Please CLICK HERE to read more and get involved.
Supporting success for all students
As part of the process of supporting a student with an identified or additional learning need, a Personalised Plan for Learning (PPL) is created. This plan is based on criteria recommended by the Nationally Consistent Collection of Data on School Students with Disability (NCCD) and outlines the strategies of support that can be put in place for a student. To learn more about the NCCD data collection, its purpose, legislative basis and to whom NCCD data will be disclosed, please CLICK HERE
Sibling Enrolments for 2024
As many year levels have reached capacity for 2023 (and are nearing capacity for 2024), existing Rostrevor families are encouraged to submit sibling-enrolment paperwork to Enrolments Officer Annemarie Mein as soon as possible.