Principal's News - 29 July 2022
Posted on 29 July 2022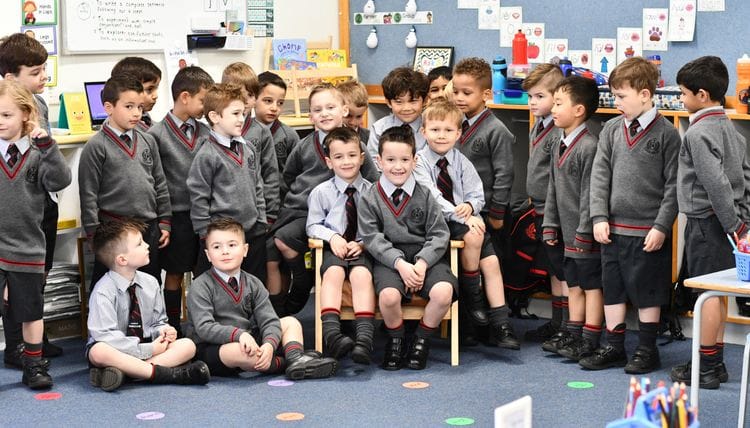 Shana Bennett
Principal
Welcome to Term 3
I hope families, students and staff are feeling somewhat refreshed and rejuvenated after the school holiday break. This Term continues to present a degree of uncertainty as we continue to navigate COVID-19 and other winter illnesses. Although there is no State Government mandate for students to wear masks, we strongly support students and staff who elect to do so as recommended in this letter from SA Health.
We look forward to the resumption of Co-Curricular activities and a very action-packed Term 3 including exam preparation, Retreats, Marian Day, Intercol competition, Book Week, Junior Years Athletics Carnival and the Middle and Senior Years Swimming Carnival. The Calendar of Events for the Term is currently being finalised and will be shared with families in the near future.
Prefect Nominations Open for 2023

Rostrevor College provides many excellent opportunities for student leadership and today our Year 11s met with Deputy Principal - Dean of Students, Mr Ranaldo, and the Director of Wellbeing - Senior Years, Mr Pezos, to run through the Prefect Application process for 2023. The position of Prefect is a significant honour and recognises a special role of service within our community. In accepting that role, the Prefect pledges himself to a greater commitment to the College than is normally required of his classmates. We hope that members of our Year 11 cohort who have already served in some leadership capacity within one or more of our pillars, and would like the opportunity to present and support their fellow students, to consider applying for a 2023 Prefect's position. I take this opportunity to thank our current Prefects on the wonderful way in which they have led and supported their peers so far this year.
Welcome to our Newest students

Rostrevor extends a warm welcome to all new students starting this semester, including Cristian, Harrison and twins Leonardo and Sebastian who had a wonderful first week of school with their Reception teacher Miss Russo and all their new friends.
New Junior Years Hub

We are excited to launch our new Junior Years Hub - a one-stop shop for parents focused on learning and activities in the Junior Years. With a strong focus on Rostrevor's approach to literacy, the site has step-by-step guides for parents including "Beginning Reading" and explains the many learning supports and opportunities provided to young Rostrevor students. The Junior Years Hub will continue to evolve over coming months with frequent updates from the Assistant Principal - Junior Years, Mrs Paley, and our Leader of Learning - Junior Years, Ms Lanzilli.
School Photography

Families wishing to purchase individual, class and Co-Curricular photos are reminded they must subscribe to SA School Photography HERE. A link enabling you to view your son's personal photography folder prior to purchasing will then be sent in mid August.
Co-Curricular

We look forward to the return of Co-Curricular activities this week as hundreds of Rostrevor students prepare to sharpen their skills and enjoy time with their friends around the fields, courts and chessboards. Special congratulations go to the three Junior Years basketball sides which played in Grand Final matches over the school holidays. Rostrevor's Year 4/5 Black and White teams won their Div A and Div B grand finals (4/5 Black pictured), while the Year 6 Black team were Div A runners up. Thanks again to the many Old Scholars and parents who support the Co-Curricular program every week - we couldn't do it without you.
Undefeated First XI Continues Winning Streak

Congratulations to Rostrevor's First XI which won the minor premiership on Wednesday night with a dominant 7 - 2 win over Immanuel College. Well done to Marco Matto for his haul of four goals including two goals in two minutes! The team, coached by Rostrevor's Director of Soccer, Mr Terry Frangakis, will play in the semi-final in Week 3. The success comes hot on the heels of the team's trophy in the inaugural Interstate Independent School Cup in July following its successful campaign against St Peter's and interstate sides from New South Wales and Tasmania.
Fabian Helps Adelaide United to Grand Final Win
First XI player Fabian Talladira slotted two goals to help Adelaide United Reserves secure a 5 - 0 win over Adelaide City in the recent NPL Grand Final. It followed his inclusion in the National U17 (Joeys) squad training camp in July. Meanwhile, 2021 First XI captain and goalkeeper Lachlan Fusco ('21) recently helped his Modbury Jets side defeat Armadale 5 - 2 in the Australia Cup - the national football knockout cup featuring both NPL and A-League sides. The Jets will now advance to the Finals Rounds where they will likely play against an A-League team. We wish Lachlan and the team well.
Big Day Out for First XVIII

Rostrevor First XVIII Captain Beau Baldwin and his teammates are described as being in fantastic form ahead of tomorrow's critical match against PAC. Advertiser football writer Daniel Renfrey says "Coach James Allan has Rostrevor firing on all cylinders this season and the College has undoubtedly cemented itself as a strong challenger for a First XVIII premiership" in this subscriber-only Adelaide Now article. A win tomorrow would place Rostrevor at the top of the Division 1 ladder heading into the semi-finals.
Jacob stars in U16 National AFL Campaign
Year 10 Jacob Newton helped SA clinch the AFL National U16 trophy with several impressive performances against Victorian, QLD and WA sides. Jacob is a regular player for Rostrevor's First XVIII along with Harvey Pedler and Jack Hodges, who were selected in the U18 squad. 2021 Graduates Tyson Walls (Norwood U18 Captain) and Max Michalanney also had a strong U18 campaign and are considered good prospects for the 2021 Draft in November. Meanwhile, Max's younger brother Jack Michalanney recently joined fellow Year 10 Crows Academy footballer Jules Piro in a training session alongside the Men's AFL squad - including Old Collegian Darcy Fogarty ('17).
Old Scholar Ordained as Priest

The Rostrevor community celebrated the Ordination of Old Scholar Joshua Nash ('08) - as a Priest with the Missionary Oblates of Mary Immaculate. Friday's Ordination Ceremony at St David's Catholic Church, Tea Tree Gully, was followed by his first Mass on Saturday which was attended by several members of the Rostrevor community, including College Chaplain Br John Ahern.
Centenary book project unveiled - get involved

We are thrilled to have Old Scholar and former teacher Greg Hay ('73) helping to create Rostrevor's Centenary Book which will be filled with images and reflections of the 100 years of the College. Greg is seeking your stories and insights and is hosting a series of workshops so he may learn about the Rostrevor impact and understand why the College has made such a difference in so many lives. Please CLICK HERE to read more and get involved.
Keeping Families Informed
Reports and policies aimed at supporting Rostrevor's students and underpinning the performance of the College are regularly updated on the College website including the following:
See the Annual Performance Report HERE
Visit the full suite of Rostrevor College Policies HERE
Visit Rostrevor's Child Safeguarding Page HERE
Commonwealth Schools Data Collection
Each year, the Australian Government Department for Education, Skills and Employment collects student and staff data from Rostrevor College to assist with decisions around school funding and education policy. Families can view the Schools Data Collection Privacy Notice HERE
Sibling Enrolments for 2024
As many year levels have reached capacity for 2023, existing Rostrevor families are encouraged to submit sibling-enrolment paperwork to Enrolments Officer Annemarie Mein as soon as possible for 2024.