Principal's News - 10 June 2022
Posted on 9 June 2022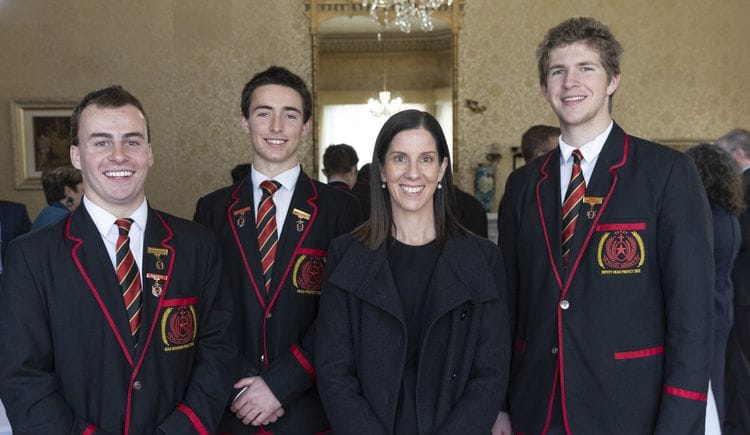 Shana Bennett
Principal
Principal Commissioning Ceremony

It was wonderful to be officially welcomed to the College at Monday's Principal Commissioning Ceremony. Since joining Rostrevor at the start of the year, I have been made to feel incredibly welcome by students, their families and staff. This week was no exception and I thank everyone involved for their efforts and kindness. One of the things that stands out for me, is the rich sense of community at Rostrevor - the pride the Old Collegians have, the pride the staff have and the pride that each student has in being part of this community is impressive. As I reflect on the Year of Gratitude, the theme chosen by our 2022 Prefects, I'm beyond grateful to be here at Rostrevor and very proud to be the Principal of this College.

Monday's whole-of-school gathering enabled the traditional "wave" between our youngest and oldest students to take place. The heartwarming gesture is a regular feature of the Term 1 Opening Ceremony and the College was delighted to share the moment with all staff and students. Thanks go to Vanessa Size Photography for these images from the day HERE
Pupil-Free Day
Term 3 will commence on Tuesday 26 July to enable all Rostrevor Staff to attend a First Aid Training Day that has been rescheduled from January due to COVID-19.
Formal School Photography

Next week is School Photo week and we look forward to seeing our students looking their best. Uniform and grooming checks will be undertaken on photo days and families are asked to ensure their sons comply with the College grooming policy and have buttons fastened to blazers. Photos are available for purchase by families and are published in the College Annual as a historic record. Sibling photos must be ordered by Monday 13 June. For more details and orders, click here
Tuesday 14 June: Middle and Senior Years
Wednesday 15 June: Junior Years and Sibling Photographs
Thursday 28 July: Reception Class and Individual Photographs
E-cigarettes and Vaping
Recent media attention surrounding vaping gives the College the opportunity to share some important insights and resources. Aside from the fact that vaping is a breach of our Drugs and Alcohol Policy at Rostrevor, we know that there are negative health effects associated with using e-cigarettes. Children and young people who are using these devices are inhaling nicotine and other harmful chemicals.
Through our Drug and Alcohol Program, which is delivered in Pastoral Care, students are told of the associated risks and potential impact vaping can have on their development and overall health. Parents are encouraged to discuss the dangers of nicotine addiction and include e-cigarettes in the discussion alongside alcohol and drugs. Please click here for additional information from the Alcohol & Drug Foundation. Also refer to the tip sheet for parents in having a conversations about e-cigarettes with your teen with by clicking HERE.
Junior Years Colour Run

The annual Junior Years Cross Country event was even more vibrant than usual with the College's first ever "Colour Run". Congratulations to Egan House which won the JY Cross Country Shield. The full gallery will be available in next week's Principal's News.

Co-curricular
Week 5 Results | Week 6 Fixtures and Maps
Indigenous Round - Rostrevor vs St Peter's

It was a gutsy and muddy victory for the First XVIII in the Indigenous Round (10-10-70 to St Peter's 4-7-31), which secured Rostrevor the Sir Douglas Nicholls trophy for 2022. Congratulations to best players Noah Hyde and Will Rowlands, debutant Jack Haddad, Coach James Allan and all the players.

Thanks go to Old Scholar Claude Beltrame ('78) for these great images of the day - which also featured a Welcome to Country and smoking ceremony by Ashum and Taylor from Kaurna women's cultural group Ngangki Warra. Watch the replay of the match and ceremony HERE. View the full photo gallery HERE
First V Basketball

There were some great displays of skill and sportsmanship on the basketball courts on the weekend and although our First V didn't get the win, the match was played in great spirit. Well done to our Open B and Middle A sides which had wins against St Peter's College.
First Nations Students Share their stories

Rostrevor's Aboriginal and Torres Strait Islander students visited Torrens Valley Christian School last week to share their Indigenous cultural stories. Brandon, Zaivier, Jasch and Jakob spoke to the students about their background and connection to country. Thanks go to ATSI Student Wellbeing Support staff member Daniel Torode for coordinating this visit and several other National Reconciliation Week activities enjoyed by Rostrevor students and staff.
There's No Debate - Rostrevor Wins the Argument

Rostrevor is proving to have all the answers in Debating this Term with another clean sweep of victories in the Middle and Senior Years. Well done to all the debaters in our two Senior teams, Year 9 and Year 7 teams under the guidance of Mrs and Mr Hodkinson, Mr Carter and Ms Triantafilakis.
State Cross Country Champs

Congratulations to U11 State Cross Country Champion Ryder Dalton and all the distance runners that braved the elements at the Outback racecourse on Thursday for the State Championships.
Year 9 Camp

It was a great week of embracing the elements and displaying some endurance and resilience for our Year 9 students on Camp this week. The boys enjoyed bushwalking at Deep Creek Conservation Park, Kayaking along the River Murray and mountain-bike riding at Fox Creek Bike Park and Kuitpo Forest. More photos next week.
Important reminders
ROCA Business Lunch

Port Adelaide Captain Tom Jonas ('08) will support Guest Speaker - Sydney Swans Chairman Andrew Pridham ('83) - at what promises to be an exceptional ROCA Business Lunch at the Convention Centre next Friday (June 17). With more than 150 tickets sold to the event (on the eve of the Swans/Power clash) and limited seats available, members of the Rostrevor community are encouraged to buy now to avoid disappointment. See details and purchase tickets HERE
Social Media and Gaming

Many parents in our community have expressed a concern with the amount of time their sons are spending on screens, whether it be accessing social media or through gaming. As part of our pastoral care program, students in Years 5-9 will be undertaking educational sessions on gaming and social media on Wednesday June 22nd. As part of our commitment to engaging with our parent community on such issues, an online parent webinar will be held on the same evening. This will be available to parents of Rostrevor students from all year levels and more information about the student program and parent webinar can be found here.
Sibling Enrolments for 2024
We look forward to hosting 80 future and prospective families next week at our Come and Try Day and Principal Tour. As many year levels have reached capacity for 2023, existing Rostrevor families are encouraged to submit sibling-enrolment paperwork to Enrolments Officer Annemarie Mein as soon as possible for 2024.
OSHC - Up and Running!

It has been a great start for Rostrevor's new OSHC service with 35 families taking advantage of the engaging and enjoyable program led by Director Steve Calio. Parents are reminded that OSHC also offers a before-school session from 7am to 8:30am and that students are not permitted on campus until a supervising teacher is present from 8:15am. See the College OSHC webpage here