Principal's News - 03 June 2022
Posted on 1 June 2022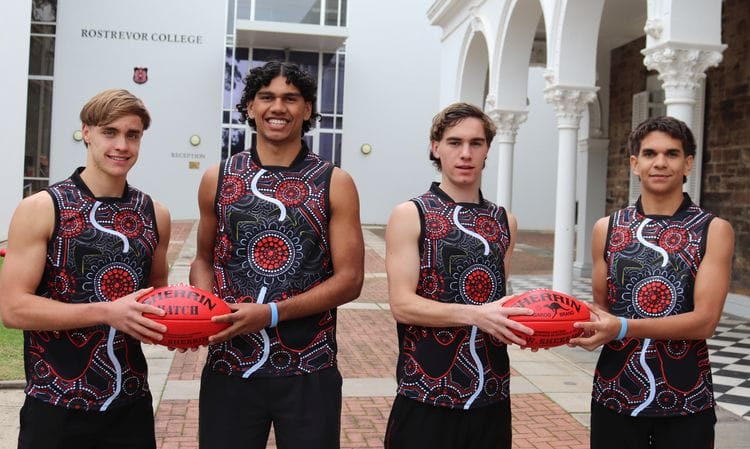 Shana Bennett
Principal
National Reconciliation Week

National Reconciliation Week is an important week for the nation and for our College and I have been pleased to see our students engaged in a wide range of activities which acknowledge First Nations people and explore the 2022 theme "Be Brave. Make Change". It has been a busy week with a NRW breakfast in Duggan House, a fundraising gathering in the Valley and the annual Mabo Day football game as well as thought-provoking videos and discussions in the classroom and with PC teachers.
Mabo Day Match

It was great to see the joy on our students' faces on the field and in the stands at today's Mabo Day Football Match, which was a highlight of Reconciliation Week at Rostrevor. The fundraising match was a thrilling contest between the 'Lingiari Lizards' and 'Gurrumul Goannas'. Thanks go to umpire Nigel Lockyer and commentator Daniel Torode. View more photos in the National Reconciliation Week photo gallery.
Social Media and Gaming

Many parents in our community have expressed a concern with the amount of time their sons are spending on screens, whether it be accessing social media or through gaming. As part of our pastoral care program, students in Years 5-9 will be undertaking educational sessions on gaming and social media on Wednesday June 22nd. As part of our commitment to engaging with our parent community on such issues, an online parent webinar will be held on the same evening. This will be available to parents of Rostrevor students from all year levels and more information about the student program and parent webinar can be found here.
Formal School Photography

It is that time of year when students are asked to put their best foot forward for College class, co-curricular and individual photographs, which are available for purchase by families and published in the College Annual as a historic record. We look forward to welcoming the team from Vanessa Size Photography over three days this year. For more details and orders, click here
Tuesday 14 June: Middle and Senior Years
Wednesday 15 June: Junior Years and Sibling Photographs
Thursday 28 July: Reception Class and Individual Photographs
Young Leaders Speak Up

Rostrevor's Year 6 student leaders joined representatives from St Paul's and CBC at the EREA Primary Leaders' "Gaining Momentum" workshop last week. The program encourages young people to become changemakers and leaders within their respective communities by developing a shared sense of purpose and resolve to address the challenges of their generation.
Co-Curricular
Week 4 Results | Week 5 Fixtures and Maps
First XI Indigenous Round

Rostrevor's First XI match on Wednesday was a great display on and off the field thanks to these striking guernseys designed by Old Scholar Marcus McGregor-Cassady ('11) and worn by players in support of National Reconciliation Week. The match almost went Rostrevor's way, however, Mercedes equalised with the last kick of the match (2 -2). Thanks go to Claude Beltrame ('78) for these Indigenous Round - Soccer photos.

Tomorrow, the First XVIII will play St Peter's in the traditional Indigenous Round match at the Big Memorial, which begin with a ceremonial Acknowledgement of Country. Watch the LIVESTREAM HERE from 2pm. See the Match Booklet, including the Team list here
First XVIII Hits the Mark

It was a high-flying affair on the Big Mem on the weekend despite the muddy conditions as Rostrevor had a resounding win over Immanuel (94-32). Debutants Jackson Petty and Josh Mothersole were presented with their First XVIII guernseys by Norwood U18 Captain and Draft prospect Tyson Walls ('21). Leading goal kickers were Brandon Jackson-Martin, Orlando Turner and Harvey Pedler with three apiece. View photo gallery by Claude Beltrame ('78) here
Inter-House Basketball Competition

Congratulations to Webb House which retained the SY Inter-House basketball crown in 2022, despite a worthy challenge from Gurr House (which also won the MY competition). Well done to the Prefects and referee Mr Steel on an exciting event which also raised funds for Edmund Rice Camps. It has been a great week for Rostrevor basketball with the First V, Open B, C and Middle A & B sides all victorious on the weekend.
Southern Flinders Hike

Our Year 11 Outdoor Education students put in some miles during their three-day hike in the Southern Flinders Ranges near Mambray Creek.
Faith in All Its Forms

This week our Year 11 Religious Education classes visited St Francis Xavier Cathedral and Wandana Mosque where they learnt about the similarities and differences between the two faiths.

Knockout Football

Well done to Rostrevor's Year 9/10 Knockout football side which has progressed to the next round with a solid win over Faith Lutheran School today.
Important reminders
Sibling Enrolments for 2024
As many year levels have reached capacity, or are nearing capacity for 2023, existing Rostrevor families are encouraged to submit sibling-enrolment paperwork to Enrolments Officer Annemarie Mein as soon as possible for 2024.
OSHC - Up and Running!

It has been a great start for Rostrevor's new OSHC service with 35 families taking advantage of the engaging and enjoyable program led by Director Steve Calio. Parents are reminded that OSHC also offers a before-school session from 7am to 8:30am and that students are not permitted on campus until a supervising teacher is present from 8:15am. See the College OSHC webpage here
ROCA Business Lunch

Please see full details of ROCA's Business Lunch featuring Sydney Swans Chairman and Old Collegian Andrew Pridham ('83) HERE.