Principal's News - 11 November 2022
Posted on 11 November 2022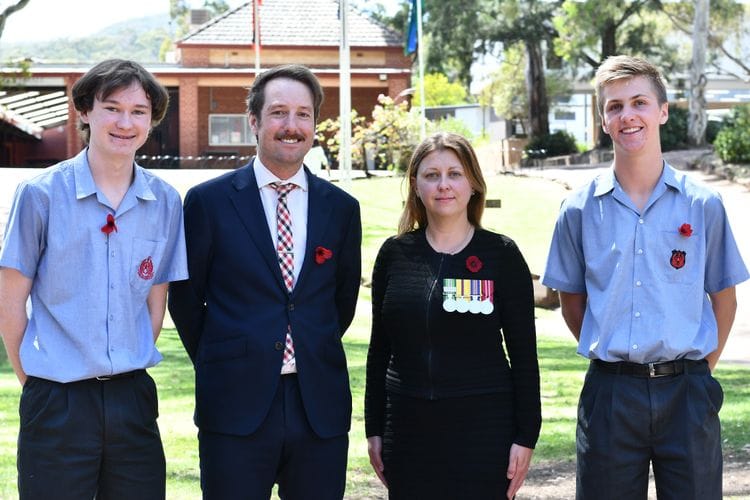 Shana Bennett
Principal
---
Remembrance Day
Earlier today, under some welcome spring sunshine, we gathered together in the Valley for our Remembrance Day Ceremony. On this occasion we have opportunity to pause and remember those who have served and died in wars and armed conflicts. This year's ceremony was led by Mr Shannon Simpson, with contributions and support from student leaders, plus Mrs Carelyn Robinson and Mr Tom Hodkinson.
It was a privilege and honour to have former Royal Australian Air Force military officer and current Senior Government Executive with Veterans SA, Ms Catherine Walsh, join us as our guest speaker to deliver what was an engaging and poignant commemorative address. Ms Walsh has a wealth of experience across a number of fields spanning over 20 years' service, beginning as the youngest ever Australian Defence Force Academy cadet, to becoming an intelligence officer with the RAAF, and even spending time as the aide-de-camp to the Governor-General. In her address, Ms Walsh prompted students to reflect, and adopt a level of empathy, something that is so necessary in this day and age amongst our younger generations of men coming through. More photos of the ceremony can be viewed here.
They shall grow not old, as we that are left grow old;
Age shall not weary them, nor the years condemn.
At the going down of the sun and in the morning…
We will remember them.
---
2023 Transition Days
We are holding a number of Transition Days in the coming weeks as we prepare to welcome new students and families to the College and also support the transition of existing students from one year to the next. We recognise the importance of providing a strong transition program as we guide and support boys to the next stage of their schooling. Students will have the opportunity to experience a range of activities, have tours of the campus and become familiar with peers and teachers to help prepare for 2023.
Wednesday 16 November - Year 7 2023 Transition Day
Wednesday 16 November - Junior Years 2023 Transition Day
Monday 21 November - Years 8 – 12 2023 Transition Day
---
Year 7 & 8 Beach Volleyball

Hear from volleyball coach, Mr Glen Urbani, on the Year 7&8's recent win at Glenelg:
"The annual Beach Volleyball Championships at Glenelg Tuesday this week saw the Red & Black win gold and silver in an all Choomalaka final!
Our Red & Black teams showed they were a cut above the rest in qualifying rounds which saw 3 out of the 4 teams make the final rounds of the tournament. Special mention must go to the team led by Leon Brand made up of Year 7's and their ability to hold their own against much older opponents. Kushel Tummala, Jay Whenan, Stacey De Lacy and Tom Hancock all showed that they will be in the hunt for a medal in the future!
Ashton Creswell (c), Akira Hun, Fred Hancock, Daniel Boulden took the gold against a formidable Rostrevor line-up of Jayden Chee (c), Jayden Lau, Jake Longman, Oscar Hill, Aiden Launer. It was a great final to watch, played in wonderful Rostrevor spirit!
The third team of Hugo Jaeschke, Noah Hill, Jaei Han, Vivaan Sareen who were indeed unlucky not to make the final only beaten by their own team mates. At times they displayed match play that was clearly the best on the day, but alas errors come back to haunt you – or as they said post match - the umpires don't know the rules!!!!
It has been a long time since we took teams from the formidable Volleyball nursery to the Champs, and just like those that have gone before them they didn't disappoint. Choomalaka!"
---
Term Dates 2023
Term dates for 2023 are available by clicking here. The Parent Calendar will be published prior to the commencement of 2023 and will be available on the College website.
---
Co-curricular (Week 3, Term 4)