Principal's News - 25 November 2022
Posted on 25 November 2022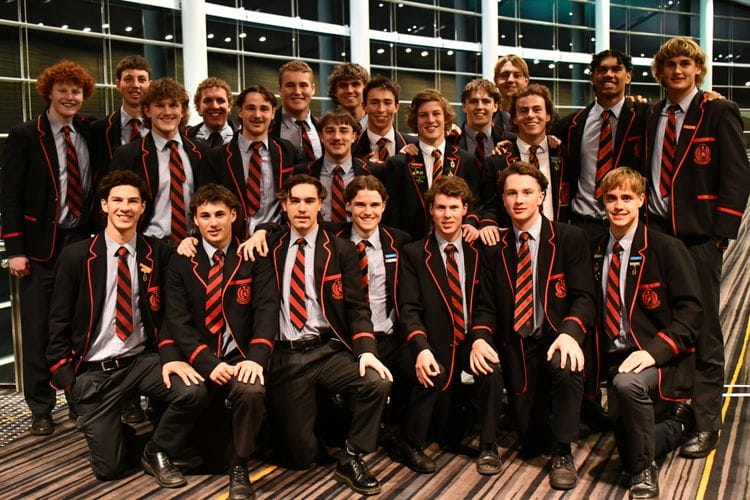 Shana Bennett
Principal
---
Year 12 Graduation Dinner & Valedictory Ceremony
This week, we held our final celebrations for the Class of 2022 at both the Graduation Dinner and the Valedictory Ceremony. It was a great opportunity for students, staff, family and friends to gather and acknowledge the end of the schooling chapter for our Year 12 students. Graduation Dinner guest speaker Callum Wilkie ('13) did an outstanding job sharing his story and his journey in the years since he finished Year 12. His main messages were don't give up, work hard, and accept that there will be failures on the path to success. The final Valedictory Ceremony concluded with morning tea on the lawns in front of Rostrevor House; a final gathering to celebrate and farewell students and families.
We wish all our Year 12s the very best as they now await their SACE results on 19 December. We also remind them that although their time as a student at Rostrevor College has officially come to an end, they will always be a Rostrevor boy and will continue to remain part of the Rostrevor community.
Photos from the event can be viewed in the Gallery below. Professional photos from both events will be available from next Monday 28 November.

---
Years 8-12 2023 Transition Day

On Monday this week, the College welcomed our second group of students transitioning into Rostrevor in readiness for 2023. There will be close to 40 boys entering Years 8 to 12 next year, including a number of boarders from all over the state, from places such as Bordertown, Ceduna, Elliston and Port Lincoln. As well as being introduced to Rostrevor, these boys enjoyed each other's company in a range of activities throughout the day, with the new boarding students experiencing their very first night in the Boarding House on Monday evening. We look forward to seeing these new boys next year and welcoming them to the Rostrevor community. Photos from the day can be viewed here.
---
Motor Neurone Disease Fundraiser - The Big Freeze

House Colours filled the Valley on Tuesday for a Motor Neurone Disease (MND) fundraising initiative inspired by our Gurr House student leaders. Our community raised $940 for the cause, which equated to 7 brave staff members and our 2023 Head Prefect facing the Rossi "Big Freeze". The fun-filled lunch featured entertainment from our talented Middle Years Rock Band, a BBQ, cool drinks and Zooper Doopers. Money raised from all food sales supported Murphy House charity, St Patrick's Special School. Thank you to everyone for your enthusiasm and generous support. You can view more photos from the event here.
---
Little Rossi Learners' Final Session

This term, our 2023 Reception children have been participating the Little Rossi Learners: Ready for Rostrevor! transition program. This extended transition program involved students visiting each week for six weeks to help with a slow and steady transition to school. The program focused on giving students and their families an opportunity to become familiar with the faces, places, and spaces of the Junior Years in preparation for their official commencement next year. The boys and their families have thoroughly enjoyed their visits to the College, and we look forward to them joining the Rostrevor College community in 2023. Photos from today can be viewed here.
---
St Vincent de Paul Christmas Hampers
Students are asked to donate items to create Christmas Hampers. Baskets for donations can be found in Junior Years and Pastoral Care classrooms, the Library and Front Office, and will be collected in Week 8. For more information, please click here.
---
Rostrevor College Foundation Annual General Meeting (AGM) Notice
The Rostrevor College Foundation Annual General Meeting (AGM) will be held on Monday 12 December at 6.00pm. For further information regarding agenda and meeting details, please contact Genevieve Garrett, Community Engagement & Marketing Manager (ggarrett@rostrevor.sa.edu.au).
---
Term Dates 2023
Term dates for 2023 are available by clicking here. The Parent Calendar will be published prior to the commencement of 2023 and will be available on the College website.
---
Co-curricular (Week 6, Term 4)