Principal's News – Return to School 2023
Posted on 3 February 2023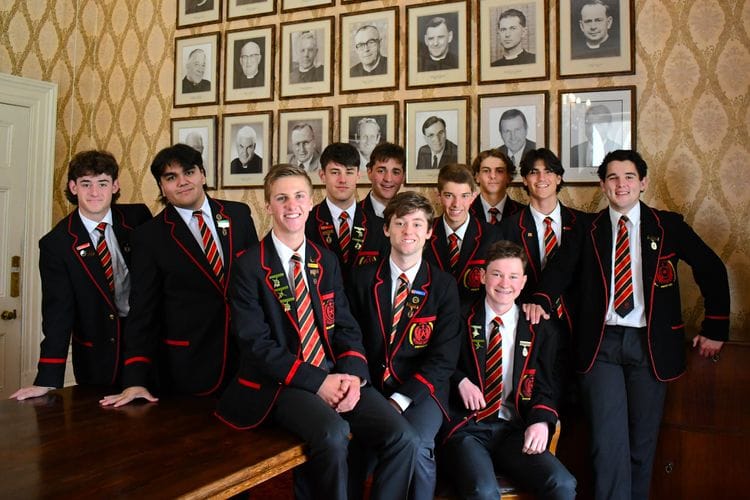 Welcome to the 2023 school year, the centenary year of Rostrevor College. It has been wonderful over the last week or so to welcome back staff, students and families as we begin a new academic year and a year of celebration for the college.
For more information on Centenary events, please view the College website.
---
What's New in 2023
We have welcomed 18 new staff to the College this year, both as teachers and support staff, and spent Monday this week together to focus on our formation with a reminder that the work we do today continues to be inspired by both Jesus and Edmund Rice. It was gift to be able to be together to hear stories and express our faith as one staff community.
We especially welcome the following staff who are joining us this year:
Adele Stramare – Junior Years Teacher
Aishah Elmawey – Junior Years Teacher
Andrew Lim – Senior Years Teacher
Che Murray – Aboriginal Program Coordinator
Chloe Papillo – PA to the Deputy Principal & Director of Identity and Mission
Eric Vargas – Boarding House Supervisor
George Patrikis – Boarding House Supervisor
Glen Malkin – Head of House – Gurr
James Boston – Senior Years Teacher
James King – Classroom Support (R-12)
Jamie Lee – Coordinator - Soccer Program (ManCity)
Jesse Linton – Senior Years Teacher
Lawrence Latisenka – Senior Years Teacher
Marie De Guglielmo – PA to the Deputy Principal (Head of School) & Director of Teaching and Learning
Scott Tunbridge – Classroom Support (R-12)
Shalini Moss – Coordinator - Inclusive Education (Junior Years)
Theodoros Pezos – Senior Years Teacher
Tracey Forrester – Junior Years Receptionist
We have been excited to commence the anticipated Manchester City Football School and welcome Jamie Lee to the College as we begin to roll out the program. Our Year 7 learners involved in the program are looking forward to putting on the ManCity kit and hitting the pitch with Jamie, Mr Daniel Mullen and Mr Connor McLaughlin.
---
College Advisory Council

I'm delighted to announce that Edmund Rice Education Australia has appointed Mr Steve Olech ('91) as the new Chair of the Rostrevor College Advisory Council. Steve is a long-time friend and supporter of all things Rostrevor and is looking forward to working with the Advisory Council and the College staff as we head into a new century of Rostrevor. In the coming weeks we will be calling for a few new members to join the Advisory Council.
---

---
Prefect's Investiture

Our Prefect's Investiture this morning, commencing with a Chapel Service for Prefects and their families and senior staff, followed by a whole school Assembly, was a wonderful celebration and acknowledgement of student leadership at the College. We are delighted this year to announce that Jasch Davies has been appointed to the new role of Prefect – Aboriginal Programs.

Our College Prefects play a significant role in setting the tone for the student body. They accept the responsibility of being examples of how Rostrevor students are to conduct themselves in all aspects of their daily lives here at the College. I look forward to working with the Prefect group and have every confidence that their example and service will bring honour to our College and that they will, in their own way, shape our experiences and understanding of what it means to be a Rostrevor man in our Centenary year.
Click HERE to read Head Prefect, Lachlan Tripodi's inspirational speech, delivered to the whole College this morning at Assembly.
---
Tredecim Annis

The following students were recognised for their commitment to a Rostrevor education from Reception to Year 12. They were presented with a badge with the College crest and the inscription "Tredecim Annis", which in latin means, 13 years.
Max Aufderheide, Jakob Centofanti, Liam Gibson, Harry Musk, Jack Piasente, Jake Smith, Blake Walker-Roberts, Benjamin Caveney, Christian Galloni, Riley Mahar, Hamish Scheid and Cohen Sobecki.
This is a very special occasion for students and their parents, where we as a College community witness the commitment that they have made to their son's education and to Rostrevor, as he commences his final year.
---

---
COVID-19 Update
As COVID-19 continues to affect Adelaide, we all have a part to play in keeping our school community safe and minimising the disruption to the boys' learning.
Although we are all well-versed in safe COVID-19 practices, I would like to urge our community to not become complacent. Students who have cold or flu-like symptom should stay home and get tested for COVID-19.
If your child has COVID-19, please advise the College as soon as possible, and stay at home until all acute symptoms (runny nose, sore throat, cough and fever) have cleared.
---
Department of Education Data Collection Notice
Each year, schools are required to provide names and addresses of all enrolled students to the Department of Education. You are not required to take any action, but can read about the purpose of collection and privacy provisions HERE.
---
CO-CURRICULAR NEWS
---
U17 Joeys Selection

Year 12 student Fabian Talladira has been selected to play in the Under 17 Joeys' soccer team at the upcoming Antalya Youth Cup 2023 in Turkey. We congratulate Fabian on this outstanding achievement, being one of only 23 players selected from across Australia for this elite squad.
The team will play Czechia, Morocco, and Uzbekistan from 8 – 18 February this year. We will keep the Rostrevor community up to date with Fabian's match results. Good luck Fabian!
---
2023 East Coast Basketball Challenge

On the 11th of January, Archer McNamara (Under 16s) and Noah Sampson (Under 18s) departed for NSW to compete in the 2023 East Coast Challenge. Selection for the event depended on the boys working tirelessly to maintain and evolve their individual abilities on the court.
Both boys represented South Australia in this state development tournament, competing against the best junior basketballers in Australia. They showed Rostrevor pride and spirit throughout the tournament.
---
2023 Southern Cross Basketball Challenge

On the 19th of January Jack Isaac (Under 15s) and First V Coach Carla Saponari departed for Melbourne to compete in the 2023 Southern Cross Challenge.
Jack represented South Australia in this state development tournament, competing against the best competition in Australia.
---
Clay Target Shooting Success

On Saturday the 21st, Year 9 student Stefen Parletta competed in the 2023 ISSF Commonwealth Titles in Perth. Stefan shot excellently, taking home second place in his division.
---
2023 Cricket Tryouts

Over 40 cricketers from Years 7-9 participated in a Cricket clinic on Monday 23rd January. In 2023 the College will continue to improve its offerings within Cricket, to undertake a more substantial and diverse program which caters for the needs of all players at varying levels of ability and motivation.
The College will focus on exposing younger students to tactical awareness and thinking, higher professionalism and more consistent standards. The broader outcome of this approach is to bridge the gap between Middle and Senior Cricket, and hence better prepare our cricketers for the change in culture and expectations as they reach Senior School.
The College will introduce a Middle Years First XI Squad in 2023 which will comprise of selected students from Years 7-9. The methodology, training style, type of language and general expectations will be very similar in nature to that of the Senior First XI, which will hopefully accelerate the progress of students involved with the program.
---
Summer Co-Curricular Uniform (Term 1 + 4)
Correspondence was sent to Middle and Senior Years families today regarding the Summer Co-Curricular Uniform. Should you have any questions or wish to discuss the Co-Curricular Uniforms further, please contact Sharon Harris, Rostrevor College Uniform Shop Manager at rostrevor@midford.com.au.
---
Term Dates 2023
Term dates for 2023 are available by clicking HERE.
---
Co-curricular (Week 1, Term 1)