Principal's News - 9 December 2022
Posted on 9 December 2022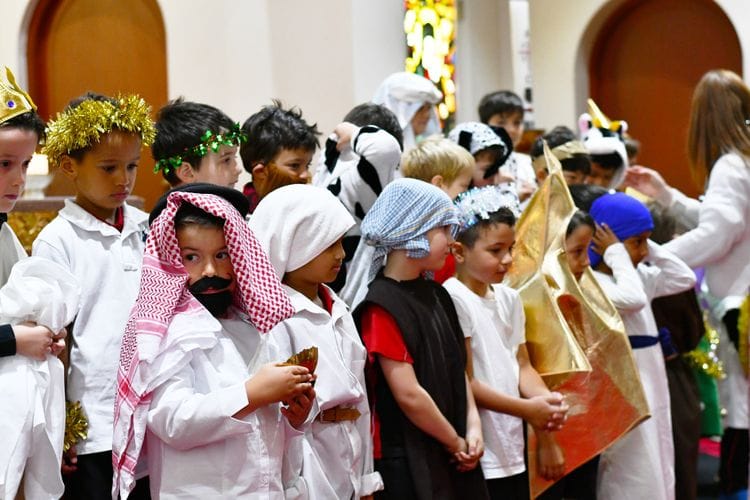 Shana Bennett
Principal
As we reach the end of the school year, I take the opportunity to acknowledge and thank all staff for their tireless service and dedication to supporting our learning community at Rostrevor College. As always, the end of the year sees staff moving on to new opportunities and experiences. To all those leaving, we thank you for all you have done during your time at Rostrevor, and we wish you every blessing for future.
With the arrival of the summer school holidays, on behalf of the Rostrevor College community, I wish you all a joyous, safe and happy Christmas. I hope you get some time to spend with those you love and take time to refresh and renew for the coming year.
---
Year 6 Rite of Passage

On Thursday afternoon, the Year 6 students celebrated the end of the 2022 school year with the annual 'Rite of Passage'. The Rite of Passage ceremony celebrates each young man on their journey thus far and marks the transition from one phase of life to another. To mark this occasion, students were given a Middle/Senior Years tie by the Heads of House and Head Prefect to signify the move to Middle Years in 2023. We offer a blessing to our Year 6 students and families and thank them for all they have given to the Junior Years community. We also announced the 2023 Junior Years Captain and Deputy Captain: Luca Faraonio and Stelios Sgoutas, respectively. Photos from the event, including individual photos, can be viewed here.
---
End of Year Liturgies

This week students from Reception to Year 11 have celebrated the end of year with Advent Liturgies in our College Chapel. As we head towards the third week of Advent, students have been asked to be alert and awake for unexpected signs of God being near. As well as this, students in the Junior Years have been placing hay in an empty manger when they notice an act of kindness – another way of preparing a bed of joy and love for the arrival of Jesus.

---
Edmund Rice Camps SA

Last week, Rostrevor College hosted an Edmund Rice Camp. The Activity Day was planned and coordinated by three Rostrevor students; Charlie Crafter, Harrison Lynch and Marshall Nitschke. It was the last Expedition Day for the 2022 Eddie's Explorer Program, which is designed to strengthen relationships, facilitate personal growth and learning, all while connecting campers and volunteers outside our regular camps.
A group of 40 young adult volunteers welcomed 20 child participants for a day of friendship and fun. This included 12 Rostrevor Year 11 boys, along with a handful from CBC.
Teachers Belinda De Conno, Matt Footner and Bill Trewartha supported the day by coordinating different activities that were enjoyed by all. A familiar face at the camps, Br Cogs was also instrumental in the lead-up. Student parents - Olivia Brown, Virginia Hart, Christina Lynch, Melinda and Dave Brock – all assisted by cooking some delicious meals, including a large pan of paella for the group.
---
Year 8 & 9 Interstate Cricket Matches

Rostrevor College hosted four cricket matches against students from two Queensland schools on Sunday and Monday this week. Boys from St Joseph's College Gregory Terrace and St Joseph's Nudgee College made the trek down to SA for their Adelaide Cricket Tour, playing T-20 and 40-Over matches against their counterparts from Adelaide-based Edmund Rice colleges. While both Queensland schools came away victorious, our boys were grateful for the amazing experience of playing against, and forming friendships with, fellow EREA students from across the country. Photos from the match against Nudgee College can be viewed here.
---
St Vincent de Paul Donations

We are grateful to all the families who have generously donated items for our Vinnies Christmas Hamper appeal. The collection of the items was met with much joy and appreciation from the Hectorville and Tranmere Conference of St Vincent De Paul. The donations filled a Ute and a van – what a testament to the kindness of the Rostrevor College families!
---
John Gardner MP Christmas Card Competition

A big congratulations to Year 4 students Isac, Adrian and Harry who were all winners in John Gardner MP's annual Christmas card competition. The boys created some wonderful and very colourful drawings that will feature on the front of the Christmas card for the Morialta area.
---
SA State Water Polo Team Selection

Year 7 student, Miles Fotheringham has recently been selected to join the South Australian U-14 Water Polo team in 2023, flying to Perth in January for the Australian Youth Water Polo Championships. This isn't the first time Miles has been selected for this team - he also competed in Brisbane at Easter time this year.
---
End of Year Activity Days

The annual end of year activities took place on Thursday afternoon and Friday morning. This was a great way to finish the week after Middle Years exams and also to conclude the year. Activities included a walk to the First Falls through Morialta Conservation Park as well as other indoor and outdoor activities. This was a great opportunity for students and staff to wind down and enjoy each other's company before the holiday break.
---
Term Dates 2023
Term dates for 2023 are available by clicking here. The Parent Calendar will be published prior to the commencement of 2023 and will be available on the College website.
---
Co-curricular (Week 8, Term 4)