Welcome to Term 2
Posted on 5 May 2023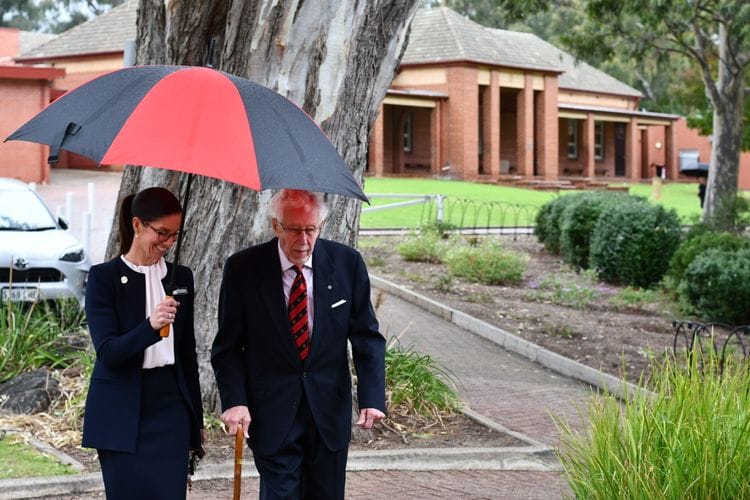 Welcome back to Term 2, I trust the holidays were an opportunity to relax, rewind and refresh. It's been great to see boys return to the new term as they continue to build on the foundations of learning that commenced in Term 1. I especially welcome all new students and their families to the College who have joined us in Term 2, I have no doubt you will all quickly feel very much at home and a part of the Rostrevor family.
We are currently finalising 2024 enrolments and commencing enrolments for 2025. With the College close to capacity at many year levels, if you or someone you know is yet to lodge their enrolment papers, they are encouraged to contact our College Registrar, Annemarie Mein, as soon as practicable.
Tomorrow morning, I'm heading to Dublin, joining colleagues from around the globe to attend the Edmund Rice Education Beyond Borders Global Congress. I look forward to walking in the footsteps of Blessed Edmund Rice in Waterford and connecting and learning from leaders from around the world as we all work to continue Edmund's mission of educating young people.
Following my time in Dublin, I'm heading to Manchester where I will meet with our friends at Manchester City Football Club, attend the City vs Chelsea game and have joint meetings with fellow EREA schools in Australia who are also running the Manchester City Football Schools. It will be a busy but rich three weeks! I thank Frank Ranaldo who will be Acting Principal in my absence until I return at the start of Week 5.
---
Edmund Rice Day Mass

The Edmund Rice Education Australia schools across the world celebrated the Feast of Blessed Edmund Rice today. We are so blessed to have an outstanding role model in Edmund Rice to guide us and encourage us to make a difference. Thank you to all who participated today. The Mass was led by three Old Scholars, Fr Josh, Fr Anthony and Fr Michael.
---
Unfair Day

Even though the skies opened for the first Unfair Day in years, the boys weren't deterred from perusing the many stalls scattered throughout the Valley. Students tried their hand at a range of activities and chose between a number of enticing lunch options. Funds raised from today will go to charity.
---
Old Boys' Lunch

75 Old Collegians from the Classes of '72 and before were welcomed back to the College today for the annual Old Boys' Lunch. Some Old Collegians arrived early for a tour of their old stomping ground and to attend the Edmund Rice Day Mass. There was a beautiful moment at the conclusion of the Mass when the Old Scholars were met with an enormous round of applause as they walked out through the middle of hundreds of current students. The wet weather couldn't dampen the jovial atmosphere in the Pavilion as lifelong friends spent the afternoon catching up and reminiscing about their years at Rostrevor over a two-course meal and drinks. Thank you to the Prefects who helped to ensure the event ran smoothly.
---
Rostrevor's 200m Record Holders

It was a truly special moment today when the current Rostrevor 200m sprinting record holder, Thomas Griffiths (Year 11) got to meet his predecessor, David Hogan ('65), who held the record from 1965 until it was broken by Thomas a month ago! David was gracious in his defeat.
---
ANZAC Day

Our Prefects attended the ANZAC Dawn Service at the Gums Reserve on the morning of Tuesday 25 April, honouring those who have served and sacrificed.
Lest we forget.
---
University of Adelaide Scholarship

A big congratulations to Old Scholar Lorenzo Moffa ('22) who has accepted a University of Adelaide Principal's Scholarship. These Scholarships are available to University of Adelaide students of high academic merit, who have also made a significant contribution to their school and to the wider community. Lorenzo is currently studying a Bachelor of Mechanical Engineering (Honours). We are immensely proud to share Lorenzo's news with the Rostrevor community.
---
From the Enrolments Office

Enrolments for 2025 are now open! Existing Rostrevor families are encouraged to submit sibling-enrolment paperwork to College Registrar, Annemarie Mein as soon as possible.
There are also limited places available in selected year levels and at the Boarding House for 2024. Those wishing to enquire about 2024 enrolment are encouraged to do so ASAP. For more information about enrolling at Rostrevor, please view our website.
---
Upcoming webinar for parents – How to Help Get (& Keep!) Your Child Motivated
When: Wednesday 10 May, 6:30 – 7:30pm
Cost: Free
Elevate Education works with students to deliver high impact workshops on study skills, motivation, wellbeing, and exam preparation. By tuning into their webinar series you will learn how you can help better support your children at home through reinforcing the skills they learn at school.
Here's what Elevate will be covering on the night:
What impact does praise and reassurance have on your child's motivation?
What are the best type of goals to be setting with your child?
How can you help your child create meaningful and lasting motivation?
Registration is essential. REGISTER HERE
---
CO-CURRICULAR NEWS
---
Rostrevor X Manchester City Football School Holiday Clinics

Rostrevor hosted the first of many Manchester City Football School Holiday Clinics over the last two weeks with 76 players attending four different clinics. Boys and girls from the wider Rostrevor community enjoyed days of technical and tactical game practices as they honed their skills on their way to becoming Adelaide's next generation of soccer stars. Keep an eye out for information about the July clinics in the coming weeks.
---
First XVIII Football Guernsey Presentation

On Tuesday 2 May, 2023 Rostrevor 1st XVIII squad members were presented with their guernseys by former GWS, Port Adelaide and Gold Coast AFL player Jack Hombsch ('10). Congratulations to Damon Stepic, who has been voted in as our new First XVIII Captain. Congratulations also goes to Finn Wakelin, our Vice Captain, and Darci Best, Matthew Brown and Kade Maddigan, our Deputy Vice Captains.
First XVIII Squad:
William Anning
Max Aufderheide
Brad Barnes
Darci Best (DVC)
James Boffa
Dion Bria
Harry Brock
Matthew Brown (DVC)
Adrian Bruno
Joshua Butterworth
Noah Daw
Danyle Dobie
Isaac Doyle
Jayden Evans

Felix Farmer
Thomas Griffiths
Jack Haddad
Lachlan Hill
Ayman Ismail
Jay Johns
Kade Maddigan (DVC)
William Marshall
Harry Maxwell
Ned McCarthy
Jack Michalanney
Joshua Mothersole
Henry Myall
Jacob Newton

Balyn O'Brien
Jackson Petty
Jack Piasente
Julius Piro
Cooper Ratcliffe-Miller
Lucas Rust
Benjamin Spehr
Damon Stepic (C)
Jonty Thompson
Orlando Turner
Finn Wakelin (VC)
Harvey Wilson
Domenico Zappia
---
Cricket Presentation Dinner

Thank you to all the students and families who attended the Cricket Presentation Dinner last night. The evening was a celebration of the Middle & Senior Years 22/23 Cricket season. Thank you to all students who participated in such an enjoyable season.
For families who were not able to be present, the award winners & presentation can be viewed HERE.
---
EREA National Football Tournament

On the last Friday of Term 1, both Rostrevor teams competed in the Semi Finals of the EREA National Football Tournament in Brisbane. Read about their matches HERE.
---
SA Rugby Union U/14 Selection

Congratulations to Matthew du Plooy (Year 8) for being selected for the South Australian Rugby Union U/14 team! He will represent the state in the Southern States Championships at Canberra in July. Good luck, Matthew!
---
Term Dates 2023
Term dates for 2023 are available by clicking HERE.
---
Co-curricular (Week 1, Term 2)