College Board Members
---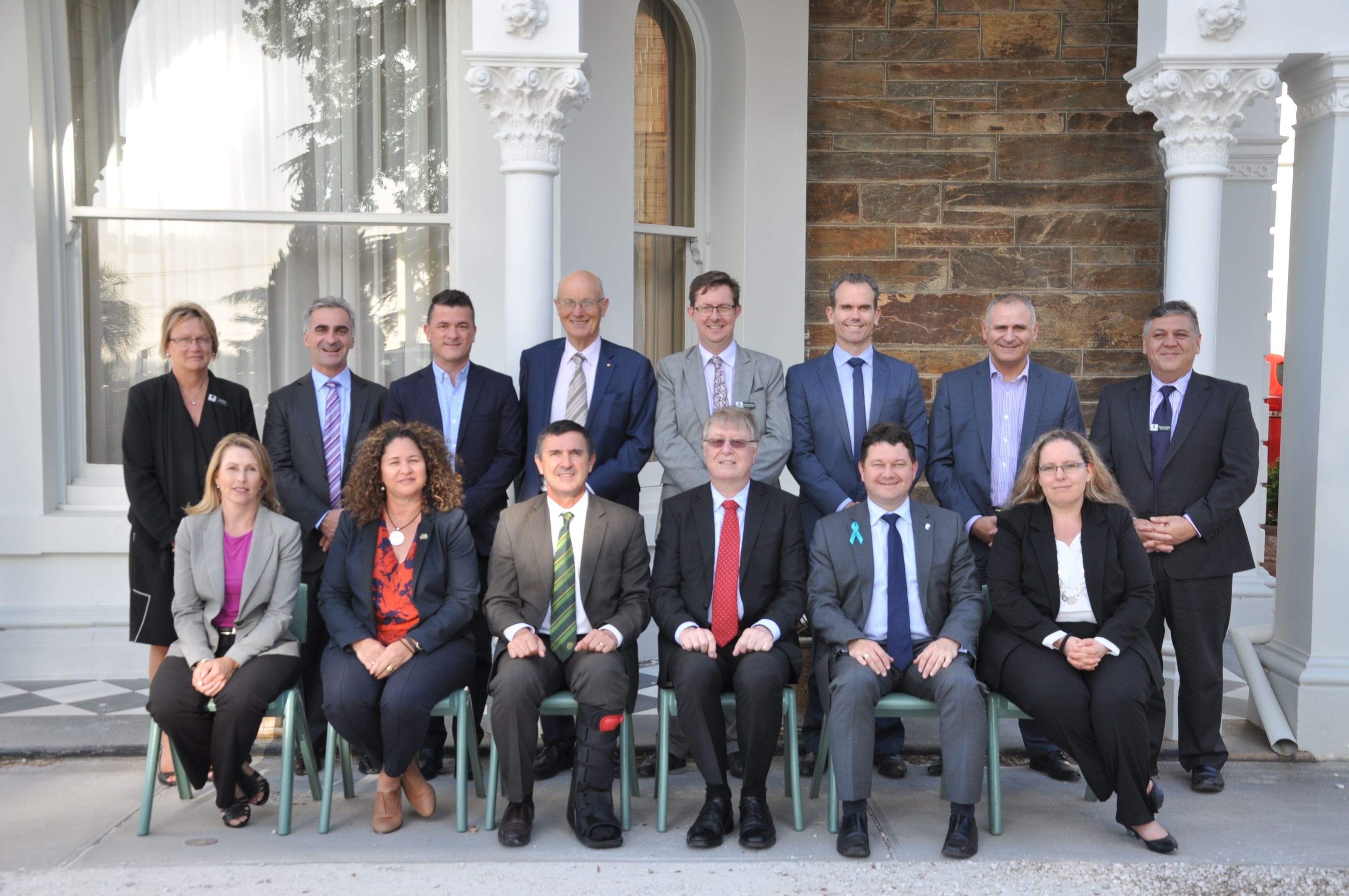 Back Row (L-R): Mrs Jan Hurley (College Business Manager), Mr Tony Circelli, Mr Anthony Marzullo, Mr Michael Hewitson, Mr Michael Barnett, Mr Nicholas Kervin, Mr Angelo Piantadosi & Mr Frank Ranaldo (College Deputy Principal).
Front Row (L-R): Mrs Julie Holmes, Mrs Tanya McGregor, Mr Damian Messer (2017 College Principal), Dr Vin Thomas (College Board Chair), Mr Sam Crafter & Mrs Jacqueline Tosh.

Dr Vin Thomas
Board Chair
Vin was a former staff member of Rostrevor College (1975-1982), has had two sons, David and Michael, attend the College and has previously been a member of the Rostrevor College Board (2001-2006). He recently retired after 46 years in Catholic education as teacher, Deputy Principal, Principal, Assistant Director and Deputy Director. In particular, the last two positions he had oversight of the corporate areas of Catholic Education.
Vin is committed to Rostrevor College continuing to be an excellent school for its students building on the many fine students, traditions and achievements since its foundation.
Mr Michael Barnett
Board Member
Michael (Dux, '83) is keen to advance and promote Rostrevor College as an institution for academic and vocational excellence. He has been in practice as a lawyer since graduating from the University of Adelaide in 1989. He brings to the Board over 20 years' experience as a barrister and is skilled in risk management, strategic planning and corporate governance. Michael is a cricket and football tragic who lives his sporting dreams vicariously through his sons.
Mr Tony Circelli
Board Member
Tony joined the Board in 2017, keen for the opportunity to contribute to the continuing growth and success of the College. He has two boys, Alex and Matthew, who commenced with the College in 2015, with his eldest child, Laura, attending Loreto College. With tertiary qualifications in Engineering and Business Administration, he has had an extensive career in engineering consultancy and public administration, having been appointed in 2014 as Chief Executive of the SA Environment Protection Authority. He also chairs, and is a Director, on a number of national and state Boards and Committees relating to science, environmental regulation, and corporate risk management.
Mr Sam Crafter
Board Member
Sam has had an extensive career in public affairs, communications and reputation management in both the public and private sector. He is currently the Principal Economic Adviser to the South Australian Premier, after having spent 7 years working with Santos in Adelaide, Brisbane and Gunnedah in north-west NSW. Prior to joining Santos he spent 8 years working in State and Federal Government including time as Chief of Staff to the Minister for Education. Sam and his wife Olivia have three sons at the school Charlie (Year 6), Ignatius (Year 5) and Oscar (Year 2) and a three year old daughter, Esther. He is passionate about promoting Rostrevor, its broad educational ethos, community spirit and the great opportunities it provides for boys and their families.
Mr Michael Hewitson AM
Board Member
Michael is a Board member of ACARA, responsible for the National Curriculum and Naplan testing across Australia and author of "How Will our Children Learn?" He has founded, established and rebuilt many schools across Australia including his role as the founding Principal of Trinity College, Gawler for 18 years and instrumental in establishing the first Catholic/Anglican School, St Columba College. He was made a member of the Order of Australia, for significant service to education, to the Anglican Church in Australia, and to the community of Unley. Michael is a Councillor for the City of Unley and is a Fellow of the Australian College of Education for curriculum development.
Mrs Julie-Anne Holmes
Board Member
Julie and her husband Jim have three children, a Rostrevor 2013 graduate a daughter who finished year 12 at St Dominic's in 2016 and their youngest son currently in year 8 at Rostrevor College. Julie has had a diverse career in finance and investment planning, road and rail safety and regulatory policy and hopes to positively contribute to the strategic direction and governance of the College whilst on the Board. As the former Business Manager at Christian Brothers Agricultural College Tardun, WA Julie has a good understanding of the foundations of Edmund Rice Education and had the privilege of working closely with the late Brother John Marks during her time at Tardun.
Mr Nick Kervin
Board Member
Nick joins the Board with a background in Information Technology Consulting and a degree in Computer Science from Wollongong University. Nick is a Technology and Business Consultant with BDO Australia and provides advice to both the private and public sectors. His son is currently in Year 9 at the College and his daughter is in Year 7 at Loreto College.
Mr Anthony Marzullo
Board Member
Anthony is a current parent of the College with two sons in the Junior School; Years 3 and 5. He began his career as a qualified Secondary Design Teacher, teaching for 8 years within the Catholic Education system, before starting up his own successful Brand, Marketing and Communications studio, for 15 years. Anthony is now General Manager of Tony & Mark's, overseeing their PR, Marketing, Operations and HR. Anthony brings to the Board a wealth of experience, knowledge and enthusiasm for brand analysis, strategy and design, with the desire to share the good news story, that is Rostrevor College, to the widest audience possible.
Ms Tanya McGregor
Board Member
Joining the Board in early 2013, Tanya has a diverse Human Resources and Aboriginal Affairs background. With sons in the Boarding House for the past six years, Tanya has been involved with the Duggan House Parents' Group and recently took up the Chair Person position so she provides the Board with a unique outlook. Tanya joined the Board with a keen focus on equitable education and wants to assist the College to maintain commitment without eroding other areas. Tanya and her partner, Ian Pennington, currently have one son at the College; Dylan in Year 12 and two sons who previously graduated Ayden ('15) and Marcus ('11).
Mr Angelo Piantadosi
Board Member
Angelo joined the Board in 2016. He brings business, management and governance experience to the Board as a result of his broad professional and consulting experience. In his professional life, Angelo remains abreast of contemporary management and strategic practices which he is then able to impart to clients and also put to use in his own businesses and in his role on the Board. Angelo also acts in the capacity of an Advisory Board member with some of his major clients. Having previously served on the Rostrevor Finance Committee (2013 - 2015), his financial understanding of the College's operations support him in providing strategic and governance advice to the College. Angelo graduated from Rostrevor in 1982 and his son commenced at the College in year 7 in 2013.
Mrs Jacqueline Tosh
Board Member
Jacqueline joins the Board in 2017 with an international background in governance, finance, risk and audit across a number of industry sectors. She holds tertiary qualifications in accounting, information technology and project management, and is currently an audit manager within State government. Jacqueline joined the Board with the objective of providing advice to support the financial stewardship and direction of the College to ensure a strong and successful future for all. Jacqueline has one son at the College in Year 8.