2021 SACE Results
Posted on 13 December 2021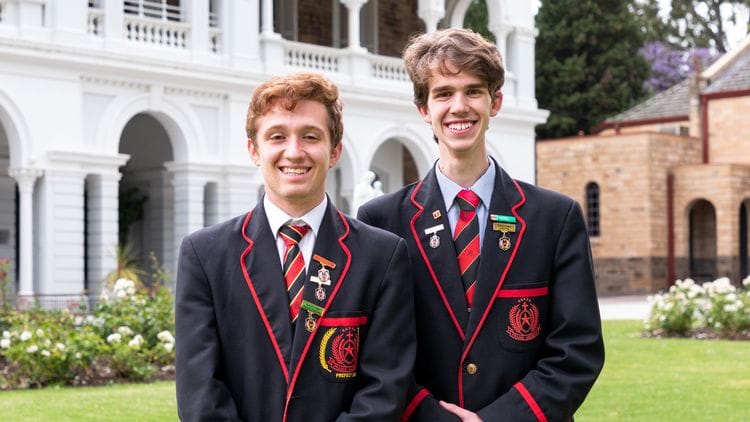 Exceptional SACE Results for Rostrevor
Congratulations to all our Year 12 students for completing their final year of schooling, particularly in a challenging year. The young men of Rostrevor have demonstrated persistence, resilience and optimism and their results are outstanding. Congratulations to Dux for 2021 Jordan Zorzi (99.85) and Proxime Accessit Jack Basso (99.4).
The College again attained 100% SACE completion with:
13.3% of students achieving an ATAR above 95.
25.7% achieving an ATAR above 90
38% achieving an ATAR above 80.
29 Merits
46 Additional A+ grades
83% of all grades in the A or B band - well above the State average.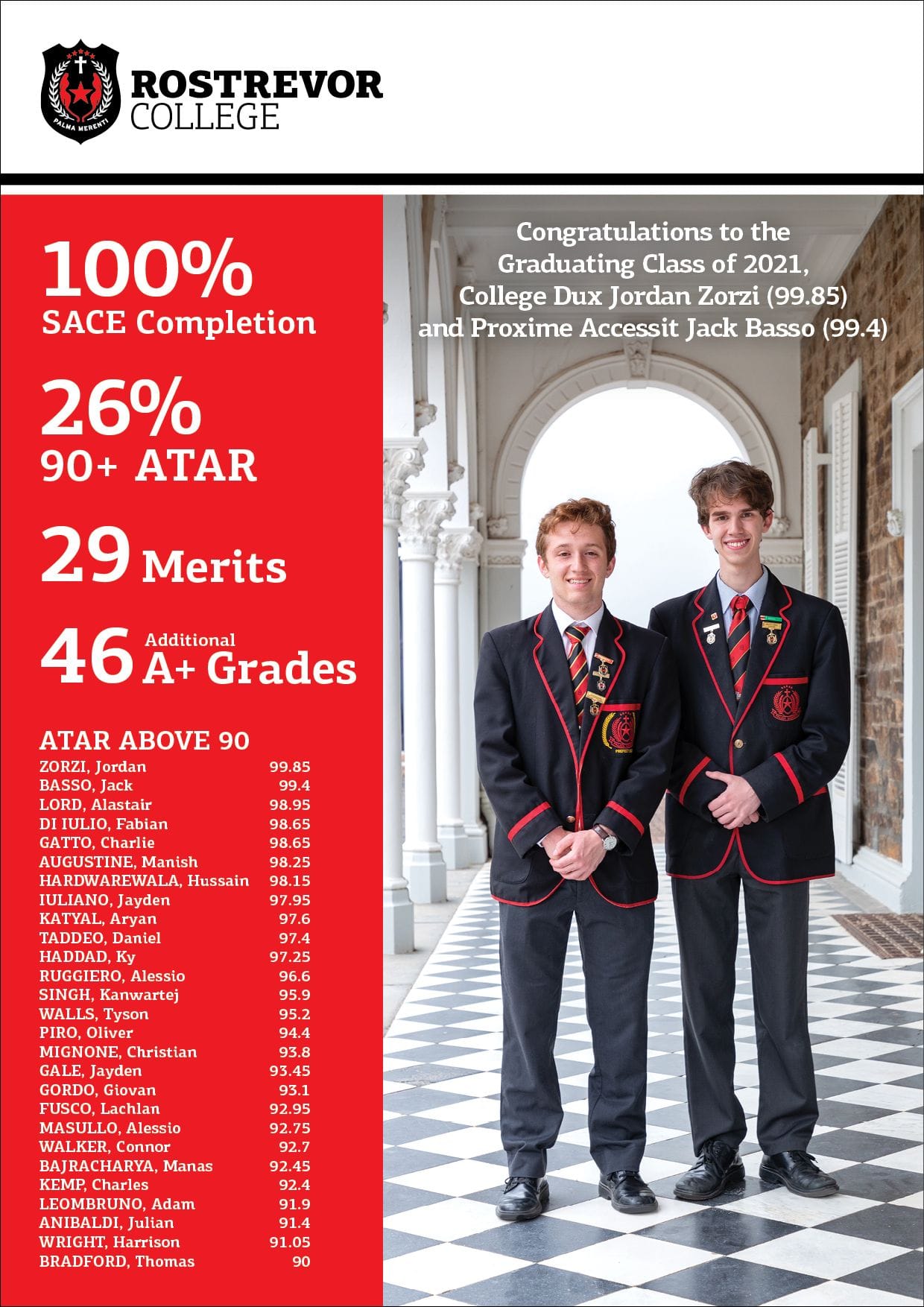 Please see Rostrevor's SACE Results Flyer here
Please see a more detailed summary of Rostrevor College 2021 SACE Results here
Governor's Commendation - Manish Augustine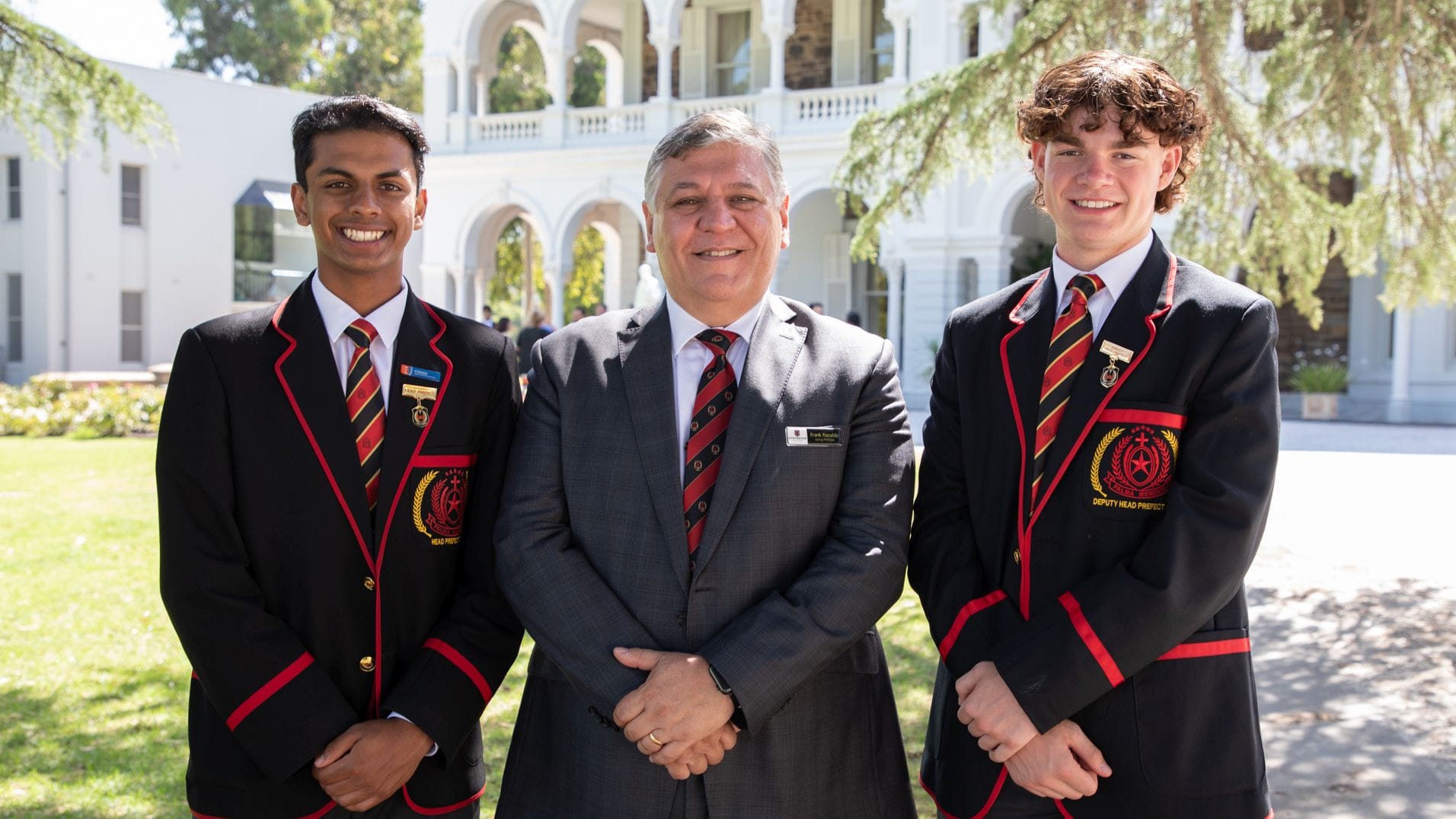 Congratulations to Rostrevor College Head Prefect Manish Augustine (98.25 ATAR) who has been awarded a Governor's Commendation. Manish's incredible support of all Rostrevor students and his commitment to Edmund Rice Camps and numerous social justice initiatives make him highly worthy of the prestigious prize. It is the third year in a row that a Rostrevor graduate has received a Governor's Commendation and follows awards to Giovanni Elias and Gianni Bergamin in 2020, and Archer Newton in 2019.
Well done to Alastair Lord who realised his dream of joining an AFL club when he was drafted by Essendon last month while also achieving an impressive 98.95 ATAR.
Rostrevor High Achievers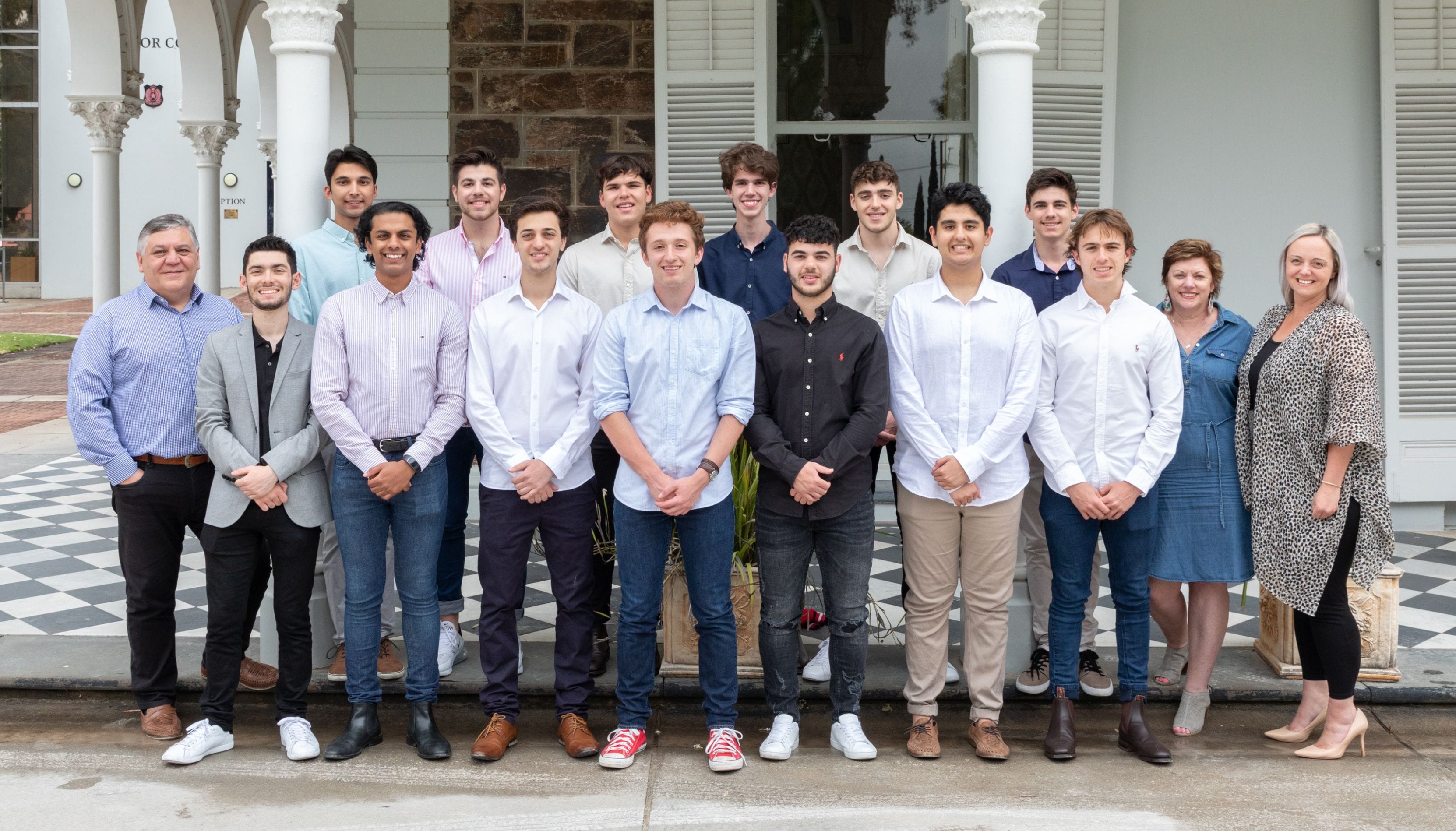 Many of Rostrevor's Merit and 95+ ATAR recipients gathered at the College today. Merits were achieved in a wide range of subjects including Research Project, English, Essential English, Chemistry, Music Explorations, General Maths and Integrated Learning 10 and 20 credits. A+ grades were also achieved in Physical Education, Business Innovation, Music Performance Solo, Music Performance Ensemble, Physics, Mathematical Methods, Industry and Entrepreneurial Solutions and Digital technologies. The breadth and depth of teacher expertise and students thriving in their learning is expansive and admirable.
Rostrevor in the News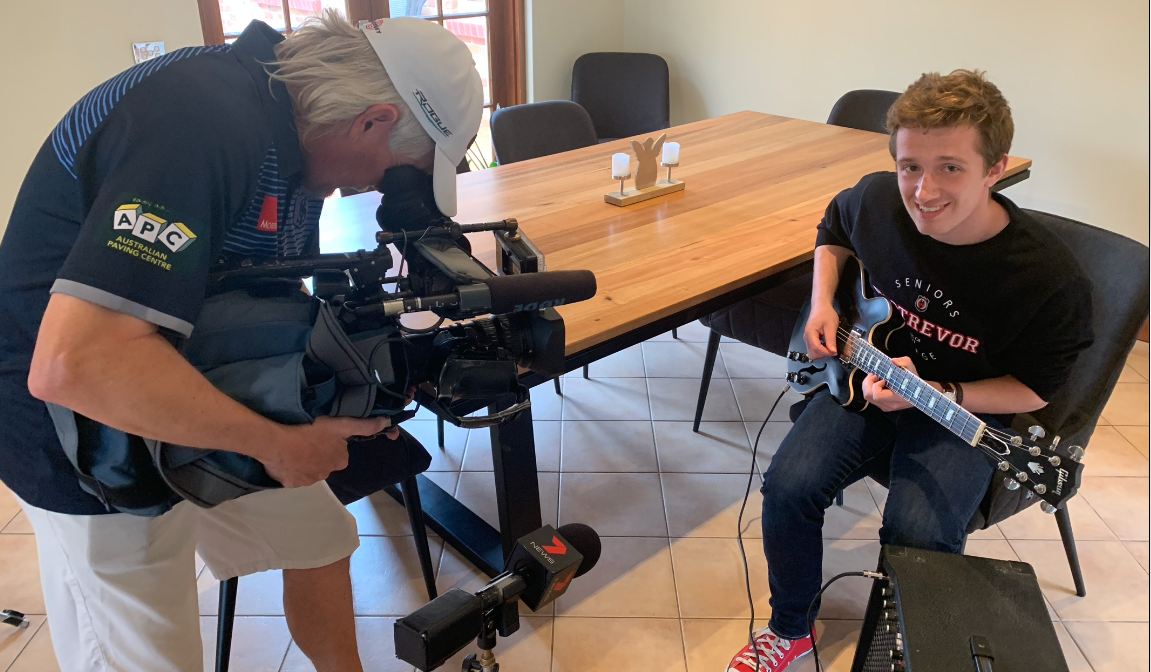 Special mention goes to Jordan Zorzi who achieved Merits in Research Project, Music Explorations, Chemistry and English. Both he, and Jack Basso (Merits for English and Chemistry) intend to pursue careers in medicine. The result caps off an impressive year for Jordan who is ranked among Australia's top four secondary-student guitarists and received a Student Citizenship Award from the Governor of SA last month (along with Head Boarder Jayden Gale - 93.45 ATAR). Jordan will feature in a Channel 7 news story tonight.
Past, Present and Future Success

Brothers Jack and Thomas Basso have a lot in common - including both achieving Proxime Accessit for Rostrevor College. Thomas, who is pursuing his passion for sport media achieved an ATAR of 98.95 in 2019.....just shy of Jack's 99.4 result.
With 18 Merits or A+ grades for Research Project and other subjects, many of our Year 11 students have set themselves up well for a successful 2022. Special mention goes to Sebastian Rapuano who achieved 3 Merits in Research Project, General Maths and English ahead of Year 12.
Boys thrive in English subjects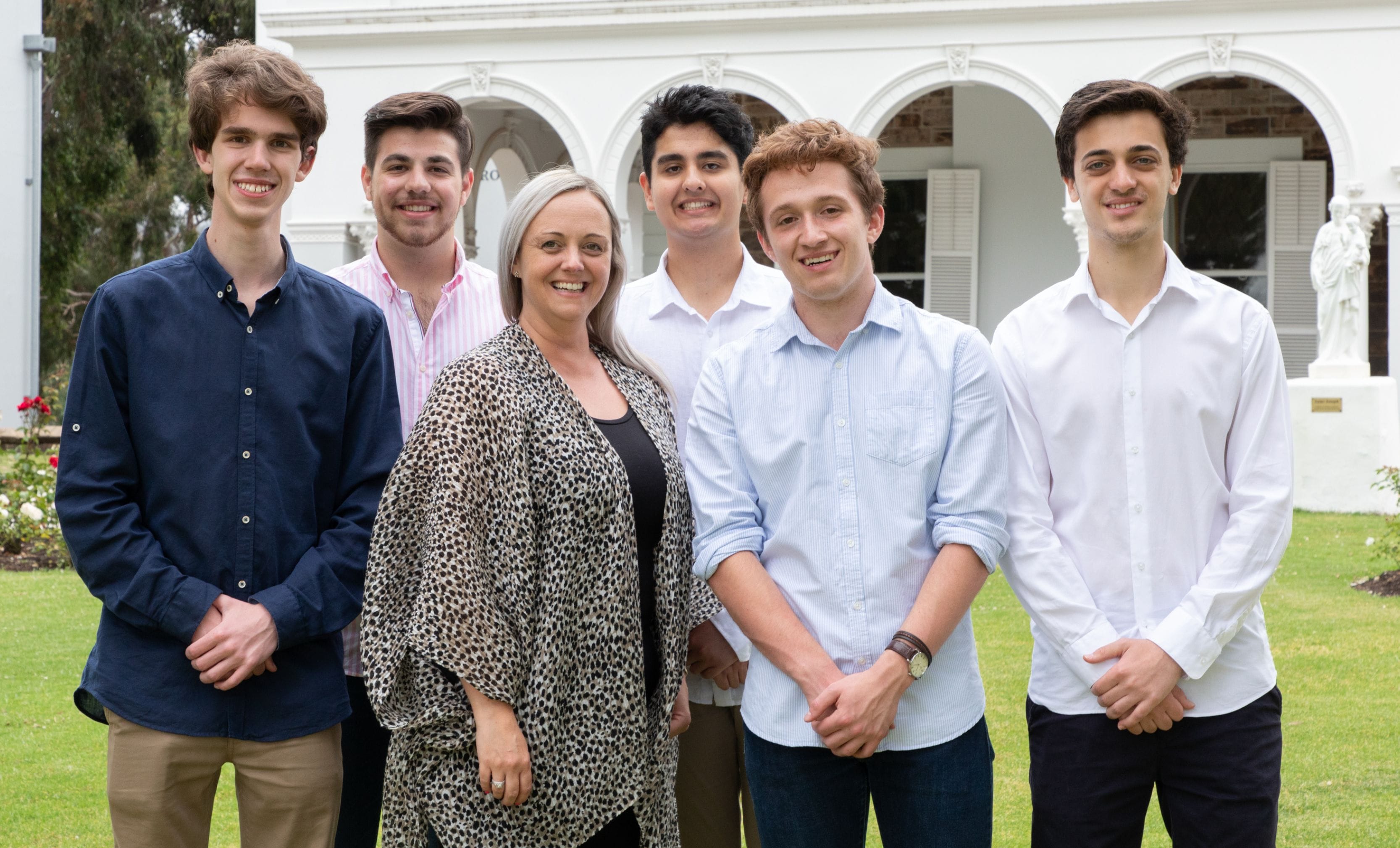 Exceptional teaching and support in literature-based subjects has resulted in 9 English Merits - again showing the strength of our young men in all facets of the SACE curriculum.
Congratulations to all involved with the Class of 2021. We know that the success of our Year 12 class is not simply completed within the year. It takes the support and commitment of a collaborative community working towards common goals. Well done to all!
Rostrevor's Merit & 90+ ATAR recipients
Rostrevor students were awarded an outstanding 75 A+ grades, including 29 with Merits. See our highest achievers below.