Deputy Principal's News - 19 May 2023
Posted on 19 May 2023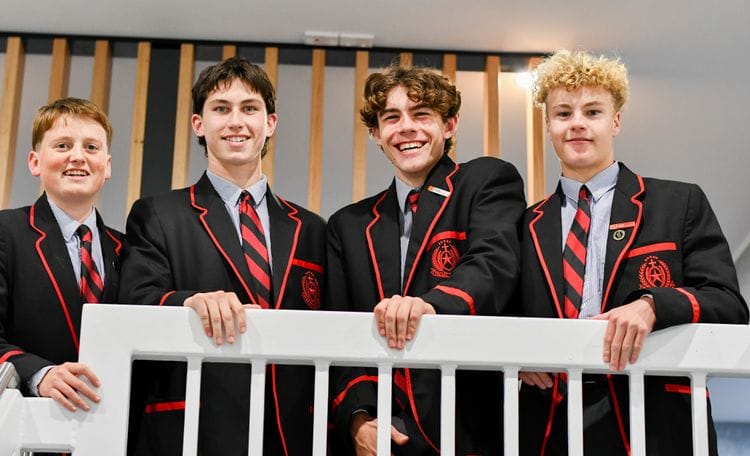 This week we celebrated National Boarding Week, where we acknowledged the contribution of our boarders to life at Rostrevor as well as the efforts and commitment of our Boarding House staff. The boarding community has been integral to the culture and life of our College for the whole of its 100 year history. Through our celebrations this week, we encouraged our students and staff to continue to support our boarders as their family away from home.
On top of the Duggan House High Tea and the Prefect's Boarding Week BBQ, the Boarders and Prefects played a friendly game of basketball at lunchtime today, with the Boarders walking away with bragging rights for their one-point victory. View photos from the match HERE.
---
Duggan House High Tea

A much-anticipated Boarders Week event is the Duggan House High Tea. This formal dinner allows the boarders to celebrate their special community and to say thank you to all the staff that support them in their home away from home.
Highlights of the evening included a Boarders presentation showcasing the boys and their activities at home, and the presentation of Boarder of Term Awards for Term 1. The recipients were Jay Johns (Year 12), Jayden Evans (Year 11) and Ned McCarthy (Year 10) who were identified by their peers as exemplifying respect to themselves, others, and the boarding house.
Many thanks go to the Boarder's Representative Group for organising the evening, and to the catering team who made everyone feel special by writing their name on their desert with melted chocolate!
---
Adelaide 36ers Announcement

It is with great pleasure that I announce Rostrevor College has partnered with the Adelaide 36ers to launch the High-Performance Basketball Program.
The club will provide Rostrevor exclusive access to coaches, training sessions, coach education, leadership engagements, match day experiences and clinics. It will complement the strong focus we have on providing opportunities for students of all ages and abilities to enjoy the sport and develop their skills.
---
Little Rossi Learners' First Visit

Our 2023 Mid-Year Receptions arrived for their first Little Rossi Learners session this morning, meeting their new teacher, Mrs Amber Norman, getting to know their new friends, and learning how to be a Rossi student – all while having lots of fun!
The Little Rossi Learners sessions help to ease our youngest students into College life as they become familiar with their new environment and establish relationships and routines.
---
Prefect's Boarding Week BBQ

The Prefects held a BBQ at lunchtime on Wednesday this week in celebration of National Boarding Week. We thank them for their efforts, as well as everyone who came out to support the BBQ, with all funds raised going to charity.
---
Sammy D Foundation Visit

The Year 10 cohort were privileged to listen to the challenging story of Neil Davis, founder of the Sammy D Foundation this morning. Neil spoke about the sudden loss of his son, Sam, at 17 years old. The foundation works towards ending violence and empowering young people, encouraging them to make sensible decisions that prioritise mateship and safety.
---
School Sport SA Disability Soccer Tournament

A number of Rostrevor students volunteered to facilitate the School Sport SA Disability Soccer Tournament today. Our students assisted in a variety of ways, including playing on a team, refereeing, timekeeping, officiating, setting/packing up the equipment, and most importantly: building friendships with the external students engaged in the event. This was a wonderful opportunity for our boys to live out our 'Man for Others' ethos and develop their confidence and leadership skills.
---
KSFC Period Poverty Campaign Prefect Initiative

Today, Year 11 & 12 students gathered to launch Rostrevor's participation in the Kick Start for Kids (KSFK) Period Poverty Campaign. Also partnering with Loreto College, Walford School, Seymour College and Wilderness School, the campaign aims to provide sanitary products for young women in need in SA. Students heard an empowering address from guest presenter, Ian Steel, the founder and establisher of the non-for-profit, highlighting the importance of our involvement. Over the coming weeks, Year 11 & 12 students are encouraged to donate sanitary products to the Equity Hub to help those in need.
---
ArchD Podcasting

Last week, a group of social justice students volunteered to produce podcasts based in areas that they have been involved in at the College, including Edmund Rice Australia Camps, interfaith connections and the work of our Social Justice Group in our College community. Thank you to Michaela from ArchD Podcasting who helped our students to produce the podcasts. We look forward to listening to the podcasts on Spotify soon!
---
Brainstorm Productions

Our Junior Years students were visited by Brainstorm Productions today, who performed a play on cyber safety and resilience, called 'Zanna and the Lost Code'. This theatre experience focuses on values, respect and responsibilities and inspires them to build safer and more positive online experiences.
---
Upcoming webinar for parents – Ask Elevate Anything
When: Wednesday 24 May, 6:30 – 7:30pm
Cost: Free
This webinar is a great opportunity to ask any questions you feel have been unanswered by Elevate in their sessions so far, whether that relates to your child's study space, their motivation levels, or the way they study – sign up to their webinar for an opportunity to have your question answered!
Elevate Education works with our students, delivering high impact workshops on study skills, motivation, wellbeing, and exam preparation. By tuning into their webinar series, you will learn how you can help better support your children at home through reinforcing the skills they learn at school.
Registration is essential. REGISTER HERE
---
Centenary Merchandise

Centenary Merchandise is now available to purchase online! Orders will be fulfilled and available to collect from Front Reception during school hours. Any enquiries can be emailed to the Development Office.
---
CO-CURRICULAR NEWS
---
Soccer XI Captain Announcement

Congratulations to Gabe Bowering (Year 12) who has been selected as Captain of Rostrevor's First XI Soccer team. Gabe will be supported in his role by Vice-Captain, Ryan Borzillo (Year 12), and Deputy Vice-Captain, Thomas Mastrantuone (Year 11). The trio led their team to a nail-biting 3-2 victory over Prince Alfred College this week, coming back from being 0-2 down. Our First XI are in safe hands for the 2023 Winter Co-Curricular season!
First XI Squad:
Yel Akot
Christian Berlingeri
John Boccaccio
Ryan Borzillo
Gabe Bowering
Jakob Centofanti
Eric Ciaramellano
Fabian D'Alessio
Tyler Dalton
James De Conno
Ashwandeep Gill

Aniello Guzzo
Henry Knight
Max Koch
Nicholas Malatesta
Thomas Mastrantuone
Alessio Principe
Antony Rapuano
Vincenzo Scalzi
Antonio Siciliano
Fabian Talladira
---
School Sports SA Mountain Biking Competition

On Thursday and Friday last week, a number of Rostrevor students competed in the annual SA Schools Mountain Bike Teams Championship held at Craigburn Farm. Rostrevor entered students in the Years 5 and 6, Years 7 and 8, and Years 9 and 10 events. Congratulations to Marco Aurelio Panichi and Ryan Underwood who came first in the Years 7 & 8 race, and Liam Underwood and Aidan Launer who came second in the Years 9 & 10 race. Given that there were in excess of 75 teams in each race, this is quite an achievement! Special thanks to the staff who attended; Mark Roberts, Peter Waterman and Will Hunt, as well as numerous parents who assisted on the day.
---
Year 7 Basketball

Lots of Students represented Rostrevor College for the first time on the weekend as the Winter Co-Curricular season officially commenced for all teams. We had some fantastic results including our Year 7 Red Basketball team, who triumphed over Prince Alfred College 41-17!
---
Interschool Debating

Three of Rostrevor's Middle and Senior Years Debating teams attended their first interschool debates for 2023 on Monday night. To read about the teams' outcomes, CLICK HERE.
---
Year 9/10 Knockout Football

Our Year 9/10 Australian Rules Football team had a successful day on Tuesday, winning both games played against Golden Grove High School and Trinity College. Read Sarah Catterwell's match reports HERE.
---
Under 12 State Team Selections

Sidney McDonald (Year 6) and Tom Laube (Year 7) have been selected for the U12 SA State Cricket team to play at Darwin, NT in early June. Both boys have also been selected for the U12 SA State Australian Rules Football team to play at Lavington, NSW in August. What an incredible achievement for Sidney and Tom, who we are sure will be representing Rostrevor in the First XI Cricket and First XVIII Football sides in the future!
---
Term Dates 2023
Term dates for 2023 are available by clicking HERE.
---
Co-curricular (Week 3, Term 2)