Principal's News - 2 June 2023
Posted on 2 June 2023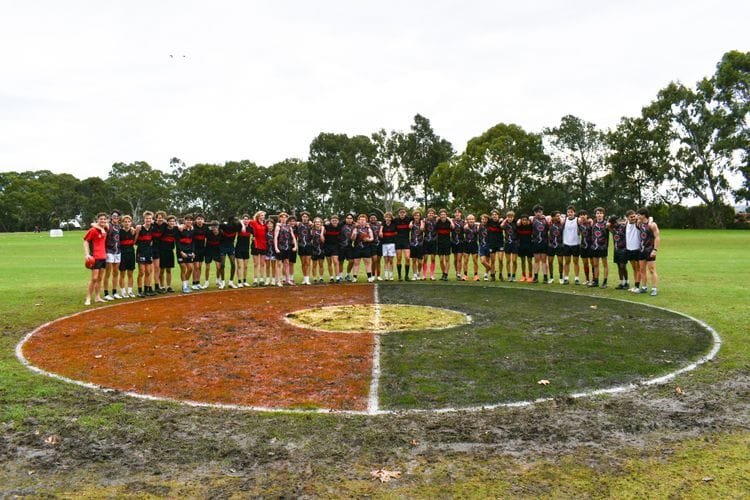 I returned this week after three weeks away attending the EREBB Global Congress in Dublin and time in Manchester with our friends at Manchester City Football Club. The Congress was an amazing opportunity to meet with delegates from around the globe and also gave me my first experience to see and walk the streets of both Waterford and Callan where Blessed Edmund Rice lived (his home pictured below), worked and has his final resting place in the Chapel at Mt Sion.
Visiting Manchester provided time to connect both with the Football Club and with fellow EREA schools who are also running Manchester City Football Schools. To experience a tour of the Etihad Stadium, the academy facilities and to attend a match is an experience I will never forget – we were certainly made to feel very much part of the Manchester City Football Club family! View photos from my trip HERE.

---
Rostrevor Day

On Monday 29 May we celebrated Rostrevor's official 100th birthday. Students neatened ties and smoothed down their hair for a whole-school photograph for the Centenary Book, before breaking off into House groups for birthday cake! Small cards with writing or drawing prompts were then given to students to personalise, which will be added to a 2023 time capsule.
---
National Reconciliation Week

Rostrevor College celebrates and learns during this time about our shared histories, cultures, and achievements, and to explore how each of us can contribute to achieving reconciliation in Australia. The National Reconciliation Week (NRW) 2023 theme is "Be a voice for Generations." The theme encourages all Australians to be a voice for reconciliation in tangible ways in our everyday lives – where we live, work and socialise. For the work of generations past, and the benefit of generations future, act today for a more just, equitable and reconciled country for all.
NRW was celebrated across the College in many different ways:
The Junior Years students learned about the significance of the week through activities in their classrooms.
The Middle and Senior Years students held a friendly 'Mabo Match' and NRW BBQ.
All students took part in an activity this morning encouraging them to think about how they can 'use their voice for good' before a whole-school photo.

---
Unearthing the 1983 Time Capsule

Yesterday morning, the Prefects, some members of staff and I were fortunate to witness our grounds staff unearth the time capsule from 1983. After breaking through what was a much sturdier concrete slab than expected, we were greeted by an array of Rostrevor memorabilia from 40 years ago. It was a truly special moment which was made even more so when Brother John recognised a much younger version of himself in one of the old newspaper clippings. The time capsule was located outside the front of the Chapel in the garden, marked by a plaque. The items from the time capsule will be on display in front reception soon.
---
Boarder's Reconciliation Breakfast

Our boarders attended a Reconciliation Breakfast on Tuesday with special guest, Eddie Hocking – the Adelaide Crow's first Indigenous player. Students heard about his rise to AFL success and were offered helpful schooling advice as they ate their way through an assortment of enticing breakfast foods. Thank you to Che Murray for organising the breakfast.
---
Auskick AFL Grand Final Stars

Year 1 student Max Walker (pictured right) has been nominated by the Team NAB AFL Auskick as an AFL Auskicker of the year. He has won the ultimate experience for him and a teammate to both attend the 2023 Toyota AFL Grand Final and will present a medal to a premiership player!
This year had a theme about teamwork. In 25 words or less, Max wrote about a teammate that he would like to bring along. Max wrote about his teammate and Rostrevor classmate James Gill (Year 1). The question was: Tell us who you would invite to be your Team NAB AFL Auskick teammate at the 2023 Toyota AFL Grand Final and why? Max's response was: "James! We met at Auskick and became friends. We go to the same school and start club footy this year. Football connects us!"
---
CO-CURRICULAR NEWS
---
Reconciliation Round

Rostrevor is taking part a Reconciliation Round for NRW, with our First Basketball, Football and Soccer teams wearing uniforms designed by Indigenous artist, Shane Cook and some of our Aboriginal and Torres Strait Islander students. The Basketball and Football matches are scheduled for tomorrow, rounding off the week.
The uniforms tell the story of Rostrevor and feature Indigenous Old Scholar, Elkin Reilly ('56) – a prominent community member and Sydney Swans player. Learn about the meaning behind the artwork HERE.
---
First XI Soccer vs Nazareth

Our First XI Soccer team took on a very strong Nazareth side on Wednesday at Croydon. While the first half looked to be going the way of the opposition with Nazareth scoring a goal before the break, a pep talk from Coach, Terry Frangakis fired up our team who scored late in the second half, ending the game with a 1-1 draw. Well done to Jesse Martire, John-Luke Gagliardi and Joseph Terminello for making their First XI debuts. Congratulations to Fabian D'Alessio who was awarded the 2023 Reconciliation Round medal by Nazareth's coach for the most outstanding performance.
---
Term Dates 2023
Term dates for 2023 are available by clicking HERE.
---
Co-curricular (Week 5, Term 2)