Deputy Principal's News - 12 May 2023
Posted on 12 May 2023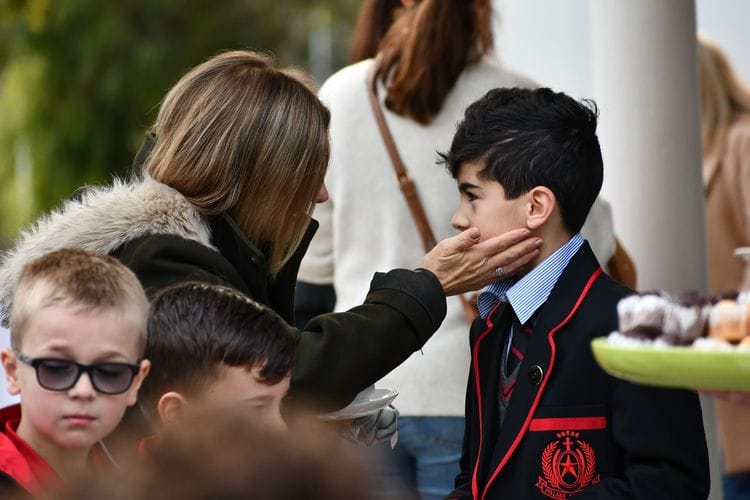 After a busy first week of the school term, the second week brought with it a sense of relief and a chance to settle into a routine and set the tone for the rest of the term. It has been a time for everyone to regroup, refocus, and get ready for the challenges and opportunities ahead. Teachers have set their expectations, and students are well into their learning. We hope that students have started to establish their study habits and routines, making sure to balance our academics with extracurricular activities and social time. Overall, this week has felt more grounded and less chaotic, which has provided a solid foundation for the weeks ahead.
May is a month traditionally dedicated to honouring the Blessed Virgin Mary and it is very fitting that we celebrate Mother's Day during this time. As we honour the Mother of God, our spiritual mother, we also honour our earthly mothers. On Mother's Day this Sunday, we remember with gratitude and affection our mothers, not only through material gifts, flowers, or cards, but also, and more importantly, by our prayers for them. We thank God for the gift of our mothers who gave birth to us, who cared for us, protected us, taught us, and loved us. We thank them for their generosity and self-giving love.
Happy Mother's Day to all mums!
---
Junior Years Mothers & Special Friend's Morning Tea

Our Junior Years students were excited to have their mothers and special friends with them this morning for the Mother's Day Morning Tea on Rostrevor's front lawns. The boys shared food, photos and lots of hugs with their grown-ups before they came together to share messages of love and sing to their special guests. There were many sweet moments shared between loved ones as they spent the morning together ahead of Mother's Day on Sunday.

---
Generations in Jazz

Over the weekend of the 6th and 7th of May, students from the Senior Band, Senior Vocal and Senior Jazz ensembles participated in the Generations in Jazz music festival held at Mount Gambier... READ MORE
---
Year 11 Formal
On the 5th of May, the Year 11 cohort attended the Intercontinental for their first social event since 2019. With delicious food and lots of laughs, the night was a great opportunity to meet guests and spend time outside of the classroom with friends. The photos taken will provide a reminder of the many positive memories made. Thank you to Luke Manuel for his efforts as MC on the night and to all staff who assisted in ensuring the event ran smoothly. Our Year 11s are very excited to attend the 2024 Principal's Ball next year in their final year at Rostrevor. Links to group photos taken on the night have been sent to families via email.
---
Year 9 Agriculture Market Stall

The Year 9 Agriculture classes have been working hard in recent weeks to grow produce in their vegetable and herb gardens. Learning about the business side of agriculture, they have begun to sell this produce in an attempt to make back the $10 worth of resources they were 'loaned', including seedlings, mulch and water. The boys ran their first 'farmers market' stall on Tuesday and will run it again in Weeks 4 and 6 to hopefully accrue a small profit. Students have marketed their produce to staff and peers as fresh, organically grown produce with no 'food miles'.
---
Year 12 Economics Excursion

The Year 12 Economics class was lucky enough to attend a Reserve Bank of Australia presentation on Tuesday night. Two senior economists shared their insights into Australia's current economic conditions with a focus on monetary policy and interest rates. The students were also told of the many Economic university courses available and the breadth of employment opportunities for graduating economic students. Post presentation, our boys were eager to hear answers to questions posed and are sure that their understanding of the course has been further enhanced.
---
Legal Studies Excursion
On Tuesday evening, Carelyn Robinson and three Stage 1 Legal Studies students – Koen Forrester, Aaryan Sareen and Isac Kildare – attended a presentation at Uni SA run by presenters from the "Just Lawful" podcast which explores criminal cases in South Australia. The students learned about the presenters' professional experiences and absorbed advice and information useful to their studies, and perhaps post-graduation careers.
The presentation also covered topics such as what studying a law degree at the University of South Australia is like. A real case was shared with the students to help educate them on recognising and removing their own bias, after which they were encouraged to share their initial thoughts and beliefs.
---
Centenary Merchandise

Centenary Merchandise is now available to purchase online! Orders will be fulfilled and available to collect from Front Reception during School Hours. Any enquiries can be emailed to the Development Office.
---
CO-CURRICULAR NEWS
---
Basketball First V Team Announcement

Congratulations to Michael Banelis (Year 12) on his selection to Captain the First V Basketball team for 2023! Michael will be supported in his role by Vice-Captain Matthew Palmer (Year 12). The team's first game will be against Trinity College tomorrow morning.
First V Team
Michael Banelis (C)
Noah Coyle
Archer McNamara
Jacob Osborn
Matthew Palmer (VC)

Anton Pascale
Noah Sampson
Tyrone Sheehan
Sebastian Zealand
---
First XI Soccer vs St Michael's College

Round 1 saw Rostrevor College travel to Croydon Kings to face St Michael's in what was an evenly contested match. In the 38th minute, St Michael's striker went on an impressive run as he dribbled past two of our players and found himself facing an empty goal. However, Max Koch (Year 10) put in an impressive last-ditch tackle to block the ball from hitting the net to keep the score at 0-0. It was Ryan Borzillo (Year 12) who was the busier GK in the early stages of the second half and produced two fantastic saves to keep the score at 0-0. It eventually landed to Antony Rapuano (Year 11) who placed the ball in the back of the net but was ultimately denied his debut goal due to it being ruled offside. Nicholas Malatesta (Year 12) continued to apply pressure on St Michael's backline as we started to become more dominant in the latter stages of the game. In the remaining minutes, it was Antony who had a chance to break the deadlock, but was once again denied, as his shot from inside the box clipped the outside of the post. The game finished 0-0 with both teams sharing the points.
Congratulations to the many First XI team members who made their debut at the game. The squad list and Captains will be announced in next week's Principal's News.
---
Wins All Around for Rostrevor Senior Football

The Rostrevor First XVIII Football team won their first match of the season against Sacred Heart's Second team on Saturday, 16-13-109 to 9-6-60. Their rest was short-lived, however, as they took to the oval again on Wednesday this week to play Trinity College. Our boys again proved too strong for the visitors, walking away with an easy 24-19-163 to 7-1-43 victory. Felix Farmer (Year 12) is emerging as one to watch, kicking three goals on Saturday and another four on Wednesday.
Our Second XVIII Team played the Second Trinity College team on the adjacent oval on Wednesday, where they followed suit by also taking home a comfortable victory (163 to 24).
View galleries from: FIRST XVIII VS TRINITY COLLEGE | SECOND XVIII VS TRINITY COLLEGE
---
White Ribbon Carnival

We were lucky to participate with Christian Brothers College in the White Ribbon Carnival from Wednesday to Saturday last week. Numerous teams across AFL, Basketball, Soccer and Table Tennis played in friendly matches against their CBC counterparts to warm up for the upcoming winter Co-Curricular season. Congratulations to those who played in their first game for Rostrevor last week.
---
School Sport SA Basketball State Team Selection

Year 7, Ryder McNamara has been selected to represent School Sport SA at the School Sport Australia 12 Years & Under Boys Basketball Championship this August in Perth. Well done, Ryder!
---
Term Dates 2023
Term dates for 2023 are available by clicking HERE.
---
Co-curricular (Week 2, Term 2)