From the Principal (COVID-19 Update) - Wednesday 18 November 2020
Posted on 18 November 2020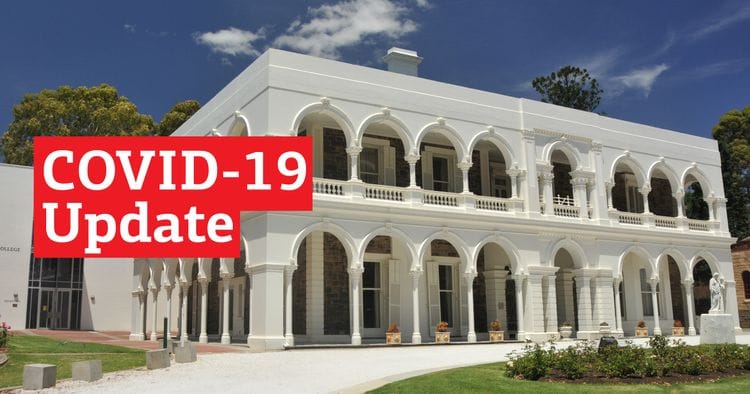 COVID-19 Update
Wednesday 18 November 2020

Brian Schumacher
Principal

Dear Rostrevor families
As you know, the State Government has decided to close schools as part of its latest strategy to restrict the spread of the coronavirus. I am sure you will access the details of that strategy through the usual media outlets. The purpose of this update is to provide clarity regarding what is happening at Rostrevor over the next few days. You will receive another update on Friday afternoon with additional information that is not available at this stage.

College Closure
The College will be closed until we receive instruction that we are to re-open as part of the broader South Australian strategy.

There will be no online lessons on Thursday 19 or Friday 20 November 2020. Teachers will spend the time at home re-configuring learning activities in case the school closure lasts more than six days. Please check the Friday update (20 November) for details about learning for Monday 23 and Tuesday 24 November 2020.

Boys have been asked to take all of their books, iPads/computers and learning materials home with them this afternoon in case we need to finish the year learning online.

Essential Workers
The College will retain a small skeleton staff to supervise the children of essential workers who cannot be cared for elsewhere. I believe the Government will define who essential workers are in forthcoming bulletins.

Supervised care is available to students only where ALL adults in the home are designated as essential workers.

Note that there will be no OSHC Services available, even for essential workers.

If you believe you are an essential worker and require your child to come to school, please follow the steps below:
Email the College at pa@rostrevor.sa.edu.au with the following details:

- your son's name and class/year level;
- the occupation(s) of all adults living in the family home.

You will not receive a reply email from this address, but we need to know you are sending your son to school so we can determine the number of staff required.

Please be aware that there are no College buses operating during the shutdown, or canteen facilities. Students will be supervised by our skeleton staff but will not attend lessons. Overall, we expect the total number of students to be less than 40 boys from Reception to Year 9. We will not be providing supervision for boys in Year 10 or older.

Essential workers will need to drop/collect their sons at the pedestrian gates at the Junior School entrance on Kintyre Road, or the Main entrance on Glen Stuart Rd.

Examinations (Year 7 to Year 11)
We will provide advice in this Friday's update regarding whether or not we will conduct examinations if/when students return to school.

Year 11
Boys in Year 11 who have SACE assignments due this week must submit them to their teacher online via SEQTA by 3pm on Monday 23 November 2020.

Year 12
Having re-configured our Valedictory Assembly, we will wait to see if it is possible to conduct the assembly before school closes for 2020.

Finally, thank you to all our families and staff during this challenging time. The departure of boys went very smoothly today thanks to the cooperation of everyone. Take care over the days ahead as we adjust to a new routine of restrictions.

Yours sincerely
Brian Schumacher
Principal
Author:
Brian Schumacher
About: Principal, Rostrevor College