Principal's News - 9 September 2022
Posted on 9 September 2022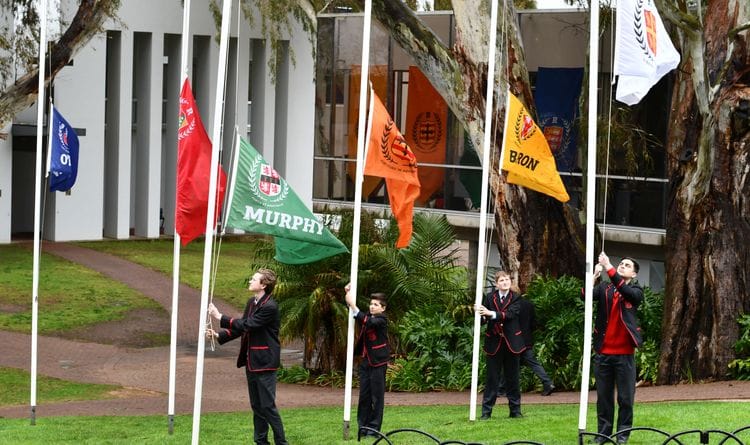 Shana Bennett
Principal
Semester 1 Academic and Service-Learning Assembly

Today, I had the privilege to present achievement certificates to many learners from Years 7 – 12 who demonstrated a commitment to their learning and the service to others. I continue to be impressed by how well grounded and well rounded Rostrevor students are as they achieve success in a range of pursuits, while still making time to support their peers and others in the community.
I spoke to the staff and students in my address about one thing – courage. Why courage? Because learning doesn't happen without it. Courage is seen daily in every classroom by students and teachers. Having the courage to make mistakes, to fail and to get it wrong is how we learn! I also spoke about courage being seen outside the classroom – through standing up for injustice, calling out unacceptable behaviour or having the courage to see a different perspective and even admit that sometimes you get it wrong.

I also thought courage was a fitting theme as we acknowledged the passing of Queen Elizabeth II – a woman of courage, of grace and of loyalty.
Man of the Camp

I would like to thank Deputy Principal, Dean of Faculty – Mrs Laube, Social Justice Coordinator Mr Whitefield and Camps Coordinator Mr Roberts who helped announce today's various awards. Click here to see the full list of Semester 1 Palma Merenti, Service Learning and Man of Camp award recipients. Finally, well done to Egan House students who won the Green Shield for their efforts to help the environment around the Rostrevor campus and more broadly. Click here to view today's Principal's Assembly Photo Gallery
Vaping
Teenage vaping is a growing concern across Australia, and Rostrevor College is no exception. Although under 18s are not legally allowed to purchase any type of e-cigarette or vaping product in Australia, young people are finding ways to access them online.
The harm that can be caused to young people from vaping is explained to students through our Drug and Alcohol Program which is delivered in Pastoral Care. The College is extremely vigilant in monitoring and detecting students who vape on campus and issues appropriate consequences for those who do so.
Families are advised that the College will be taking a very strong stance on this behaviour in the coming weeks and we encourage you to discuss the dangers of nicotine addiction and include e-cigarettes in the discussion alongside alcohol and drugs. Please click here for additional information from the Alcohol & Drug Foundation.
Drug and Alcohol education

This week, our Year 10 and 11 students participated in the P.A.R.T.Y. (Prevent Alcohol and Risk-Related Trauma in Youth) Program - a one-day injury awareness and prevention program for youth aged 15 and older. The initiative, which has been offered to Rostrevor students since 2015, is a vital component of the community effort to reduce death and injury in alcohol, drug and risk-related crashes and incidents.
Life Education

As part of National Child Protection Week, our Reception to Year 6 students have been learning about making safe and healthy choices. While visiting the Life Ed Van at the front of Rostrevor House, our youngest students learnt about the importance of friendship and how to handle "big emotions". Meanwhile, our older students have covered topics from healthy relationships, cyber-safety and how drugs can impact the body. Learn more about the program here.
Your pre-loved items wanted

It's time to empty out the winter wardrobe of surplus, quality items and get behind Rostrevor's and Vinnies SA's Lighten the Load campaign, which is being driven by the College's Social Justice Group. Donating your quality second-hand items will directly support those in need in South Australia.
Debaters and Soccer Players gear up for Semi Finals

Congratulations to Senior Debating Team members Harrison White, Alexander Clark and Sej Sidhu who argued their way into the State semi-finals on Wednesday night, defeating Pembroke in the quarter final. First speaker Sej was awarded speaker of the night and the team will now prepare for a battle of the minds and wit against Norwood International. Meanwhile, Rostrevor's First XI will compete in the State semi-final at the State Centre of Football on Tuesday at 11:30am.
Music Night
Senior and Middle Years Music Night: Norwood Concert Hall, Wednesday 14 September 7:30pm
Junior Years Music Night: Callan Hall, Friday 23 September 7pm
Audience tickets available via Qkr! (participating students do not require a ticket)

National Child Protection Week
The wellbeing and protection of every child is of the utmost importance and Rostrevor College is committed to providing a child-safe and child-friendly environment. To deliver on this commitment, the College maintains a Child Safeguarding Program that relates to all aspects of child safety.

This week, the College has raised the topic of child safety and welllbeing with students across all Year levels, drawing on some of the excellent materials produced by the National Association for Prevention of Child Abuse and Neglect (NAPCAN) - available on this website. In addition, The Nest, which is Australia's wellbeing framework for children and young people, highlights the many things that every child and young person needs in order to grow up safe and well.
Parents may also like to watch this video from respected parenting author and educator Maggie Dent about the little things we can all do to boost the wellbeing of young people.