Principal's News - 12 August, 2022
Posted on 12 August 2022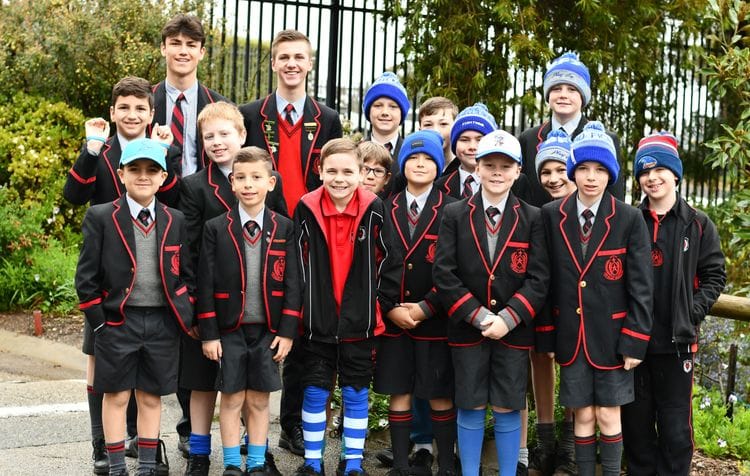 Shana Bennett
Principal
Blue Week

It has been a rich start to Term 3 and this week we focussed on raising awareness and funds for mental health initiatives as part of Blue Week. I would like to thank our Prefects for their immense efforts throughout the week and the many families, students and staff who contributed to this important cause. Special thanks go to College Counsellors Leah Schultz and Mason Somerville and Prefects Cameron Tunno and Sebastian Rapuano who produced an informative podcast to explain the support available for students, which was shared in PC classes this week. See the Blue Week photo gallery here
Feast of the Assumption - Marian Day

On Monday, we celebrate one of the most important dates in the College calendar - Marian Day - with a Mass delivered by Old Scholar Priest Fr Anthony Beltrame and performances from our Junior Years and MY/SY Choirs. On Marian Day, we give thanks for the significant women in our lives and show gratitude for the impact that they have on our lives. The College is fortunate to have some wonderful speakers on the day including the National President of St Vincent de Paul Society, Claire Victory. See more details in this Marian Day letter to families.
Walkathon Fundraiser

The annual Walkathon is one of the most important fundraisers for Rostrevor's House Charities and I encourage families to support their sons' Houses via the College's Qkr! App. The Walkathon is an opportunity to help those who are living on the margins with funds going towards food, shelter and programs that support those in need. Participation on this day is a significant and essential part of the balanced education we offer at Rostrevor College and is one of the few compulsory days within the student calendar.
Eyre Peninsula Field Days

This week, I had the wonderful opportunity to attend the EP Field Days at Cleve and meet prospective families, old scholars and current families. It was great to connect with some of our Eyre Peninsula families who currently entrust Rostrevor College with the care and education of their sons, and we enjoyed a dinner together at Tumby Bay. It was pleasing to hear how much the boys are enjoying the new boarding facilities and how the College is helping grow their son's academic and sporting opportunities. My thanks to Annemarie Mein and Michael Vickery for their efforts to ensure the Field Days were a great success!
JY Assembly

Well done to our Junior Years students who received Achievement Awards this morning for their great efforts in Semester 1. Thanks also to Year 11s Lachlan Tripodi and Harrison Brock who spoke to the Junior Years today about the wonderful experiences they had supporting young people in need at the Edmund Rice Camps held over the school holidays. See the JY Assembly Photo Gallery here.
MY-SY Inter House Cross Country Event - Monday

Marian Day also heralds the annual Inter-House Cross Country event with the coveted Middle Years, Senior Years and Overall House Shields up for grabs along with year level medals. Any student may enter and participants are reminded to bring their running gear and House shirt and report to the Pavilion changerooms at 1.25pm for registration and warm up. Do it for your House and "do it for Deegs!"
Eisteddfod Success for Rostrevor

Congratulations to Rostrevor's musicians on their excellent performances at the 26th Balaklava Eisteddfod last Friday. Special mention goes to our vocal ensemble which came equal First with its rendition of Save the Bones for Henry Jones and Tuxedo Junction. Well done, also, to the Middle and Senior Rock Bands and thanks to Music teacher Marnie Tiggemann for her great support and encouragement. See the vocal performance here: https://vimeo.com/738130606
School Photos Available - Have you signed up?

Families wishing to purchase individual, class and Co-Curricular photos are reminded they MUST first subscribe to SA School Photography HERE. You will then receive a link enabling you to view your son's personal photography folder prior to purchasing. Families who have already subscribed will receive a link to their son's photo gallery in coming days.
JY Catholic Schools Cross Country

Well done to our Junior Years athletes who did themselves and the College proud at Thursday's Catholic Schools Cross Country event. Rostrevor brought home several year level banners, with our Year 6 runners winning both Div A and B banners! Special mention goes to Ryder Dalton who came first overall and has also been selected to represent SA in the National 12 Years and Under Cross Country Championships later this month
Stewardship of Creation

Our Year 7 students had the opportunity to spend some time in Br Cogs' Sustainable Garden this week to reflect on the importance of caring for creation at Rostrevor, while also exploring some of the deeper themes in the Genesis creation story as part of their Religion unit.
MY/SY Swimming Carnival - next Friday

We are just one week away from Swimming Carnival (Friday, August 19) and the challenge has been set. Can any House upset Gurr House, which has brought home the Br J V Trophy for Champion House for the past four years?!
Book Week - August 22 - 26

One of the most exciting weeks of the year, especially for our Junior Years, is fast approaching - Book Week! This year's national theme is "Dreaming with eyes open...", so it's time to for students to let their imaginations fly and come up with a costume for the Book Week Parade which will be held on Friday 26 August at 9am. The Ideas Centre will hold a Book Fair before and after school each day during Book Week with parents and caregivers welcome. See the Book Week letter here.
New Junior Years Hub

We are excited to launch our new Junior Years Hub - a one-stop shop for parents focused on learning and activities in the Junior Years. With a strong focus on Rostrevor's approach to literacy, the site has step-by-step guides for parents including "Beginning Reading" and explains the many learning supports and opportunities provided to young Rostrevor students. The Junior Years Hub will continue to evolve over coming months with frequent updates from the Assistant Principal - Junior Years, Mrs Paley, and our Leader of Learning - Junior Years, Ms Lanzilli.
Co-Curricular
Term 3, Week 3 Fixtures and Results
Grand Final for First XI

Rostrevor's First XI has advanced to the 2022 Grand Final in the Sports Association for Adelaide Schools (SAAS) Championship after a thrilling 2 -2 match against Mercedes College, which ultimately went Rostrevor's way 5-4 on penalties. The team will face CBC at 2:30pm on Wednesday (17th) at the FFSA State Centre of Football. Wednesday night's win also guarantees Rostrevor a place in the State Finals later this term. Choomalaka!
First XVIII in sharp focus

Good luck to our First XVIII that will play for third place in the SAAS Premier Division 1 competition for 2022. The team will play at Immanuel College tomorrow at 2:15pm and encourages supporters of the Red & Black to come along. Congratulations to Bradley Barnes and Jules Piro who will take to the field for their debut matches.
Rostrevor College again thanks Old Collegian Claude Beltrame for his work on the sidelines this season capturing great action shots of our Football, Soccer and Basketball teams. His most recent football images can be viewed HERE
Blue Week medalists

Congratulations to First V Vice Captain Michael Banelis and all Blue Round medalists recognised this week by the Sports Association of Adelaide Schools. The Blue Round promotes Mental Health awareness in schools and acknowledges the best teammate.
Workshops under way for Centenary Book

We are thrilled to have Old Scholar and former teacher Greg Hay ('73) helping to create Rostrevor's Centenary Book which will be filled with images and reflections of the 100 years of the College. Greg is seeking your stories and insights and is hosting a series of workshops so he may learn about the Rostrevor impact and understand why the College has made such a difference in so many lives. Please CLICK HERE to read more and get involved.
Supporting success for all students
As part of the process of supporting a student with an identified or additional learning need, a Personalised Plan for Learning (PPL) is created. This plan is based on criteria recommended by the Nationally Consistent Collection of Data on School Students with Disability (NCCD) and outlines the strategies of support that can be put in place for a student. To learn more about the NCCD data collection, its purpose, legislative basis and to whom NCCD data will be disclosed, please CLICK HERE
Reports and policies aimed at supporting Rostrevor's students and underpinning the performance of the College are regularly updated on the College website including the following:
See the Annual Performance Report HERE
Visit the full suite of Rostrevor College Policies HERE
Visit Rostrevor's Child Safeguarding Page HERE
Sibling Enrolments for 2024
As many year levels have reached capacity for 2023, existing Rostrevor families are encouraged to submit sibling-enrolment paperwork to Enrolments Officer Annemarie Mein as soon as possible for 2024.