Principal's News - 17 June 2022
Posted on 17 June 2022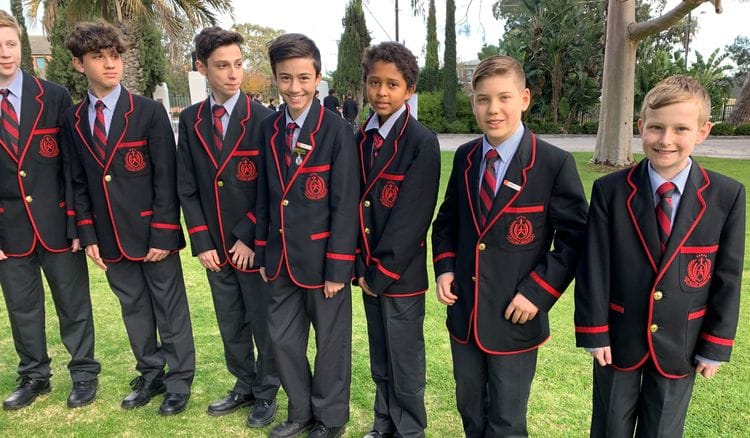 Shana Bennett
Principal
Schools are busy places and this week was no exception with our young men looking their finest for College photos and then rugging up in their colourful beanies and scarves as part of our Boarders' Week activities. Providing enjoyable outlets for our students is more important than ever as we approach the end of the Semester and students complete assignments and prepare for exams. We wish our Year 11 students well as they ready themselves for exams next week, which aim to prepare them for Year 12 SACE assessments. Students in Year 10 will sit exams in Week 9. I would also like to thank the students and staff who made our Come and Try Day such a great experience for future families and we look forward to hosting prospective families at tomorrow's Principal's Tour.
Boarders' Week

Our Boarders, and the great contributions they make to our College, were in the spotlight again this week as we celebrated Boarders' Week, including the traditional Boarders' High Tea, a fundraising BBQ in the Valley and netball match. Today's Scarf and Beanie fundraiser in support of mental health initiatives in rural areas, was extremely popular. There's nothing quite like a beanie to bring out a smile. Enjoy the Scarf & Beanie Day photo gallery

Boarders' High Tea
This year's guest speaker was Sam Flanegan, originally from Whyalla, who began his Rostrevor Journey as a Year 10 and graduated as Head Boarder in 2009. As a career firefighter, Sam reflected on his time in boarding and shared his life journey so far with our Boarders.

As part of the evening, William Farmer was selected by his peers and endorsed by staff as "Boarder of the Term". It was considered that William consistently demonstrates respect to himself, others and his environment and has made a great start to his boarding journey. Families can hear directly from some of our Boarders about life at Rostrevor in this short video:

Junior Years Colour Run
As the photos pour in from last Friday's Cross Country Colour Run in the Junior Years, we are sharing this bumper Photo Gallery

The Push Up Challenge

Year 11s Arnav Kothari, Isaac Kelly and Nathan Ferres are taking on The Push-Up Challenge to support Movember and The Push For Better mental health initiative. The three have been doing more than 100 push ups a day and are half way to their target of 3140 push ups in 24 days. To help them reach their $1000 fundraising goal, visit: https://www.thepushupchallenge.com.au/fun.../MovemberSupport
Formal School Photography

Photos are available for purchase by families and are published in the College Annual as a historic record. To place orders, click here
Co-curricular
Week 6 Results | Week 7 Fixtures and Maps
First XI - Rostrevor vs CBC
It was a great week for Rostrevor fans of the World Game with Australia qualifying for the World Cup, our Year 9 & 10 Knockout team winning all three of its matches and the First XI securing a thrilling 3 - 2 win over a strong CBC outfit to secure top spot on the Division 1 ladder!

Congratulations to First XI Coach Terry Frangakis and the Rostrevor players who met CBC in a top-of-the-table match which didn't disappoint. Captain David Preka led his charges from the front, scoring his 5th and 6th goals for the season.

Well done to our combined Year 9 & 10 team which defeated Prince Alfred and Thomas More colleges to progress to the next round of the schools' knockout competition early in Term 3.
Year 9 Camp

It was a great week of embracing the elements and displaying some endurance and resilience for our Year 9 students on Camp last week. The boys enjoyed bushwalking at Deep Creek Conservation Park, Kayaking along the River Murray and mountain-bike riding at Fox Creek Bike Park and Kuitpo Forest. See the photo gallery here
Important reminders
Pupil-Free Day
Term 3 will commence on Tuesday 26 July to enable all Rostrevor Staff to attend a First Aid Training Day that has been rescheduled from January due to COVID-19
Social Media and Gaming

Many parents in our community have expressed a concern with the amount of time their sons are spending on screens, whether it be accessing social media or through gaming. As part of our pastoral care program, students in Years 5-9 will be undertaking educational sessions on gaming and social media on Wednesday June 22nd. As part of our commitment to engaging with our parent community on such issues, an online parent webinar will be held on the same evening via this Zoom link: More information about the student program and parent webinar can be found here.
E-cigarettes and Vaping
Recent media attention surrounding vaping gives the College the opportunity to share some important insights and resources. Aside from the fact that vaping is a breach of our Drugs and Alcohol Policy at Rostrevor, we know that there are negative health effects associated with using e-cigarettes. Children and young people who are using these devices are inhaling nicotine and other harmful chemicals.
Through our Drug and Alcohol Program, which is delivered in Pastoral Care, students are told of the associated risks and potential impact vaping can have on their development and overall health. Parents are encouraged to discuss the dangers of nicotine addiction and include e-cigarettes in the discussion alongside alcohol and drugs. Please click here for additional information from the Alcohol & Drug Foundation. Also refer to the tip sheet for parents in having a conversations about e-cigarettes with your teen with by clicking HERE.
Sibling Enrolments for 2024
As many year levels have reached capacity for 2023, existing Rostrevor families are encouraged to submit sibling-enrolment paperwork to Enrolments Officer Annemarie Mein as soon as possible for 2024.
OSHC

It has been a great start for Rostrevor's new OSHC service with 35 families taking advantage of the engaging and enjoyable program led by Director Steve Calio. Parents are reminded that OSHC also offers a before-school session from 7am to 8:30am and that students are not permitted on campus until a supervising teacher is present from 8:15am. See the College OSHC webpage here